Russell Brunson's One Funnel Away Challenge
Summary
Russell Brunson's One Funnel Away Challenge is a 30–day online course designed to help entrepreneurs and marketers create their own sales funnels. The challenge walks participants through an in–depth course on funnel building, from strategy to execution. It covers topics such as identifying target markets, creating compelling offers, building landing pages, and setting up automated follow–up sequences. The course also includes access to bonuses such as interviews with experts, templates, and a private Facebook group for support and discussion. By the end of the challenge, participants will have created their own profitable funnel and be well on their way to success.
One Funnel Away Challenge review, was this what you were looking for? Your competitors are wide awake and they're getting ahead of you every second you procrastinate something! My point is, matching your competitors is hard enough. Think about how challenging it is to outshine them.
It's no secret that sales funnels possess immense power to take a business to unimaginable heights. Sales funnels have become emerging ways to maximize profits for most online businesses in today's era.
Even if you're already getting a great ROI, with increasing ad expenses, it's vital to ensure maximized revenue. If that's something you resonate with, sales funnels are the way to go.
Speaking of which, the founder of ClickFunnels and the sales funnel authority figure, Russell Brunson has developed an impeccable online training program, the 'One Funnel Away Challenge.'
In this post, we're going to take a look at the one funnel away challenge review. This will include every little detail you've ever wanted to know about the program and why it's a boon for every business enthusiast striving for a soaring ROI.
What is The One Funnel Away Challenge?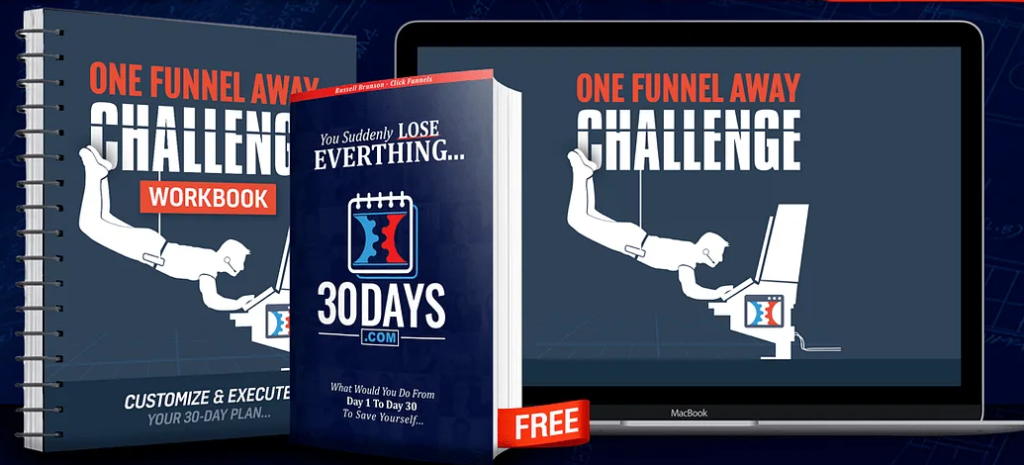 ClickFunnels is a virtual session in which Russell Brunson, Stephen Larsen, and Julie Stoian will guide you through launching a sales funnel aimed to generate millions.
Russell, the man himself along with his top two marketing coaches will outline the detailed tasks as well as challenges you need to be done with every single day for a span of 30 days.
So, that's it? Absolutely not! There's a lot more to this program than one can imagine…
It's a known fact that there are thousands of prospects scattered all over the world to compensate you well for your brilliant product idea. But serving the audience that benefits us in the correct way is the real obstacle for most business owners.
The program teaches the four main procedures for both products and services that contribute greatly to a successful business. They are:
Creating
Structuring
Launching
Marketing
Besides generating stashes of cash, you'll also learn the right success mindset and how it affects various aspects of your personal and professional life. Participants of the channel also get access to a membership area, a community of fellow participants, and bonus material.
The bonus material includes the following:
One funnel away challenge workbook pdf
OFA kits
OFA box
Books
MP3 player
Related Read: 10 Habits to Start in Your 20's If You Want To Be A Millionaire
A Detailed Look Inside The OFA Challenge
Before we dive into the details of the One Funnel Away Challenge, let's take a look at the fundamentals you'll clearly understand after the program.
Using ClickFunnels for funnel building
Driving high traffic via ClickFunnels
Hook, Story, Offer
Sequence offers
Membership areas
Direct Response Marketing
OTO pages
Order forms
Doesn't the list seem everything you ever need to know to be the ultimate master of the funnel game? The best part, everything in 30 days. It's like you have the key to a successful lifelong business in just a month!
What Are The One Funnel Away Challenge Video Lessons Like?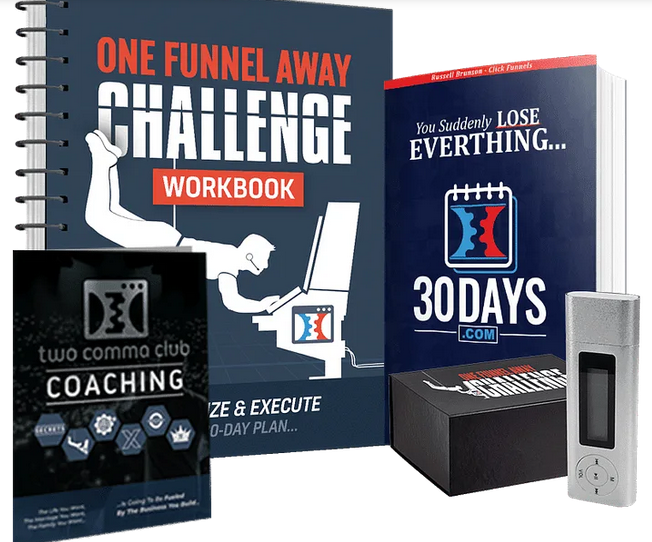 You'll have a crystal clear video lesson delivered to your inbox every single day. Russell has all the key concepts which he simply doodles out on his whiteboard for an easy understanding. That marks the beginning of the videos.
After participants have a basic grasp of the strategy, Julie explains the entire process of implementation with detailed steps.
Stephen Keeping The Motivation Fueling!
After Russel outlines the strategies and Julie provides the actionable implementations, Stephen takes responsibility for maintaining the motivation.
So, if you have that annoying little voice inside your head telling you that you can't do it, Stephen to the rescue!
He holds a live coaching session for the entire group of participants. This helps you maintain momentum and a decent pace. Moreover, you can clear any queries as Stephen will answer your questions.
But make sure that you consistently dedicate at least one hour in a day for this challenge to keep up.
Building The Belief: The One Funnel Away Challenge Really Works!
We already know that Russell has been a course creator for a while. But here's a fact that might be new to you. Do you know there is something about people that makes him cringe?
It's that aspiring entrepreneurs often fail to implement what he teaches. Perhaps, they don't have enough faith in themselves.
So, in the first couple of videos, he warns you up to the idea of believing that you can really achieve the revenue of your dreams with the OFA challenge.
When you watch the pre-training videos, in the end, it's going to feel like you're about to rock the online business world with funnels!
Week #1:
In the first week, you will learn the Epiphany Bridge, stories, offering sequences, testing strategies, and finding out other marketers' secrets.
You will also gain an overview of sequencing offers, visual designs, and some basic elements that constitute funnel hacking.
The first week also provides you with a set of missions, of course, if you accept them. They include Offer Hacking, The Greatest Showman, Offer Sequencing, The Secret of E-covers, and Creating Your Products.
Week #2:
In week 2, the focus is on providing the viewers with an 'aha' moment. They should feel like they have an opportunity to make their lives easier through your business.
Basically, participants will see how crucial the words on the product package or on the script of a video promotion are.
In addition to the importance of having great copies, participants will learn about incorporating persuasive stories (The Epiphany bridge).
The missions in the second week include Testing Your Material, Epiphany Bridge, Publishing Your Origin Story, and Testing Hooks or Stories.
Week #3:
Week 3 is going to be all about the funnel itself. Whatever you learned in the first two weeks, its time to implement it all into a high-converting sales funnel.
You will learn about member areas, Clickfunnels, generating leads, OTOs, sales pages, sequence pages, order forms, to name a few.
Week #4:
In the fourth week, you will gain more clarity about cold, warm, and hot leads. In a rare case of a funnel flop, Russell will also teach you how to cope up with them and make required adjustments.
All in all, you're going to learn about hooks that generate traffic and drive leads to what you're offering.
Week #5:
It's time to spring into action about all the training you have taken in the past four weeks. You can also apply for the Funnel Hackathon for expediating your funnel building process.
Related Read: How To Make Money With ClickFunnels
Why Should You Be a Part of The Next One Funnel Away Challenge?
Most of us know what to do to pave our way towards success. However, the number one enemy that is a motivation destroyer is procrastination.
Russell once mentioned that he hates it when people purchase his courses but fail to take action.
People procrastinate important tasks for tomorrow which never comes. To address the issue, the course gets into a self-destructive mode after 30 days of you purchasing it.
Moreover, coach Stephan ensures that you don't lose track.
All in all, if you have trouble staying in the productive lane, the One Funnel Away Challenge is the best way to achieve your business goals in a timely manner.
After all, you can't put things off for another day until when there is no tomorrow in the world of OFA!
One Funnel Away Challenge Review: Benefits
In this section, I'm going to sum up the benefits of the One Funnel Away Challenge as precisely as possible.
After all, I would love to see others benefit from what turned out to be a life-changing challenge for me! Let's dive into the details.
More Value For Money Than You Can Ever Imagine
Think about the last few times when you spent 100 bucks and the return it got you. Even when you combine the last 10 such instances, I can say with some confidence that it couldn't have been more valuable than what you can get with the One Funnel Away Challenge.
Normally, I believe in the 'What you pay is what you get' principle. But this challenge defies the same and offers much more than it's worth. The sheer flow of information can be overwhelming.
But once the dust settles, you'll be left a lot more than just facts and steps.
This challenge has ignited a spark within me that continuously fuels me to strive towards my goal.
Besides getting me into the success mindset, the One Funnel Away Challenge rooted the belief for financial freedom deep in me.
It Made Me Dive Deep Into The Buyer's Mindset
Profit, profit, and profit! That's all that matters, right? WRONG!
You can spend countless days and sleepless nights thinking about the digits in your bank account and how to increase them.
Not that I'm saying that there's anything wrong with it but what about the main entity that brings you those profits? I'm talking about the buyers in the equation.
Keep putting all your focus on the product or the service itself.
It might make you good money but unless you get yourself out there and think like a buyer, consider this success short term.
To be more accurate, something will always feel missing. The One Funnel Away Challenge taught me how to think like a buyer and now I'm never looking back.
Instead of striving to find more ways to lure them into signing up, consider offering the buyers what they exactly want better than your competitors.
Sell them the benefits instead of the product.
Once you start thinking from the customer's point of view and solve their pains, success will automatically start following you!
Building Sales Funnel Is Easy and Not Highly Technical
When budding entrepreneurs start out, the rush and the thrill of running their own business encourages them to move forward. In other words, the creative aspect of any business can be super exciting.
However, there are people who are immediately repulsed when things start to look even remotely technical.
For instance, building funnels. This is where the One Funnel Away Challenge comes into the picture.
It's important for beginners to realize that Clickfunnels has already eliminated the horror from the funnel building process, thanks to the simple drag and drop features.
The One Funnel Away Challenge is also useful for those who have been building funnels for a long time. You'll be surprised as to how the learning process is ongoing!
The bottom line, if you freeze at the thought of building a funnel or creating the one that works, the One Funnel Away Challenge is for you.
Once you undertake this challenge, I'm sure you'll realize that the learning curve is not even that steep!
It's For Everyone- Being Normal is Not Abnormal
These days we keep hearing about successful people describing some kind of childhood trauma or injustice that pushed them through and brought them where they are now.
Well, that might sound like a familiar story. But let's not forget that normal people exist too. They might not have a heartbreaking story to share but their experiences are valuable as well.
The best thing I liked about the One Funnel Away Challenge is that it's literally for everyone.
When you manage to make a fortune, you will be the writer of your own journey through success.
Even if your backstory isn't like those in Hollywood movies, the struggle is real and this challenge doesn't rank anyone's struggles. You can still be yourself and stay goal-driven with this.
Observation Based Course For Eliminating Vagueness
When you listen to something, for a few hours, it's fresh in your mind. You might even stay pumped for days! But what happens later?
What you have listened to starts to fade away. It's not your fault. It's the human mind that doesn't appreciate vagueness for a long time.
The creators have kept this major factor in mind while developing the One Funnel Away Challenge.
You don't learn just by hearing things. You observe and make up your mind with techniques proven to bring success.
You get an opportunity to watch what most members of the two comma club are doing instead of merely listening to what they're saying.
Without a doubt, Russell excels at his craft and his team backs him up at all times!
Making Your Offers Irresistible
Every other site on the internet is an affiliate platform. Every second business owner you come across has a product or a service to offer. But what differentiates a mediocre one from the one who excels?
The latter makes a compelling offer that's hard to resist while the former usually rely on cliches from free internet searches.
I'm not trying to undermine anyone here, but as long as you don't make your offer stand out, it's a dead end. The One Funnel Away Challenge teaches you about how you can tell stories and hook customers to your offer.
You can also perform an in-depth analysis of your competitors and sharpen your own craft. Even Russell and his team adopt a storytelling art which makes the One Funnel Away Challenge more interesting.
The way they present ticky concepts intriguing is what helps students retain the knowledge of this challenge.
Remember, the customers are going to buy out of emotion and that's exactly what a marketer should appeal to. Justifying things with logic is our task, right? This intensive training provides us exactly that!
Related Read: How to Promote ClickFunnels?
One Funnel Away Challenge review: Bonuses
Besides the weekly details we mentioned above, here are some lucrative and useful bonuses the OFA challenge provides.
The 30 Days Hardcover Book: The first bonus you get is a hardcover book called '30 Days' which has a 550-page manual. It has essential details in a well thought out manner from 30 members of the Two Comma Club. The book revolves around the concept that if a person lost everything, how would they get back on their feet and gain a profitable position within 30 days? That's the same question Russell asked the members of the club. This book has the answer to this question in the most detailed and organized way possible.


MP3 Player With Recordings: The MP3 Player has about 50 recordings of Russell from the first challenge and Stephen's coaching calls.If you haven't opted for the physical version, you are going to get all the recordings in a digital format.You can listen to them whenever you want and stay in the productive mindset even when you're not working.


OFA Challenge Workbook: You will get a spiral-bound copy delivered to your doorstep if you choose to buy the physical version of the course. In the digital version, you can print it out and use it accordingly. It has a series of exercises that when you complete on time, you'll stay motivated and keep crushing it!


Behind The Scenes and Summit Interviews: Russell's star students, that is, the members of the Two Comma Club who have already made millions using ClickFunnels provide insights into their funnel planning in these 30 bonus videos. You can check out your membership area for these videos.
The Member-Exclusive Facebook Group
You will get to be a part of Russell's member-exclusive Facebook group which acts as a support system for like-minded and action-oriented people undertaking the OFA challenge.

Who knows? You end up building long-lasting and beneficial business connections!
Russell Brunson- One Funnel Away Challenge Cost
The One Funnel Away Challenge costs a total of $100. In this amount, you get access to coaching material, workbooks, challenge kits, bonuses, and extra training.

If you're in the US, the shipping cost is $19.95. On the other hand, international shipping would cost you $29.95. But if you want to save the shipping charges, feel free to purchase the digital version.
Related Read: Russell Brunson Perfect Webinar Template Review
Is Russell Brunson's One Funnel Away Challenge Beneficial For Me?
The answer is not a simple yes if that's what you wanna hear. By this time, you must realize that you have to be in a fully functional mode for 30 days.

This means no laxity whatsoever in your approach. To ease your doubts here is some further point-by-point explanation.

One Funnel Away Challenge review: You can opt for the one funnel away challenge if:
The idea of building funnels is overwhelming to you as you're a newbie.
You've built funnels before but you wish to ensure success with your next one.
You're attempting to expand your reach.
You offer products or services that fulfill people's desires or solves problems.
You want to be a successful affiliate.
You want to get out of the rut or a job you don't like.
You can spare at least an hour per day for the entire span of the program.
You're a quick action taker.
You're willing to invest a worthwhile amount of $100.
Now that you know precisely what it takes to be a part of this challenge, you can make an informed decision.

As long as you're willing to dedicate a portion of your time and uninterrupted dedication, the course will be worth a lot more than its cost.
One Funnel Away Challenge review FAQs
Whenever a hyped course comes out, people have burning questions in their minds.

In this section, I'm going to answer even the smallest query you might have about the One Funnel Away Challenge.
Is The OFA Challenge worth it?
You mean is it worth 100 bucks?

Yes, of course, can't stress this enough! With all the super expensive courses scattered in the market, the OFA Challenge provides insights worth thousands of dollars.
Does OFA offer a refund?
Yes, the OFA Challenge offers a refund which you can get within 30 days in case the program fails to satisfy you.

However, I really don't think that you would need one if you follow all the steps.
What if I don't offer my own products or services?
No problem! You can always sell your knowledge or become an affiliate and sell someone else's products and services!
When is the next one funnel away challenge?
The next one funnel away challenge is probably some time within two weeks of you reading this post.

Earlier, it was held every month. But as of now, it takes place every two weeks for various batches. The timeline is variable. So, I advise you to keep yourself updated on this.
Do I have to be a ClickFunnels user to participate in the One Funnel Away Challenge?
No, it's not necessary for you to be a ClickFunnels user to participate in this challenge.
You have to create a separate login account for the OFA Challenge with the same email you purchased the course with.
Your exclusive membership area will provide access to notes, interviews, and other useful material.
Can I join the OFA Challenge if I have nothing in mind?
By nothing, if you mean no business idea at all, then yes, you can still join the One Funnel Away Challenge.
In fact, it would prove to be a great start for you as you will get plenty of interesting ideas and ways to implement them simultaneously!
Can I join the OFA Challenge if I can't spare an hour every day?
No, you shouldn't. If you can't spare an hour to strengthen your chances of success, then I don't think you should sign up for the One Funnel Away Challenge.
Why should I even care to join the One Funnel Away Challenge when I can Google everything up for free?
That's an interesting question. According to Robert Kiyosaki, time is money for the rich. When you search a phrase on Google, there are a wide array of results right before your eyes.

Are you going to open up every blog available to pick out relevant information?

Even if you do, how much time will it take along with your other daily tasks? 6 months? One year? I bet you will earn a lot more than $100 in that amount of time. Now you have your answer!
Final Thoughts on The One Funnel Away Challenge Review
From my personal experience, the One Funnel Away Challenge is the key to reaching the top of your game.
If I were you, I wouldn't want to let my competitors get the key to success while I overthink the implications.
Read About writing the perfect Ad Copy to hook your readers.
I'm sure you must have invested numerous dollars switching from course to course. I get it, that's exhausting.

But considering that you've already spent enough, $100 won't make that much of a difference to your pocket.

But this meager investment might change your life for good if you're willing to give it a shot.
Now, if you have never purchased any course and this is potentially your first one, the question is, can you make a one-time transaction for the knowledge of a lifetime?

Can you dedicate an hour for a month every day to gain a manifold of knowledge to pave way for success?

I know your competitors would. The choice is yours!