Summary
ClickFunnels and Leadpages are two popular software products for creating websites and landing pages. Both offer similar features, such as drag–and–drop page builders and templates, A/B testing, integration with third–party services, etc. However, Leadpages focuses more on creating lead capture and opt–in pages, while ClickFunnels is an all–in–one solution that provides a comprehensive suite of tools to help you create entire sales funnels. ClickFunnels also has a more extensive selection of templates and features, such as a membership area and order bumps. Ultimately, Leadpages is a great solution for creating simple landing pages, while ClickFunnels is a better option for businesses looking for a comprehensive marketing platform.
ClickFunnels vs Leadpages have been the buzzword in the marketing field for a while now. An effective online business strategy is a must to succeed in the highly competitive world of digital marketing. And to support your planned business strategy you will require an immaculate sales funnels structure.
This creates a big requirement for online sales funnel builders. To cater to this rising demand of entrepreneurs, many software developers have come up with effective sales funnel building applications.
ClickFunnels and Leadpages are two popular applications that have attracted the attention of many budding as well as established entrepreneurs who want to grow their businesses using the online business platform. That's why there is a massive hype surrounding ClickFunnels vs Leadpages.
So, which one of the two offers features relevant to your business? Which one of these applications suits your budgetary needs? Which software generates more leads? And which online platform should you choose between ClickFunnels and Leadpages to have a more user-friendly operation?
Let us review both these applications and compare their features to find out the answers to all these questions. Diving into ClickFunnels vs Leadpages…
ClickFunnels vs Leadpages: ClickFunnels Overview
Russell Brunson is one of the most popular names in the world of online marketing. Any discussion on sales funnels is incomplete without the mention of the man who made the concept of sales funnels popular among thousands of entrepreneurs across the world.
ClickFunnels is one of the most desirable sales funnel-building applications created by Russell in 2014 that offers some of the most amazing landing page creating tools. In fact, it's the 7th most popular tool in the conversion optimization sector.
Not only does ClickFunnels offer the two most essential functions of online marketing, but it also allows its users to perform many more digital marketing tasks for seamless execution of their businesses.
The online application goes much beyond its basic purpose of generating leads through highly impressive landing pages and converting them into high-value adding customers.
Among many different tasks, ClickFunnels helps users in selling products, tracking and analyzing sales data, email marketing and automatic delivery of products, and payment realization, etc.
The following are some of the major functions that a user can perform through ClickFunnels:
Quick and easy creation of sales funnels and landing pages using pre-designed templates.
Email marketing support.
Lucrative affiliate program.
Webinar hosting.
Extensive training material and highly educational training courses.
Membership sites.
Upsells and downsells for each type of sales funnel.
Sharing funnel feature.
Integrated tracking and analytics tools.
Automatic product delivery and payment realization.
ClickFunnels Pros and Cons
The following are some of the pros and cons of ClickFunnels that will play a huge role in solving your ClickFunnels vs Leadpages delimma:
Pros
All-in-one online business solution.
Extremely easy and simple drag and drop editor allowing developers to create sales funnels and landing pages in quick time.
A wide variety of ready-made sales funnels and landing page templates.
Highly attractive affiliate program called Backup allowing you to earn passive income.
The sharing funnel feature allows you to share your funnels with others and earn money.
Efficient A/B split testing.
Easy viewing and planning of complete sales funnel.
Seamless integration with multiple payment gateways.
Very effective and vast training materials and multiple training courses and programs
Up to 40% commissions through affiliate marketing.
Integration with in-app and third-party support applications.
Integration with Zapier allows users to include numerous apps.
Cons
Some of the useful features are available with the high-priced plan only.
Does not have the facility to upload video directly from the platform.
Due to limited membership options, it is pretty hard to monetize through membership alone.
ClickFunnels vs Leadpages: Leadpages Overview
Leadpages is a software used by many successful marketers in creating landing pages and generating leads. The strength of Leadpages lies in creating and publishing web pages in a quick time. Besides, it also supports collecting qualified leads through conversion-optimized pages.
The pop-ups and split testing features of the software allow your traffic to convert into leads and finally transform into customers.
Leadpages has many tools that make your online business experience a soothing one through easy payment realization, planning consultations, and so on.
Apart from the basic functionalities of a typical sales funnel builder, Leadpages also offers many other features to its highly satisfied users. They include:
Code-free publishing requiring no technical know-how.
Connecting software with the email accounts of the users.
Enhances conversion rate with a real-time user support system.
Pre-designed templates to create landing pages.
Effective and easy to understand analytics tools.
Online checkout form on every web page and pop-ups etc.
Seamless payment and refund processes.
SEO friendly pages.
Free hosting.
Leadpages Pros and Cons
Working with Leadpages will have its unique advantages and disadvantages. Some of the major ones are listed below:
Pros
Highly affordable pricing plans.
Excellent A/B split testing.
The landing page builder is extremely simple with several customization options.
Landing page creation is ultra-easy and is possible in a very quick time due to the inclusion of the HTML page editor for users to make quick changes with customized codes.
Even the basic plan offers excellent customer support.
Contain over 200 impressive and effective templates.
Over 40 in-app or third-party integrations.
Built-in analytics tools with the software making it extremely convenient for the users to analyze data and make the right decision.
Integration ability with Zapier makes many apps available for the developers to use for different functionalities.
Compatible with Drip and Infusionsoft which are highly efficient email services.
Perfect integration ability with sites like WordPress and many other Content Management System platforms.
Cons
Many applications, other than tools related to landing pages require integration with other applications. This, at times, calls for setting up complex processes.
There is no training material in the form of videos to make users understand the different features of the application.
Custom templates are available on a chargeable basis.
No autosave function.
Lacks affiliate management tools.
Solid grid structure does not allow you to place page elements exactly at the spots you want.
Related Read
ClickFunnels vs Leadpages: Basic Functionalities
Let's move on to the ClickFunnels vs Leadpages basic functionalities. ClickFunnels is an all-in-one online sales funnel builder application. So, it offers more features compared to most of the applications dedicated to sales funnels builder or landing page creator. This makes ClickFunnels very popular among many new and established entrepreneurs.
Let us have a glance at some of the basic functionalities of ClickFunnels and Leadpages before delving deep into all the features offered by both applications.
Features Set: As ClickFunnels is designed to support entire sales funnels it offers more features compared to Leadpages which is the software dedicated to building sales funnels and creating landing pages.
A/B Split Testing: Leadpages has a comprehensive split testing feature. Using this feature, you can optimize web page performance by performing split testing on every landing page.
The tracking and analytics tools: The analytics and tracking tools offered by both ClickFunnels and Leadpages have almost equal effectiveness.
Email services: ClickFunnels is equipped with an in-built email responder. Moreover, it has integration ability with many highly popular email applications. Leadpages too has the email responder in-built with the software, however, lacks an autoresponder available with ClickFunnels.
Customization ability: Both the applications use drag and drop editors to build pages. ClickFunnels' customization capabilities are very impressive, however, Leadpages is superior as you can select more designs to optimize and customize landing pages as per your requirement.
Upsells and downsells: All the plans of ClickFunnels allow upsells and down-sells. Besides, all of them also allow for order bumps. Leadpages also has some of these features but only with its advanced plan.
ClickFunnels vs Leadpages: Cost-effectiveness
To find out which one of the two software is more cost-effective we need to compare their pricing plans and features offered with each of these plans. First, let us look at the pricing plan of ClickFunnels and Leadpages
Pricing Plans
ClickFunnels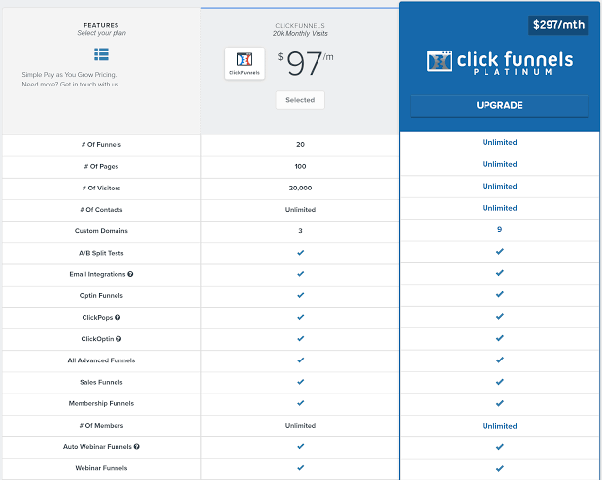 ClickFunnels has 3 plans. All of these plans have fixed prices.
Starter Plan for $97/mo
Platinum Plan for $297/mo
TwoCommaClubX Plan for $2,497/mo
Leadpages
Leadpages also have three plans. They offer discounts on all these plans with an annual payment option.
Standard Plan for $37/mo and $27/mo for monthly and annual payment options respectively.
Pro Plan for $79/mo and $59/mo for monthly and annual payment options respectively.
Advanced Plan for $321/mo and $239 for monthly and annual payment options respectively.
ClickFunnels vs Leadpages: Feature-sets
ClickFunnels
To support a wide range of clientele, ClickFunnels offer comprehensive feature-sets with each of its plans. We looked at the prices of each of the packages offered by ClickFunnels above. Now let us see what are the different features offered by ClickFunnels in each of these packages.
#1. Starter Plan which is priced at $97/mo includes the following features:
Funnels Sharing feature allowing users to share funnels with others.
Highly user-friendly sales funnels building tools offering up to 20 pre-designed templates to choose from.
Up to 100 numbers of sub-pages under different sales funnels.
Login and admin rights to 1 sub-user.
Integration with 3 payment gateways for a quicker and easy payment process.
Connectivity with 3 domains to have multiple brands and products under one account.
Chat support to the users to answer their queries related to funnel-building or any technical issues while using the software.
Accessibility to the FunnelFlix program to watch training videos of leaders in the field of sales, marketing, and personal development.
#2. The platinum plan which is priced at $397/mo includes many more exclusive features:
Features offered with the Starter plan with enhanced limits or no restrictions.
No limit to the number of funnels and pages.
Instead of 1 sub-user, the Platinum plan allows up to 3 members to have login and admin rights.
Allows connecting with 9 payment gateways, making the payment process extremely smooth and fast.
Connectivity with 9 domains allowing users to have multiple products and brands on one account.
Unlimited Follow-up Funnels to remain connected with the visitors even after they have left the funnel.
Priority support in funnel-building and resolving any technical issue faced while using the application.
Step-by-step guidance by the experts on funnel building from the beginning until the end.
FunnelFlix program offering additional hours of training courses over and above offered in the Starter Plan.
Training materials like 10X secrets webinars, OFA Challenge video, and Traffic Secrets by Russell Brunson, The Anthology by Jay Abraham, and many more.
#3. TwoCommaClubX, the third plan offered by ClickFunnels is priced at $2,497/mo. It is exclusively for those who have reached two comma or 7 figures income while using ClickFunnels. It is designed to honor successful entrepreneurs and inspire others to attain the coveted feat of earning two comma income. The package offers many features over and above the Platinum plan.
#4. In addition to these packages, ClickFunnels offer a 14-day free trial for the users to test the features of ClickFunnels and evaluate their utility in their business.
Leadpages
#1. Leadpages has its basic or standard plan priced at a very affordable rate of $37/mo (paid monthly) and $27/mo (paid annually). So, you get 3 months free by paying annually. The package offers many useful tools to generate leads.
Site builder limited to 1 Site.
Unrestricted numbers of landing pages, pop-ups, and alert bars.
Unlimited traffic and leads.
Free custom domain exclusively with the annual payment option.
Free hosting.
Mobile-responsive site templates allowing users to customize pre-designed templates.
Real-time notification on the collection of leads and receipt of the form submission.
Technical support via email only.
#2. The Pro plan is the most popular plan offered by Leadpages. With the subscription prices of $79 and $59 with monthly and annual payment options respectively, this plan offers many features over and above offered by the Standard plan to support sales, test, and optimize your marketing efforts.
Site builders for 3 sites.
Create and publish unlimited landing pages, pop-ups, and alert bars.
No limit to traffic and leads.
The free custom domain of 1 year with an annual payment option.
Free hosting secured with SSL encryption.
Professionally designed conversion-optimized templates that can be customized as per users' specific needs.
Notifications on leads collections and on receipt of submission of the form.
Technical support via email and chat.
More than 40 standard integration enabling users to connect their sales and marketing tools to their Email Service Provider (ESP) or Customer Relationship Management (CRM).
Sales & delivery of digital products from any web page, landing page, or pop-up. Checkouts are fueled by Stripe.
A/B split testing for every landing page.
Email trigger links allowing subscribers to join webinars or other email lists from their email box itself.
10-Opt-in Text campaign feature allowing you to invite your clientele to opt into your email list through SMS.
#3. The advanced plan offered by Leadpages gives its subscribers access to many advanced features. It is priced at $321 and $239/mo for monthly and annual payments respectively.
The major difference between the Pro and Advance plan is the number of site builders. Users can receive up to 50 sites if they select the Advance-plan. Besides, users of the Advance-plan receive priority technical support on phone calls, as well.
#4. Leadpages also offers a 14-day free trial allowing its users to test the features and their utility for their online business.
Comparing Cost-effectiveness
So, after going through the prices and the features offered by different plans of ClickFunnels and Leadpages, now we can compare the two in terms of their cost-effectiveness.
The Standard plan of Leadpages offers its users to create unlimited landing pages at $27/mo paid annually. The same feature is available in the Platinum plan of ClickFunnels at $297/mo. The Starter plan of ClickFunnels has a limit of 100 pages and 20,000 visitors/mo.
Leadpages doesn't have the feature of A/B testing in its Standard plan. This lack of feature somehow dilutes the facility of creating unlimited pages.
Leadpages does not offer email automation features nor does it support upsells and downsells.
ClickFunnels offer a wide spectrum of features to perform multiple functions of your online business at a higher cost while Leadpages offers affordable packages with limited features to exclusively build high-converting landing pages and sales funnels.
ClickFunnels vs Leadpages: Features
There are many ways in which we can compare the two leading sales funnel software. In the above sections, we compared their basic functionalities and cost-effectiveness. Now we will compare all the major features offered by both platforms.
Tracking and Analytics Tools
Not only in digital marketing but in any business endeavor or rather in any long-term activity, tracking key parameters is one of the most fundamental requirements to evaluate the performance and progress of the activity.
The second most important task is analytics tools which help marketers to understand the contribution of each campaign in the overall success or failure of the marketing efforts and also to identify the amendments needed to sustain or improve their respective performances.
For this reason, the importance of both these tools cannot be ignored in any sales funnel building software and requires a detailed review of all the tools incorporated in the software for the purpose. So, let us have a closer look to find out which platform has more effective tracking and analytics tools:
ClickFunnels
As mentioned earlier, ClickFunnels is an all-in-one online business automation application. Therefore, its effectiveness depends on the seamless integration of various functionalities to design and run multiple marketing campaigns.
To ensure the smooth running of the entire system, ClickFunnels incorporates various analytics tools to record all the clicks and moves performed on your site. The following are the major tracking and analytics tools included in the software:
Comparing the effectiveness of pages created with the previous ones using A/B testing. Users can compare two pages at a time.

This comparison helps decide on how to divide the traffic between the two variants of the same page. This, in turn, helps users to know which of the two variants received a better response from the visitors.

Integration of sales funnels with Google Analytics Tools to monitor the number of visitors' views.

This feature helps assess the growth of your business during a specified period.

Tools to analyze multiple campaigns, prepare reports and compare the performance of all the active sales funnels.

Some of the tools also allow you to observe and analyze sales trends and generate comprehensive sales reports.
Leadpages
Leadpages have equally effective tracking and analytics tools. If ClickFunnels offers these features for all your online marketing efforts, Leadpages provide very accurate information on the efficiency of your landing pages and their successful execution in the following ways:
Identify the problems related to your landing pages and evaluate if any modification is required to improve their performance.
Integration with Google Analytics and Facebook Pixel and their customization to ensure the high-level performance of the landing pages.
Facilitates the launching of tracking applications through the Page Tracking Tab.
Tools to track and monitor landing page views in the search engines and various social media channels.
Incorporates Pardot, LinkedIn Ads, and many other popular analytics tools using different apps.
Related Read
Affiliate Management Tools
Affiliate management tools offer a great opportunity to generate leads and create passive income from your business.
ClickFunnels
ClickFunnels offer as high as 40% commission on sales through its affiliate program called Backpack to its Platinum plan users. Following are some of the other benefits offered by the ClickFunnels affiliate tools:
Commissions on sales of your products made by your customers by adding an affiliate program to your sales funnel.
Manages your affiliate commissions by designing different affiliate programs.
Provides your affiliate with the tools necessary to promote your sales.
Allows you to set payout proportion and run different promotional projects from the dashboard itself.
Access to the special affiliate link to monitor sales through the affiliate program and also to identify high-performing affiliates for recognition and reward.
Leadpages
There is no affiliate management tool offered by Leadpages.
Integration Ability
The effectiveness of any software increases with the increase in its ability to integrate with other apps. Without this ability, the application will become too vast to manage. Therefore, integration with in-apps and third-party apps is always a high-focus area for all online supporting companies. Let us try to find out here, how the two leaders in the field of digital marketing automation fare on this important aspect of the online business.
ClickFunnels
With the wide range of support and services that ClickFunnels offer to its users, they need to have a comprehensive integration system. And realizing the necessity, ClickFunnels does not compromise a bit on this aspect.
There are multiple in-apps and third-party solutions that support the software users to generate automated emails, improve CRM, organizing live webinars, and maximize the conversion rate by designing and launching goal-oriented sales funnels, etc.
ClickFunnels provide access to more than 40 native integrations. Besides, by including Zapier in its kitty it allows its users to integrate with more than 1500 applications for the seamless running of their campaigns.
If integration with in-apps like shopping carts, checkouts, and cloud-based communication makes ClickFunnels one of the most powerful integrated marketing tools, there are loads of third-party apps that make it an extremely strong and robust integration solution. Some of these highly functional applications include,
HubSpot, ConvertKit, and Mailchimp, etc. for email marketing support.
PayPal and Stripe for the seamless payment process.
GoToWebinar, Zoom, etc. for organizing Webinars.
Shopify and other apps for eCommerce.
Twilio and Facebook for messaging and cloud-based communication.
Salesforce for Customer Relationship Management.
WordPress and other tools to create websites and blogs.
Spotify for SaaS solution.
And so on…
Apart from the already available apps, you can manually integrate many new tools with the application without any problem. There are many video tutorials provided with the software to help you integrate the new apps with the platform.
Leadpages
The Standard plan of Leadpages and also the Pro plan supports integration with over 40 native applications. However, by choosing the Advance plan you get accessibility to integrate with more than one thousand apps.
Furthermore, by including Zapier in the package, Leadpages like ClickFunnels provide access to thousands of additional integrations to support your marketing campaigns and make them more effective. The following are some of the major integrations offered by Leadpages,
Gmail, Aweber, Constant Contact, etc. for email marketing support.
PayPal and Stripe for the smooth and quick payment process.
GoToWebinar, WebinarJam, and so on for effective Webinars.
Applications like Shopify for eCommerce.
Twitter, Google+, and Facebook for messaging.
Calendly and OpenTable etc. for scheduling.
And many more…
Support System
Even the most powerful features and functionalities in the software will not be able to sustain its leadership position for a long time without excellent customer support. Online support services require even more emphasis on this aspect as being a new type of service, customers are not educated enough to operate IT-based systems easily.
ClickFunnels
ClickFunnels uses multiple channels of communication to offer quick and effective support to its customers. They use Chat, Emails, and Phone calls to promptly respond to the users' queries. The channel for communication is different for different plans. For the Standard plan, chat support is available for all its users during the weekdays. ClickFunnels technical team answers to all its Platinum plan subscribers via email and live chat. Besides, its phone support is available exclusively to its Premium plan subscribers.
Apart from regular channels of communication, you can also use its wide variety of training material to find solutions to your issues while using the platform. Furthermore, their community program also allows you to mutually consult with each other to resolve any matter by utilizing the vast collective experience available on the platform.
Leadpages
Leadpages is unique in many ways in supporting its customers. It offers its assistance via email, chat, and phone calls depending on the plan selected by the user. For the subscribers of the Standard plan, Leadpages only provides email support while for the Pro plan members, it also offers assistance through chat in addition to the email support. For the Advance subscribers, Leadpages opens up its priority phone support for immediate assistance.
The technical team offers chat support from 9 AM to 5 PM on weekdays. Customers can use the support ticket to get technical support outside of the chat support times. Subscribers can also use Leadpages Help Center to get guidance on specific matters through different articles uploaded on the Help Center. On all their supporting channels, Leadpages ensure to satisfy its customers through its highly knowledgeable and dedicated tech team.
Training Material and Courses
ClickFunnels
The training material offered by ClickFunnels is unmatchable in terms of its variety, relevance, and quality. Russell Brunson has put all his experience in designing and offering one of the most impressive training materials in the field of online marketing for all its users. And that is one of the reasons that even a novice with no technical background finds it extremely easy to use ClickFunnels.
The training material in ClickFunnels is available in multiple forms like books, YouTube channels, online training programs, and so on. All these channels extensively talk about effective ways of funnel building, the right way of doing online business, effectively using ClickFunnels tools to maximize lead generation, conversion, sales, and profits, etc.
The two of its most popular training programs include:
Affiliate Bootcamp
Funnel University
Besides, Russell has also published four books on digital marketing:
Dotcom Secrets
Expert Secrets
Traffic Secrets and
Funnell Hackers Cookbook
Leadpages
Leadpages offer its users a great knowledge-enhancing tool called Converted-U. It is an online marketing school offering live webinars, online tutorials, and one-on-one coaching sessions. The software also provides a lot of useful information about sales and marketing on its official website.
Convenience
ClickFunnels
User-friendly tools, simple and easy user-interface, and predesigned templates are some of the most impressive features of ClickFunnels. These features allow users to create a large number of pages in a quick time.
Users can select any template and customize them by adding content, inserting images, and videos and including buttons and pop-ups as per their specific requirements. Besides, the software allows users to include the pricing table, progress bars, and questionnaires as needed.
There are many unique tools that make ClickFunnels very convenient to use:
Drag and drop editors to place elements on the pages at desired locations.
Dedicated custom domain for all funnels.
Linking domains back to the web.
Very easy to share your sales funnels with your clients and others in your group.
Set the CTA button to perform the desired action when clicked by the visitors.
All these features and many more functions make ClickFunnels one of the most sought-after software due to its ultimate ease of use. The tool is so simple to use that even a newbie with no coding knowledge can create high-quality landing pages and build entire sales funnels very quickly.
The user-interface is so designed that it offers step-by-step guidance throughout the process of creating the pages and the funnels. The software provides users with a complete view of the pages and the funnels enabling them to view their entire layout and presentation on the screen.
The page editor though is quite flexible, it is not entirely free-form. So, you need to ensure that all your customizations fit within the spaces identified in the template.
Leadpages
Ease of use is one of the most admired aspects of Leadpages. The drag and drop editor is similar to the ClickFunnels but is more advanced and flexible compared to it. Besides, the drag and drop templates are highly attractive and modern in their designs and layouts
There are multiple selection options available with the editor. You can select one of the two pre-made templates viz. drag and drop or standard templates. Besides, it offers a wide range of elements to design landing pages and sales funnels. These include different designs of icons, pictures, and videos, etc.
The following are some of the exclusive jobs that you can perform using Leadpages:
To make it easy for the visitors to find out the desired site, the application allows its users to include Menu Items. This avoids the need to scroll down the page for searching the site.
Developers can use the 'Form Setting" feature to customize the complex forms into simple formats. They need to drag the form on the page and edit by clicking the button for the purpose.
The platform allows users to duplicate different sections of the pages. Users can customize these sections. This feature helps users to create unique designs and high-performance pages when displayed on other devices like smartphones, tabs, or PCs.
Incorporating custom lead magnets allow users to specify the desired action of CTA.
Overall, Leadpages offer a very high level of flexibility in customization and are much more advanced and aesthetics in their designs and layouts compared to many other applications.
Related Read
ClickFunnels vs Leadpages: Community
ClickFunnels
ClickFunnels provides its users with the vast experience and expertise of its vast community of highly successful and established marketers. These business-owners not only have succeeded in establishing profitable businesses in their respective fields but also in using ClickFunnels to maximize their profits while working with the online automation software.
Some of the most effective ways to get help from the ClickFunnels' high-profile community include,
ClickFunnels' YouTube channel with around 200K subscribers.
Private Facebook Group having more than 250K members always ready to exchange their views with each other.
ClickFunnels Fanpage with around 375K followers.
Leadpages
Building a loyal community of devout followers takes time to develop. However, Leadpages have been able to build a significant community through a private Facebook group- Leadpages® Community (Official).
This Facebook group includes more than 18K members who share their experiences and offer mutual support to each other. The community members assist each other not only in general matters concerning online marketing but also in guiding each other to run Leadpages more effectively and efficiently.
ClickFunnels vs Leadpages: Summary
On through review of the two platforms, we can observe that following are the features that give ClickFunnels and Leadpages a clear edge over their competitors:
ClickFunnels
Wide range of features covering all the aspects of online marketing.
User-friendly and quick funnel building and landing page creation.
Seamless integration of in-apps and third-party applications.
In-built email responder that supports and guides leads through different sales funnels.
Highly lucrative affiliate program offering up to 40% commissions.
A huge community of dedicated followers.
Efficient support system.
Extensive training material and training courses.
Webinar hosting.
Free trial.
Leadpages
All the pricing plans are extremely affordable with the cheapest plan available at $25/mo.
Very powerful landing page creator. Superbly articulated pre-designed templates to provide super-easy design and execution.
The unlimited number of views in all the plans. No limits on funnels, as well.
Comprehensive integration with in-apps and third-party apps.
Highly user-friendly UI (user interface).
More dedicated and comprehensive customer support.
Excellent software for lead capturing.
Free trial.
ClickFunnels vs Leadpages: Suitability
Both ClickFunnels and Leadpages have many unique features that make each one of them suitable for different marketing situations. What are these business scenarios where ClickFunnels is more suitable than Leadpages and vice versa?
ClickFunnels
ClickFunnels is a highly suitable platform in the following situations:
When you have to create highly functional and extensive sales funnels.
When you wish to create big landing pages. You can even build a complete web site as per your requirement using ClickFunnels land page building tools.
If you as an online marketer prefer powerful features over price.
Leadpages
Leadpages is ideal in the following situations:
When you want to build extremely attractive landing pages that have high convertibility.
When you want to create highly yielding lead-generating forms.
If you have a small business set up and you are looking for highly affordable software for the purpose.
Related Read
ClickFunnels vs Leadpages: Conclusion
Both ClickFunnels and Leadpages are outstanding platforms for online marketing automation. Both of them have their own upsides and downsides. They both cater to a different audience with their distinct features. If ClickFunnels offers an all-in-one solution for all the online marketing needs, Leadpages is an excellent tool for lead collection and creating fabulous landing pages.
So, which one of the two platforms is better depends on your specific online marketing requirements, your budget, and the size and nature of your business!