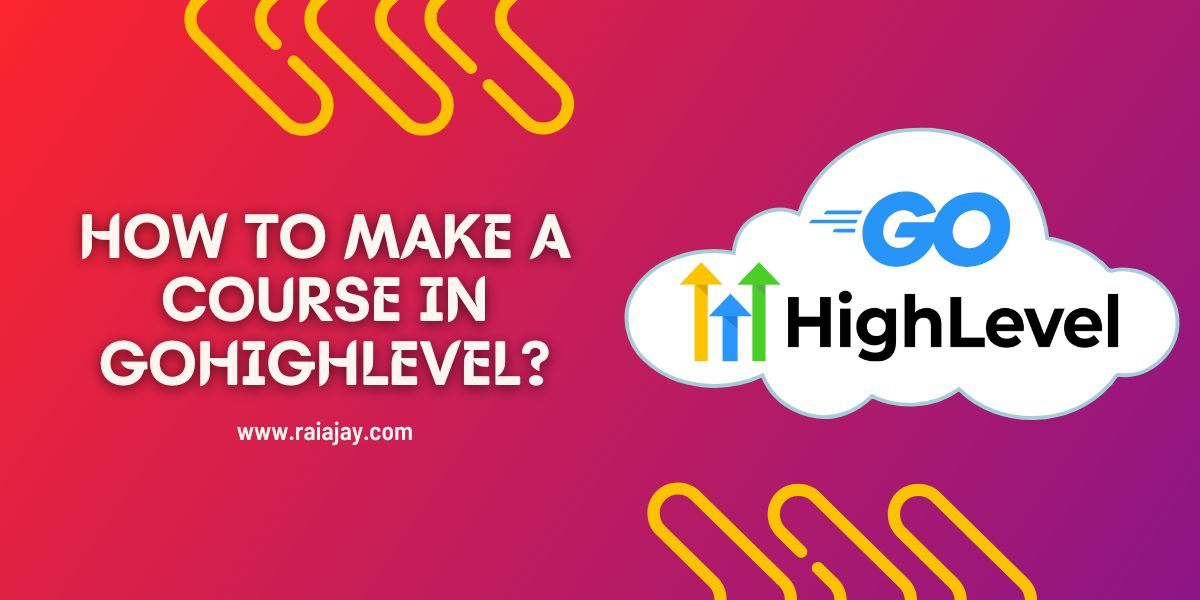 If you are planning to start your online course, then the first thing you need is a platform where you can share your content. Go high level provides a platform to create your online course without paying much. Not only that, going high level can promote your business online along with increasing its visibility. It has a user-friendly interface and consists of multiple appealing features. That is the best option for various businesses. Whether you want to make a course or a website, you can do so with the help of GoHighLevel. A good relationship with customers is the first thing required as the host or honour. You can do so with a good system to help you manage your business. Today in this blog, we will discuss the Go high-level platform and how to make a course in gohighlevel.
What is GoHighLevel?
GoHighLevel is a marketing automation platform that agencies can use to manage their business, clients and marketing campaigns with the help of data-driven insights. It is an amazing and highly flexible tool which plays a major role in B2B & B2C campaigns. The product design and keeping in mind the consultant and agencies so that their workload can be reduced. Here are some of the features offered by go high level:
Email marketing
SMS marketing
Content creation
Voicemail marketing
Management of membership website
Automation and campaigns
Appointment booking
CRM for clients and agencies
Funnel builder for the digital products
Reputation management
Customer retention optimisation
Increased revenues and ROI
Who owns the GoHighLevel?
In 2018, GoHighLevel was introduced to the market by Varun Vairavan and Shaun Clark. At the time of introduction, the name of the platform was High level. However, later on, people started calling it as GoHighLevel this is due to the domain name.
Since then, it has grown significantly in the past few years and has over 500,000 clients and 10,000+ marketing agencies.
The main purpose of this platform is to automate or speed up the process of business creation for new clients while growing and managing the businesses and making them easier.
Also, it helps the agency owners save time and cost, which they would spend on managing other software platforms and tools. It only provides benefits to small businesses as it is an affordable option and later on we will also see how to make a course in gohighlevel.
Who should use GoHighLevel?
This platform is especially meant for agencies. However, the interesting fact about this is that to manage other businesses also for:
Generating reports of the business performance
Managing the client information
Creating marketing campaigns
Creating online courses
Although the system is mainly designed for businesses and agencies, it is also a good option for small businesses and freelancers. It can be used to make online courses with the help of project templates, domain names, uploading videos and assignments, and many more things that can be done with the help of this platform.
Making it very easy to manage all the accounts on a single platform, capture leads, & generate sales. It reduces administrative time so that you can easily focus on the growing agencies.
Why use GoHighLevel?
GoHighLevel is an amazing platform for sales and marketing. People can also use it for personal purposes, but mainly the marketing agencies and firms prefer this platform.
It provides multiple amazing features which are important to increase or enhance your business. It is advised to be used by businesses that mainly operate online. Here are some of the areas in which it is used:
1. Marketing Agency
Marketing agencies usually use the go high-level to create their blog post. You can get multiple benefits by using this platform, whether you want to build a website, offer multiple marketing services or run an online advertisement on social media. This has an amazing CRM system which can be used to provide customers.
Some extra value. The major advantage of this platform is that it provides methods to acquire more clients for agencies looking for fresh individuals. It can be used to interact with clients and automate the procedure rapidly.
One tip you can follow is to provide first-rate services once you start a conversation with your clients. To know more about this, you can visit the official website of GoHighLevel.
2. Funnel Builder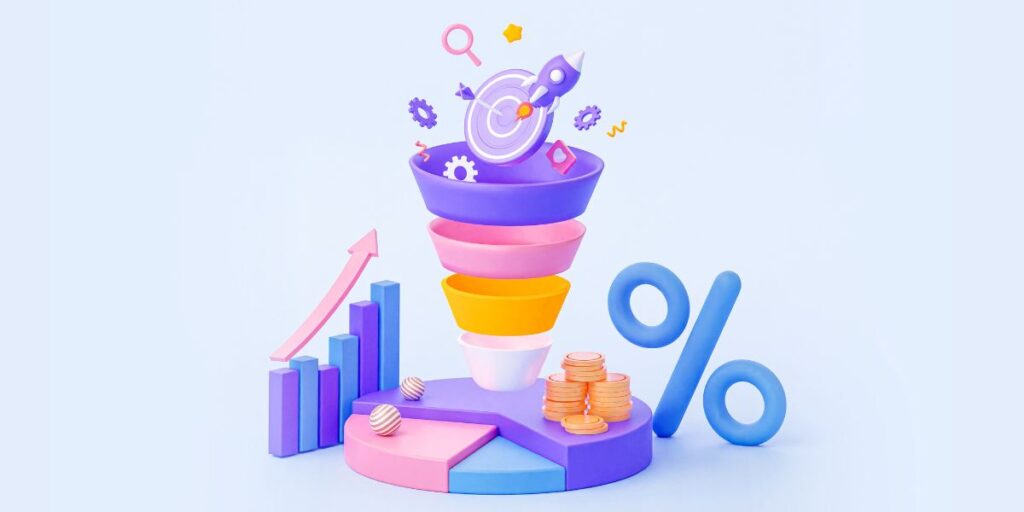 The software consists of a specific category known as funnel & website, which allows the users to form panels for lead generation and the landing page for use by clients. The funnels can be distributed easily to customers.
It is also significant to mention that the system benefits website developers. You can build and maintain your site with the provided tools and then link that to the domain. Now let's see how to make a course in gohighlevel.
Read More: How the Marketing Funnel Works From Top to Bottom?
3. Online Course Creator
The most important thing you can do with the help of GoHighLevel is to create your online course. GoHighLevel allows users to market and design online courses, also called membership-based. Moreover, if you have the membership website, you can transfer it to GoHighLevel. To start building your course, create your domain name first.
It should be unique as it will be added to your website. The user shall also have access to various editor tools, especially the visual editor, which can be used to modify the course material. Once you finish making your project, you can upload the document and video you have made.
It is very easy to use. You need to purchase the package. First, from there, you can establish your membership website and start working on your first online course. You can share the course with your clients on social media platforms like Facebook and Instagram.
Bloggers, consultants, drop shippers, and freelancers can utilise this platform to manage their clients. Moreover, the users can easily add assignments and quizzes along with sample images.
Here are the important steps which you can follow to make a course in gohighlevel:
Add the logo of your course first and set the membership website domain
Create the membership product on the GoHighLevel
Create the product structure
Make the product offer
Set up the membership website automation
Why choose an online course?
The world is growing rapidly. Similarly, the need for online education has also expanded. Whether you want to take classes for university or college, the online course can be utilised by all. Most preferably, the university experts want the courses to go online. The course can be created online, and a high-level income can be generated using it.
How to add quizzes or assignments on GoHighLevel?
People who upload their online video content can also add quizzes and assignments to make their online courses more effective. Below are some of the steps which one can follow:
1. Choose the product
Navigate through sites, then membership and product for creating your assignment for the members.
Choose the product which you want to add in place of the assignment
Click the option of plus, which can be used to add assessment.
2. Create the assignment
Give a name or title to the assignment and then select the option to save
Next step is to specify a grade for your assignment. This is not a necessary step. If you don't want any grade, then also it is fine. If you are adding the grade, then specify the passing score. The passing score will be displayed separately.
Next step is to add questions to your assignment. Here you will get two options: first is whether you want to add multiple choice questions or if you want to add a single answer question. The choice is all yours.
First, add a question and then only select the answer.
You can add various correct answers; the system automatically adds your answer choice. If you do not add the answer in the system, then any person will get the marks while choosing any option.
3. Publish the assignment
The last step is to make the assignment public, so anyone can use it. This is done by selecting the option of publishing there; you can add the assignment. After that, it will be displayed to all the users.
Pros of GoHighLevel
There are multiple benefits associated with the GoHighLevel, some of which include:
1. Integration
With the help of GoHighLevel, you can use the apps you like seamlessly. You can make connections by having two apps send the data through webhooks. Below are the applications which can be integrated with the GoHighLevel:
WIX
WordPress
Squarespace
Paypal
Pipedrive
Mailchimp
Leadpages
WUFOO
Calendly
ActiveCampaign
Schedule Once
Drop blog
SurveyGizmo
2. Functionality
Doing repetitive tasks makes you spend extra time generating revenues. Where are a few things which can be automated with the help of HighLevel:
Lead nurturing sequence, which includes SMS, text and voicemail for increasing the appointment request
The appointment reminder such as SMS, text and voicemail can be used to cut down no shows
Selling process is used to generate proposals.
Reputation management
3. Membership Platform
One more amazing feature is the membership sites. It provides subscription sites for online course creation. It allows the course creator to run the membership sites. So the membership side can be used to sell the premium products you create. But for this, you need to add the domain first.
4. Affiliate Marketers
It involves selling the products to the users in favour of getting a commission in return. Marketers can sign up for affiliate programs to earn a handsome profit. Websites and platforms such as GoHighLevel would help you in affiliate marketing by developing and managing marketing campaigns with the help of tools provided by the go high-level. It will make your work easier.
5. Real Estate Agents
Real estate agents currently locate the majority of their clients online. Clients who view and like the listings might contact you to connect with them. With the help of Go High Level, one may reach out to more customers, expand the range of the business, and promote it. The chances of producing a great deal of money will improve with more leads, so eventually, your firm will achieve its full potential.
So these are some of the benefits associated with the use of Go High Level.
Cons of GoHighLevel
Here are some of the disadvantages associated with the use of Go High Level:
It lacks the productive dialler
It does not consist of A and B testing
Payment can be only done with the help of Stripe
Leaning curve
Pricing of the GoHighLevel
Go High-level provides the following plans:
Starter pack for the agency, which costs around $97 for a month
Freelancer plan, which costs around $297 for a month
Pro plan for the agencies, which costs around $497 for a month
It also provides a free trial once you sign into the website. You can use the platform for free for 14 days.
Summary
So in this article we have seen how to make a course in gohighlevel. The Go High Level is a complete tool kit comprising different tools for managing various agencies' projects. So that you do not need to search for any other tool, if you feel any problem, you can freely contact them through chat, mobile phone and chat option. The best part is that you can create your course with the help of the toolkit provided by the Go High-Level platform. Moreover, it provides three different packages from which you can choose based on your work. It includes the starter pack, freelancer package and pro plan. The website also provides free trials for the first 14 days. If you need any help with the toolkit, then you can contact their customer service centre.
Go High Level Frequently Asked Questions
Let us see the common doubts that people have regarding the use of Go High Level:
Is it worth buying the GoHighLevel Subscription?
If you want to promote or enhance your company, then it is the platform. It consists of all the tools which you require. Whether you want to promote your product or make a course online, it will help you build what you require.
Is the online course made on GoHighLevel good?
The online courses made using GoHighLevel are amazing, as multiple themes, assignments, and quizzes can be made using this platform.