Summary
Funnelytics Review 2023 is a comprehensive review of the Funnelytics platform, the world's leading funnel mapping software. It takes a deep dive into the features, pricing, and use cases of the platform. The review begins with a brief overview of Funnelytics, providing readers with an understanding of the platform and its key features. It then explores the pricing, use cases, and customer support offered by the platform. Finally, the review looks at the pros and cons of Funnelytics, giving readers a clear understanding of how it can benefit their business. Overall, Funnelytics Review 2023 is an in–depth guide to the Funnelytics platform, and provides readers with the information they need to make an informed decision on whether Funnelytics is the right funnel mapping tool for their business.
Let's begin with the decisive Funnelytics review. In the initial parts of the review, we shall be taking a look at simpler basic information, in case you don't know anything at all about Funnelytics and need to quickly figure out if this will be right for you.
And Yes! I do highly recommend that you sign up with Funnelytics in case you are running marketing funnels and we shall soon see why this is true.
I'm going to make sure that any information is being updated with this review, so make sure that you are coming back here for more! This Funnelytics review is written for being a guide that can help you understand the complete working of Funnelytics and all of the exciting stuff you will be able to achieve with it.
By the end of the Funnelytics review, make sure that you leave your personal opinion on Funnelytcis. Hence stick around with us till the end. This is going to be an in-depth review so let's begin!!
Funnelytics Review: What Is It?
Funnelytics is an aesthetically pleasing yet simple software for funnel mapping. It can be sued for tracking, designing, and analyzing your marketing funnels. This is amongst the first to have the main focus over funnel visualization.
An interesting thought behind the creation of Funnelytics was that it had been created by Mikael Dia after he got frustrated that he wasn't able to find a better tool that can be great for mapping funnels as well as keeping a track of analytics, everything at one place.
He also had several funnel ideas but no place for them! But he also wanted to do a lot more than funnel visualization. He also wanted to track the effectiveness and be sure if it was profitable.
With funnelytics, you are not just going to map funnels easily, but you also get to observe and analyze the way tracking analytics work. All of it is within the mapping platform.
Funnelytics Review: What all is included?
Here is a free and a Pro version of Funnelytics available. Remember that the difference between these two is radical. The basic version will be enough for taking a look at the awesome features and can provide you with the basic taste of how wonderful the Pro version can be. With Funnelytcis Pro, you will have a package of the complete cool features that will be optimizing the funnels as well as boosting revenues. Here is all that you get:
Unlimited funnels
Objective and conversion tracking
Customer profiles
Email tracking
Ad tracking
Funnel templates that are premium and developed by industry experts, and so much more!
Why Choose Funnelytics?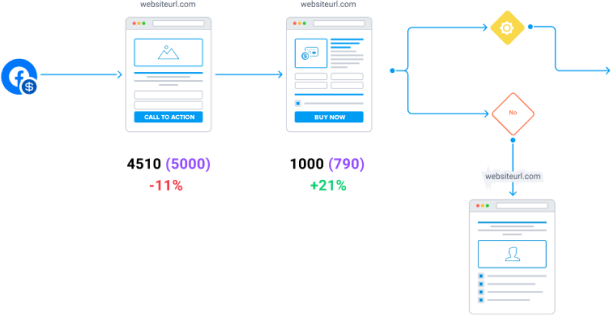 Funnelytcis will be able to take your funnel that you had been thinking about and put it over a canvas. The amazing features allow you for inserting the tracking analytics and in the funnel maps. You will also be able to easily show the innovative funnel ideas with the friends through their shareable links or downloading as image files.
Before Funnelytics, the options that one had could at best draw out funnels over sketch or whiteboard and through mind-mapping programs. But when you go with Funnelytics, all of the ideas that you thinking about can come into life in the most picture-perfect form possible.
Will Funnelytics Be Right For You?
Funnelytics can be considered the right choice for any funnel page creators like ClickFunnels and Thrive Architect. Businesses and marketers of any caliber can gain much value with the basic variant as well. You always have the choice to go with the Pro version for an instant analytics boost. In case you had used Google Analytics in your past, you can get a slight hindrance when we speak of conversion metrics for all option pages.
Google Analytics can be amazing for several people, but it certainly does have some limitations too. Funnelytics takes you ahead of those limitations and you can have detailed tracking on each phase of the funnel.
Funnelytics Review: It Will Be Great For You When:
Looking forward to creating amazing funnels instantly.
You feel like analyzing the funnel effectiveness.
You need to track metrics for every channel and element of the funnel.
One is searching for creating a much clearer vision for the marketing plan in mind.
You feel the need to easily share the vision with colleagues and customers.
Funnelytics review: When NOT to choose Funnelytics?
Don't go for Funnelytics if funnels aren't a vital part of marketing strategy.
You have created, tested as well as optimized all of your funnels ever needed.
You are making use of other tools for tracking that can provide adequate feedbacks while performing funnels.
The Decisive Funnelytcis Review (Pro version)
Humans are ultimately visual learners. And if you are new to the complete aspect of marketing funnels, the need for an aesthetically pleasing guide that's laid out will speed up the procedure of learning and Funnelytcis is helpful here.
Even if you're an experienced marketing professional, Funnelytics can help in sweeping away your customers with a wow factor that can also clean the marketing strategy display.
When the BETA variant of Funnelytics was launched by Mikael Dia at the end of 2017, he focused on creating an environment that was specifically great for funnel marketers. This was for making sure there was a place for experimenting and sharing innovative ideas.
The pro version of Funnelytcis was launched in 2018 and it's still in the Beta development phase. Now with this, we mean that there are some exciting deals available for the early customers.
Some of my Favorite and Unique Features of Funnelytcis
I'm mesmerized by the idea of anything that can help me with faster learning. As fast one learns, the quicker they can boost ROI. Funnelytics has immensely helped me with: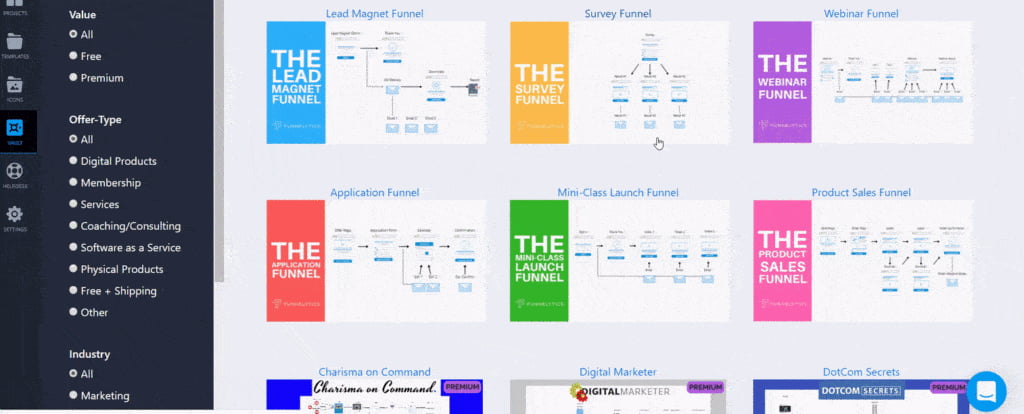 Leaning more on high converting funnels directly from industry experts.
Getting educated on my created funnels through data harvesting.
Crafting the ideas and getting assistance for mapping them right before my eyes.
The funneling speed that you currently have warps up a level with Funnelytcis and there are specific features that help you do that. Let's take a look at them!
Funnelytics Vault:
Now, this feature provides you with extremely well-performing funnel templates that come from experienced marketers and have been proven for conversion.
Visually appealing funnel builder and with drag and drop functioning.
The ability to share funnels easily through shareable links and downloadable links.
Identification of traffic sources that offer you the best ROI.
Analyzing the way users flow across funnels and identifying the pages that need to be strengthened.
Tracking details on metrics linked with user engagements.
Funnelytcis Review of Benefits and Key Features
Here is the complete breakdown of the most remarkable features of Funnelytcis!
1. Funnelytics Vault
The pro users of Funnelytics gain lifetime access to their funnel templates. Each one of these templates has been designed by the most successful and experienced funnel traders from across the globe. All of this for an affordable $47 and can get very useful. Regardless of the business type you have, funnels that you are trying to create will have a resemblance with templates available in Funnelytcis Vault.
They are always offering highly experienced funnels each month. Some of them belong to a wide range of categories like books, associate travel, and other products. Funnelytics has managed to expand all of the aspects of such funnels from the first pages of the website to the advertising and landing pages.
They also have some quality explanatory videos. These are available for each of these funnels and one can understand the complete working this way. Above all, the funnel templates stay directly integrated with Funnelytcis. All that needs to be done from your side is clicking over the button and making a selection of the one that you feel is right for you. This will immediately get loaded on the funnel map.
Developers of Funnelytics Vault
The complete collection of Funnelytics Vault with pre-made templates comes from the biggest marketers from across the world:
Molly Pittman, Digital Marketer.
Dan Henry, GetClients.com.
Sam Ovens, Consulting.com.
Ryan Levesque, ASK Method.
Grant Cardone, The Millionaire Booklet.
Russell Brunson's DotCom Secrets Book Funnel.
Mentorbox.
And so much more!
What is the Advantage?
Well, why will you want to start the work from scratch when you have the chance to opening with tested funnels? That too the one that has been created by skilled marketers that you know about already for highly acclaimed knowledge and insights!
Funnelytics had already purchased the best products when we speak of funnels and taken screenshots so that you don't need to put in any effort. These people have been adding expert funnels each month. The funnels you find here come from a wide variety of industries including membership sites, book funnels, and information products.
Funnelyctis has broken down all of the funnel aspects, this range from downsells and upsells to specific ads and landing pages. They have also created explanatory videos for each of these so that you easily understand how it works.
How do the Funnel templates work?
One of the best features of the templates is that these are built for fitting directly in Funnelytcis. All that needs to be done from your side is clicking a button and the template that you choose gets downloaded in the funnel map instantly.
Here is the process that explains its working:
Tap on the Vault tab that's available in your main menu and choose the funnel that you need.
Now click over the option that says 'Funnelytcis Template' and share the template over your dashboard.
Now click over the blue button for adding funnel on your dashboard.
Task completed! Now your funnel template has been loaded to your dashboard.
You might have also seen that there is another option for loading funnel on ClickFunnels and not Funnelytcis as well. If you tap on that button, you get redirected towards the ClickFunnels account.
Cons of Funnelytcis Vault
It would have been much better to gain access to more than a single funnel for one expert marketer. Funnelytics shares just one funnel for one marketer when they can share a lot more.
The templates take time for loading, not too much but certainly a feature that can be improved.
Final Thoughts on Funnelytics Vault
Well, the vault does provide you with the entire information one needs for creating the best funnels. There isn't any reason for inventing the wheel if you have the option of instantly begin money when the work has been done for you.
2. Funnel Builder
Another main feature by Funnelyctis is the Drag and drop option for funnel builder. You will be able to drag and drop the complete interface with different icons for each of the levels into the sales funnel like a webinar, sales page, blog post, logout, etc. In case you need it, you also have the choice to add even more icons for customizing the funnel.
There is an available section for traffic sources like email, Facebook, guest blogs, and other activities that show you all of the steps that you need to take. For creating a funnel, you need to choose a traffic source like Facebook, select icons and drag it all over your project. The pages get arranged in the manner by which these were placed. The arrow will be showing you the ways icons get linked.
How can you Create the First Funnel?
On the Funnelyctis Dashboard, you need to tap over 'Create a Project'. This option is present on the top left of the screen and then enters the project name.
2. The name of the project will be appearing on your left sidebar.
3. Now choose the name of the project from the sidebar. Click on the option of 'Create Funnel' from the button present on the top-right screen.
Name the funnel you made.
Congratulations, you just created your first funnel!
How to design Funnel From Scratch?
You will be able to see a blank funnel map on your screen.
On the left side of the screen you will be able to see the following options:
Pages:
Here Select from:
An Opt-In,
Order Page,
Sales Page,
Sales Video,
Survey and
10 other kinds of pages.
Traffic:
These icons are going to represent the traffic source and where you are going o add the UTM parameters needed for tracking. The icons for Adwords, Facebook ads, Linked In, and banner ads with other 18 traffic sources can be chosen here.
Actions:
The actions will be representing the kind of activities by users that you need to track through Google Tag Manager. Select options from Watch video, Purchase, complete form, Add to cart, and similar actions available.
Offline:
Now the offline icons will be representing the part of the sales funnel that will take place outside the internet like:
Business
Card
Meeting
Print Ad
Radio
Text Messages
Templates:
The templates that you import or create are going to be shown here. Now you will have a base completed. It's time for dragging the icons that you chose on your map and make the funnel of your dream into reality!
Funnelytics Review: Designing Funnel
For getting started, you have to click and then drag the icon for traffic source on your map.
Now grab all of the pages that you wanted to add to the funnel and also arrange them as per your likes.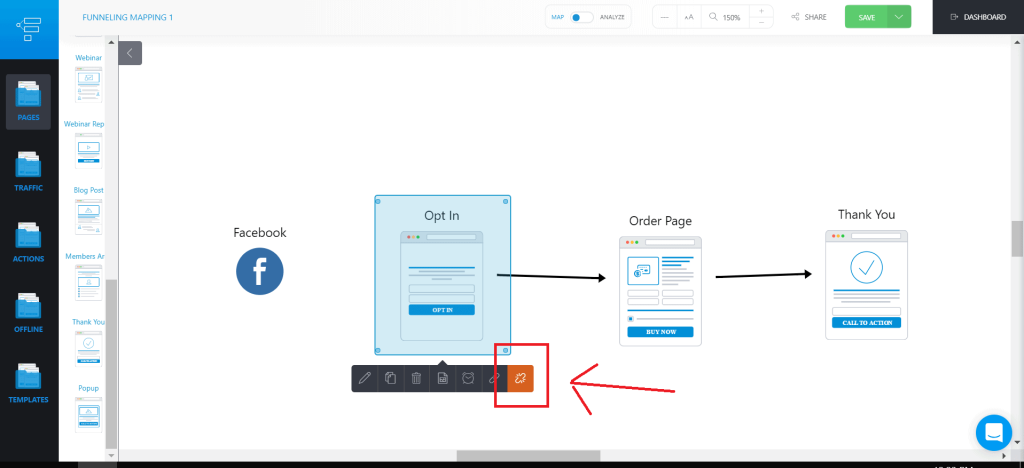 As one drags the pages and completes positioning, all of them get automatically linked with each other and in the kind of order that you want.
When you feel the need to unlink any icons, just tap over the icon where you see the arrow. Here you will be looking at a set of a button that shows up under the icon.
Now tap on the option on the far right that says 'link' and this is going to break that link.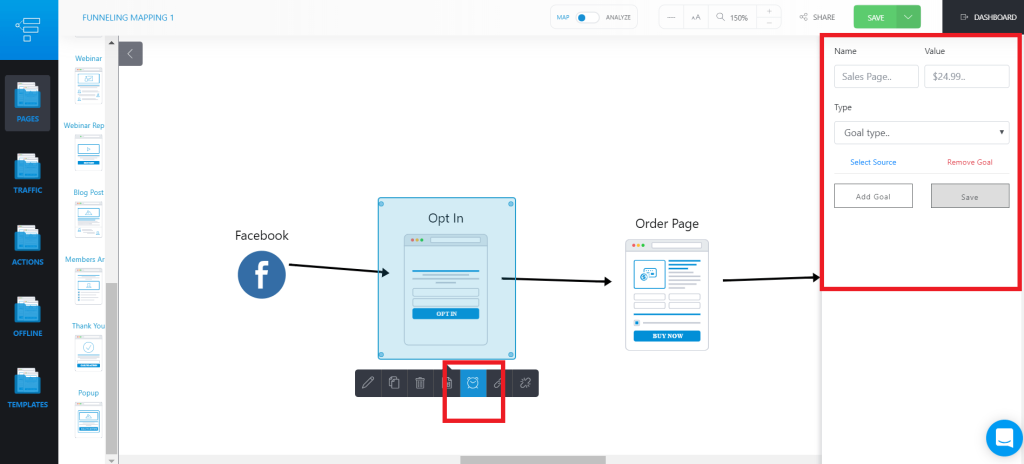 Traffic source icons won't be linking automatically on the first funnel page. If you want to do that, click over the traffic source icon.
Click over the 'link' icon on the far right. Hold and then drag the cursor till the arrow is in contact with first a page that needs to be linked with.
Funnelytics Review: Setting Goals
For setting your revenue and conversion goals for a specific page, tap on the icon and then choose the alarm clock switch that can be seen below the icon.
On the sidebar you will see a pop-up towards the right where you will be able to enter the target values, goal name and choose the kind of goal:
Lead
Sale
or Application
3. Tracking and Analyzing User Flow

All of the funnel mappings that we have covered can be seen in 'Map' settings. For switching towards 'Analyze' mode, just click the over button that's highlighted over the screen on the top. The traffic, as well as metrics on conversion, appears magically.
This will be the favorite part of using Funnelyctis! Later we are also going to take a look at how the metrics get connected with your active campaign. It is usually observed that even the smallest changes made for sales copy will bring out a huge difference when we speak of conversion rates.
Through Funnelytics, can see the way exactly by which the customers keep dropping off. This gives you a guide on strengthening the weak pages of the funnel.
4. Tracking all of the External Traffic Source
With UTM tagging one can track the traffic that comes through external sources. This is everything about UTMs and website URLs for creating unique tracking codes. Each time a person visits the website you have, the activity gets captured through codes sent over Funnelyctics.
You also have the option of tracking and analyzing them in programs similar to other leads. Funnelytics also provides you with UTM tracking spreadsheets. You will be able to use spreadsheets for managing track links in the campaigns.
There are also chart guides available online that you can make use of. Most of the table cells stay locked and there isn't a need for dealing with formulas or texts. When you choose to go with unlocking some of the cells, you can use the password "funnelyticsrocks".
One also needs to make copies of the spreadsheet and adding it to the Google Account. Funnelytics needs one to make sure that you don't request any of the access changes.
Funnelytics Review: What's UTM?
The full form of UTM is Urchin Traffic Monitor. When one attaches UTM codes towards the end of the website URL, there is a unique tracking code created. Anytime one user clicks over the site link, the tags get sent to Funnelytcis and you can start tracking all of the activities.
How can you Link Traffic icons with UTM Code?
When you are connecting the traffic icon with the UTM code, the icons get automatically updated with the traffic analytics from the page! When you are creating a map through Funnelytics, make sure the traffic icons are connected with page icons and not vice versa.
With this I mean:
For connecting the Facebook icon with the page link, tap on the traffic icon.
Now click over the 'link' button that can be seen below the Facebook icon and then drag arrows on the page that you need to track your traffic into.
Now enter the UTM parameters. Here is how you can do that!
Click on the Facebook icon.
Tap over the pencil icon that you see below your Facebook icon.
Now enter UTM parameters over the sidebar that shows as a pop-up over the right side of your screen.
Now save the funnel link and also copy it for use in the advertisements. Make sure you aren't entering the links in your traffic source. All traffic sources fill links automatically.
Spreadsheet for UTM Tracking
Funnelytics also has a spreadsheet for UTM tracking that one can make use of for managing your tracking links in campaigns. You need to use the spreadsheet as a guide. The major cells of the spreadsheet stay locked and you don't need to mess with formulas or texts.
If you will need of unlocking some of these cells, you can make use of the password "funnelyticsrocks" to do that. There will be a need for making a copy of spreadsheets and adding in the Google account that you have. Funnelytics also requests that one doesn't ask for access for editing.
5. Use of Google Tag Manager for analyzing User Engagement
One of the most vital tools developed by Google for the management of tags is the Google Tag Manager. This acts as the hub by which you will be able to install the tracking analytics script and includes the ones from funnelytics! When you are using Google Tag manager on the WordPress website, you will be able to track the user engagement with specific elements on the pages including:
Button clicks.
Video view percentage.
Page scroll percentage.
Pop-ups.
Events.
Here is the step-by-step guide for installing Funnelytcis scripts on Google Tag Manager
Step 1: Install Google Tag Manager
Firstly, you have to install the Google Tag Manager in case you didn't complete that already. With such websites, you will be able to do it through using plugins like Insert Headers and Footers or Duracell Tomi's Tag manager available for WordPress.
Google Tag Manager is available with code snippets. One of them for the header section, and the second for the rest of the 'body' for the website. You can also find such codes when you click on 'Container ID' on top of the Google Tag Manager pages.
When one clicks over 'Container ID', the snippets with two codes are going to display on your screen. Either of the WordPress plugins we recommended will be telling you exactly the places where one can see such pieces of code.
Step 2: Install Funnelytcis Script through Google Tag Manager
Now when the Google Tag Manager gets installed successfully, it will be time for installation for the Funnelytcis script to begin tracking. Here are the ways to do that:
Open the project on Funnelytcis.
Tab on the Settings option.
Now copy the required script.
Go back to Google Tag Manager and begin adding new tags. Be sure these are set for all of the pages well.
Now when the Funnelytics Script gets installed on all of the pages of your website, you can learn how to track unique actions for Funnelytics.
How can you track the Button Clicks with Google Tag Manager?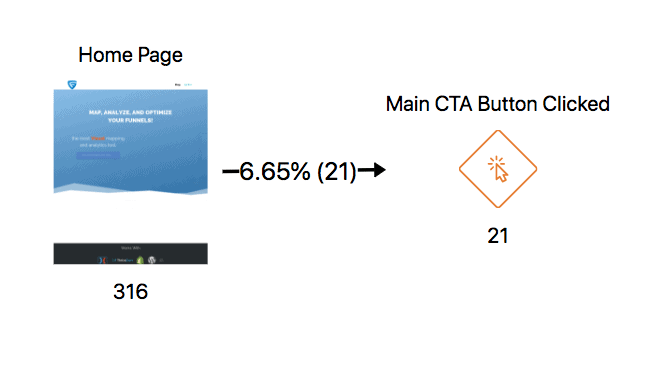 You can make use of the Google Tag Manager for tracking all kinds of user activities. While everything is set up, you will be able to see the needed data similar to how often your users are clicking on the specific page elements.
6. Revenue Tracking
The pro version of Funnelytcis will show you with revenues that were made from each of the phases of the funnel overtime for the entire campaign. Funnelytcis also doesn't integrate the payment carts, but as we write this review you can be sure that they are working on the development.
The good news is that they did come up with a clever workaround for the duration. Rather than you directly lining the payment processor, you also have the option to set specific goals for pages and attribute the cost with each of these products.
For instance, if you have a product worth $135. Any of the users that visit the conformation pages for an assigned value of $135 is essentially similar to linking the payment processor.
Funnelytics Documentation and Support
You can easily take a look at some of the explanatory videos of several technical aspects of this article on tracking features offered by Funnelytics on YouTube. There is also interesting chat support provided by Funnelytics but this issue is that it isn't available 24/7.
Therefore in case you are on the opposite side of the HQ in Toronto, you will need to take some time before you can get a reply from them. The staff surely is well motivated for helping you out with any kind of troubleshooting issues.
They are in BETA testing mode and therefore trying to remove any added kinks out. Their team is grateful anytime an error or issue that isn't running well is pointed out.
Best Ways for using Funnelytics
Share the funnels through a specific link or through downloading them as PDF or PNG files.
Click on expert knowledge with the best marketers across the world through templates available in the vault.
Observe referrer traffic that you have with extremely clear vision.
Tracking and analysis of page performance.
Analyze the user engagement through scroll percentages, pop-ups, events, and video percentages.
Get the ideas from your head and see in on the map for making sure the world can see them as well.
Share the funnels.
Build funnels for your clients live.
Funnelytics Review: Pros
One thing is for sure that Funnelytics has done an amazing job of offering a unique quality product. Here are some other benefits of Funnelytics that you should know about and is something vital for checking out!
Funnelytcis Pro comes with a large catalog for professional funnels that can be tested with industry leaders.
The funnel designs can also be downloaded with easy sharing.
You can get detailed analytics on how the funnels have been performing.
There is also the drag and a drop builder is very easy and doesn't have any learning needed.
You can track revenue.
The design funnels are much faster.
The funnel maps are of presentation quality.
Funnelytics Review: Cons
As we mentioned that Funnelytics is presently in its testing phase. Therefore one cannot get too critical as they are constantly making corrections. But one thing that I noticed was that they lack the capacity of integrating any third-party software. At least this is the current situation and hopefully, they will improve on that soon.
It doesn't integrate with shopping carts and payment processors like ThriveCart.
Won't integrate with email marketing service.
You cannot build or host the funnels and pages within Funnelytcis. You require a tool like ClickFunnels or Thrive Architect for that.
People with non-technical backgrounds can have a difficult time setting up tracking for the on-page events that are unique.
Funnelytics Review: Comparison with Other Competitors (Funnelytics Vs Clickfunnels Vs geru)
Funnelytics vs. Clickfunnels
There is no similarity between Funnelytics and ClickFunnels. Both of these platforms are completely different from each other and can serve varied purposes. One can also make use of Funnelytcis for the different funnel mapping. And Clickfunnels can be used for creating sales funnels, opt-in funnels, webinar funnels, and self-liquidating funnels.
Clickfunnels provides the users with a trial period of 14 days. On the other hand, if you are in search of something for just funnel mapping, Funnelytics provides a completely free plan. You can give Clickfunnels a chance if you are in search of something with varied kinds of funnels.
Funnelytics vs. Geru
Geru remains one of the firsts for funnel stimulators that will help instantly model and stimulate the potential profits of sales or your marketing funnel. This also helps with cutting down the high marketing mistakes and one can grow the business at a much faster rate.
Funnelytics also provides forecasting features similar to Geru. This means that Geru is useful for just creating the planning and forecasting. And when we speak of Funnelytcis, tracking and analytics are much better when compared with Geru.
Funnelytics vs. Google Analytics
You cannot call Google Analytics and Funnelytcis to be the same. Although both of them come under the classification of monitoring tools, it will be better to have Google Analytics when you go for Funnelytics.
The main reason for this is that Google Analytics is needed for everything apart from that, like audience reclassification, Google ads, etc. Funnelytics also provides sales funnels as well as metrics for critical performances.
Keep in mind that Google Analytics will be free but when you for funnelytics Pro, it is paid version. So one thing is for sure, that when you can have both, there will be no reason for regretting anything here.
Funnelytics Review: Pricing
Now this will be the best time for purchasing Funnelytics Pro as this is in the BETA phase of testing. Their lifetime membership is available at a fixed price and you can get unlimited traffic when you go with the paid version.
Keep in mind that this deal won't be available for a lifetime. Once the BETA testing is completed, the plan will begin from $99 to $800 per month and shall depend on the traffic volume.
Over that, you can buy this with lifetime access to Funnelytics Vault that has a $2000 value and get the access of "$0 to $200k Webclass" that has an added value of $2000.
Funnelytics Review: Pricing Options
You have the chance to go for the lifetime membership right now just for $595. When you add $97 with this you can also add the "7-Figure Agency Ignite Swipe Files," This is going to break the exact Funnelytcis methods for scaling the digital marketing agency much over seven figures. All that you can get from Funnelytics is available for you with a payment of one time of $692.
Right now, you can get a lifetime membership to Funnelytics Pro for only $595.
Funnelytics Review: What about the Free Plan?
The basic free version limits you with 10 funnels. You can just carry out mapping with it. There is no inclusion of analytics and tracking here. The major function of the basic variant is that it attracts you for going ahead with their Pro Version.
When you don't have the capacity of engagement, traffic analysis, revenue, or ROI, the free version equals a brainstorming fun tool to make use of. You will still be able to export funnels as one makes PNG or PDF files so that they can be shared with the clients. We can't complain about anything here as this is a cool tool to use for free.
Pro Guarantee and the Refund Policy
When you are going ahead with purchasing the pro version, you will have a moneyback guarantee of 30 days. Design funnels like crazy steal all of the expert funnels from the vault and then get over it after 29 days, in case that is your objective.
All they are asking you are trying to implement the Funnelytcis before you think of completely skipping on it. In case you haven't even used the software and asking for a refund, there is a possibility of getting disqualified.
Funnelytics is already providing you with an incredible amount of BETA testing as they also need valuable feedbacks. In a situation where you don't use the program at all, there is no probability that you can provide feedback. Makes sense, huh?
Funnelytics Review FAQs
What can Funnelytics Pro integrate with?
Funnelytics doesn't integrate with any of the software. Their team is working on it, but you need to be aware of the information.
How does it track visitors and conversions?
Funnelytics makes use of the UTM link for tracking traffic. The UTM links let you know about the source medium identification for understanding the campaigns.
Can you share funnels with peers and customers?
Yes! You will be able to download the funnels in PDF/PNG formats as images or go ahead and share them through a link.
Does Funnelytics track ad traffic, ad spend, or email traffic?

Yes. Funnelytics will be able to track all of the metrics above and much more and this included:
Email ROI
Revenue
Landing page visitor.
Landing page sales/leads
ROI
Funnelytics Review: Final Thoughts
Funnelytics is your campaign, funnels, analytics, and mapping tool. This allows you to measure your campaign successes that can be compared with goals and offering a live dashboard of funnels metrics and performance.
If you have a marketing team, you can be sure that they will love using this tool for tracking daily reports and testing progress. It also allows easier optimization and strategy changes.
Alos read: