Summary
Thrivecart is an all–in–one shopping cart and checkout solution designed to help businesses and entrepreneurs sell their products more effectively and efficiently. It features an intuitive, drag–and–drop builder to create beautiful, optimized checkout pages that are optimized for mobile and desktop devices. Plus, its advanced analytics tracking provides detailed insights into customer behavior, allowing users to better understand their shoppers. With its extensive APIs and integrations, Thrivecart makes it easy to integrate with other popular services and platforms, such as email marketing, affiliate marketing, and payment gateways. Thrivecart offers a free trial and pricing plans that are suitable for businesses of all sizes. Its customer support team is also highly rated and is available to help users with any inquiries or issues they may encounter.
Stop your search for ThriveCart review as we have all of the information right here! Are you looking forward to making some money from blogging? Then there is a need for selling your products.
After all, when we speak of affiliate marketing, you don't have control over it. Additionally, these come and wear off as waves. You can't completely depend on them for having a reliable income source for the blog.
When you are selling your products and services, you will have complete control over them but also can help people. Your insights, knowledge, and experiences will help your viewers.
Sounds amazing, right? But there is a big challenge to it: How does one handle all of the sales?
A few years ago, if you wanted to have your system of e-commerce, it had been taking several hours for development and did cost a huge amount of money.
Fortunately, in 2021, there are unlimited software options available when we speak of the shopping cart and you can choose any. Some of them also include WooCommerce, Shopify, SamCart and there is one that you might have not heard of and that's ThriveCart.
Different from WooCommerces, that suitable for selling physical products, ThriveCart has its specialization in selling subscription and digital services. The process of checkout is simple and one can make use of this software for setting up a good sales funnel!
ThriveCart Review: 60 Second Summary
ThriveCart is an amazing shopping cart service that allows you to sell digital products. There are some good offers, down sells and upsells, one can see ThriveCart having several methods that can help in increasing your sales. It has an incredible affiliate program that's built-in and therefore there won't be a need for purchasing any other additional software. One of the biggest benefits is the one-time fee on competing products.
Platform: Cloud
Affiliate System: Yes
Dunning: Yes
Price: $495 to $690 (A one-time payment)
What's ThriveCart?
ThriveCart is a type of shopping cart service that provides you a platform for selling physical and digital products. Different from some of the other software's, it offers hosted services and there is no requirement of managing or installing. ThriveCart (no link with Thrive Themes) is Josh Barlett's creation in the year 2016 and has been a part of WebActix, Ltd.
Features of ThriveCart:
There are endless features that you find with ThriveCart. And here we shall take a look at some of the 'must-have' and highlighted ones that you should know about.
Coupons and Payment Options:
This is the area where ThriveCart is excellent. You might be selling a digital product that needs payment of one time, or subscriptions/memberships that need monthly payments, all of the work will be handled by ThriveCart. Here is everything that you can achieve:
One-time payments.
Multiple payment plans or split-pay
Subscriptions.
Say your price.
A free trial period.
Product Quantity Limited.
Automated sales tax.
Supports 22 currencies.
As you can see that any payment option that you can think of ThriveCart will easily do it for you.
Coupons are also another great segment where ThriveCart is strong. One can offer coupon codes with expiration dates in limited numbers. You will be able to display the coupon field and can also make this link available through the URL only.
In this manner, one can provide good discounts to the audience but remember that they won't be able to share these codes with anyone else.
Here Is the List of Coupon Options that you get:
Fixed discounts.
Percentage discounts.
Free shipping.
The expiration date for coupon availability.
Limited frequency of coupon usage.
E-mail notifications when any coupon is being used.
Bump Offers, Upsell and Downsell
One of the easiest ways for increasing customer value for a lifetime is by providing more items for purchase during sale times. Imagine it as purchasing a pack of gum in the supermarket at the checkout aisle. Thrivecart also allows you to down-sell, upsell as well as bump offers at purchase times.
They support trial offers, subscriptions, and multiple payment modes. This provides you almost all possible options to test your products and enhance the LTV or lifetime value for the customers.
Numerous options or Shopping Cart
As per the kind of product and price point, one can offer their shopping cart in several ways like:
Popup:
An order form with a key-click popup and will work well for impulse/low ticker buy items.
Sales Cart:
It's a landing and shopping cart page where both are combined as one.
Embeddable:
Adding an existing page will allow ThriveCart integration here.
Standard:
This is a typical kind of order from page and is perfectly fine for high-priced items.
Design Editor
ThriveCart recently has also added an editor that works on drag and drop models and creates shopping cart easier. This is also a good choice for sharing premade templates of ThriveCart with others. Therefore you will be benefitted from what other people have tested and learned and use it in your cart.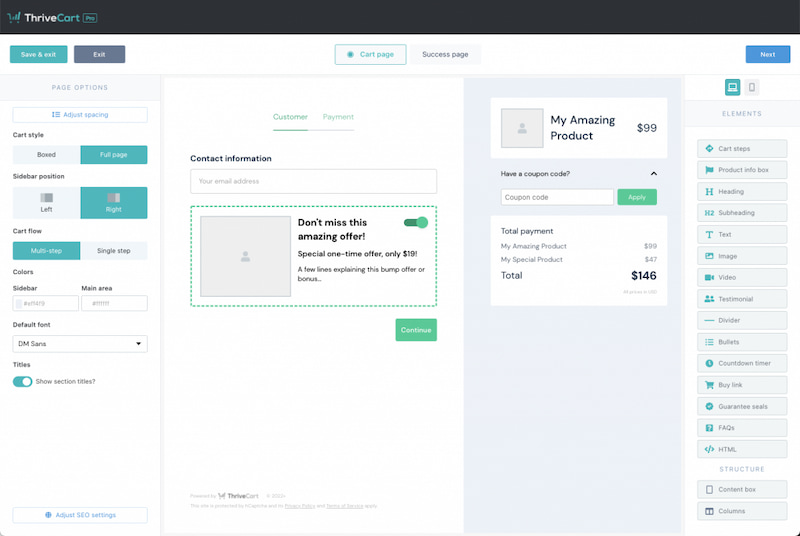 Affiliate Program that's Built-in
In my view, most merchants should be making use of some kind of affiliate program for promoting their products. This is a great method of marketing your products and one pays the affiliated on after visitor converts.
The affiliate program by ThriveCart has functionality that tends to satisfy most of the affiliates and merchants. Therefore there isn't a need for purchasing affiliate programs from third parties and one can be easily just using their software. This feature alone can help in saving a lot of money that goes into purchasing additional software. Not to forget the effort for getting it integrated.
The program also provides you with some interesting exclusive bonuses. This is a feature that's not seen amongst some other affiliate systems that are even best in the field. This remains an underused marketing strategy, but may dramatically enhance conversions.
Here Are Other Features of Affiliate Program of Thrivecart
Manual affiliate approvals.
Varied tiered payouts.
Automated schedule payouts with PayPal.
Customized rules for performing specific actions (for instance subscribing affiliate to the mailing list when entered and approved in email automation.)
Please keep in mind that the Affiliate Program is available just with the 'Pro' edition.
How Can You Use Thrivecart for Setting Up New Products?
ThriveCart has been rated as one of the best tools for carting in the field. The main reason for this seems to be their instant product creation. One can easily create new products from the dashboard. You will have the summary for ongoing sales and management of everything from the dashboard makes things simpler. Here is the step by step guide to do that:
Step 1: Add New Product:
In Dashboard, you will see the option of 'create New Product'.
Step 2: Add the Product Name:
You will get redirected to another page and here you have to add product details. This includes name, product URL, and descriptive text. You also have the option to add the availability of the product accordingly.
Step 3: Setup The Price with Payment Option:
Now you will be asked for setting up the price of the product you're listed. There are options to choose from 17 currencies. You can even set product type from different options like subscription, drop-down, split pay, one-time, or others.
Additionally, one can also select the trial period if one wants. ThriveCart has integrated all kinds of major payment options and this makes receiving payments very easy from the online store. One can also add a payment method or platform that you will accept.
This includes a plethora of choices like ApplePay, PayPal, Stripe, and many others. As ThriveCart is amongst the only platform that has added ApplePlus this is where it gets an added brownie point from us.
Step 4: Enter URL Email/ Support
After you have clicked over the option of Next, now you will be looking at the new page screen. This will integrate the support page. This is the way by which the customer Can ask for support in case you provide them with a link to do so.
Similarly, ThriveCart also makes for you a success page that will be shown when the customer has made a purchase.
Step 5: Setting up Bump offers
Several other options are also essential for creating products. One can make a bump offer by adding products for the cart of customers while they checkout. See it more as an upsell.
Step 6: Completion of Checkout Process:
One can also set the checkout process with the use of four templates especially for this. The checkout can get different like; Step checkout pages, a 2-step process for checkout, and embeddable checkout pages that can be integrated with the website as well as checkout page that shows as a pop-up. ThriveCart provides the users with a range of templates that have been designed professionally for making sure that this process gets easier.
Will you will able to use ThriveCart with Shopify?
This is one of the most asked queries and that is if any tools and cart that is linked with E-commerce will be able to integrate with Shopify? And the same question is being asked for ThriveCart as well.
And the answer to this is YES!
ThriveCart can work well with all kinds of e-commerce platforms like WooCommerce and Shopify.
Such kind of integration is certainly beneficial for boosting sales especially in the difficult world of extreme competition that we live in today. And here are the reasons why this can be so beneficial:
It will create focused funnels all across that means you have targeted sales and there is no irrelevant cost involved.
All of the tools that are necessary for fulfilling a working Shopify store are available.
One can exactly tell you the specific products that have been generating revenues for you. This can be a simple tool of e-commerce. ThriveCart can optimize each of the products and you can shift your focus towards that.
There are also options for checkout designs, Downsells, Upsells, and most needed different kinds of integrations.
Additionally, one can also integrate it with all payment gateways and this includes Stripe, PayPal for making sure you are receiving payments easily.
Who Can Use Thrivecart?
Do you want to know if ThriveCart will be helpful for you or not? Here is the information that you had been searching for:
If you are selling Digital Products:
ThriveCart is a beneficial platform for people that sell digital products. And the best part is that the software for the shopping cart that comes with this works great with varied online courses. Even when one makes use of a custom website for selling ebooks, software, and courses, the cart software is going to be so helpful for you.
Additionally, with the software, you will be allowed customization of the payment pages. And you will be able to collect the information from the customers as much as you want to. Also, you have a GDPR checkbox for marketing consent available.
It doesn't matter the kind of platform that you have been using like Thinkfic, Kajabi, or in case you have your website membership. ThriveCart gets integrated within a few minutes.
People that sell Physical Products
Are you the seller of physical products similar to Amazon? Well, ThriveCart will be offering you all that you need for setting up the cart pages for selling the physical products.
With the assistance of cart software, you have an easy way of collecting names, shipping information, phone numbers, and other detail that you might need or order completion.
Even when you want to use platforms like Shopify for selling physical goods, the best part is that you will be able to integrate this software in for multiple accounts on Shopify.
With such cart integration, you can push all of the sales towards ThriveCart. And this will result in easy tracking of your sales. Even if you are an author that's self-published or has book products over Lulu, you will be able to benefit from ThriveCart as it gets integrated there as well.
Furthermore, in the times that we are living in today, ThriveCart makes use of many e-commerce websites. Therefore it won't matter what you have been selling as you will be able to make use of the cart software.
Sell Services:
ThriveCart can be used for selling online services as well. However, keep in mind that this isn't that flexible when we speak of service selling. But yes, you will be able to bill the clients as you can set up service packages under product options.
The trick here is creating a product out of the services that you provide. For instance, for someone who's a software developer one can create products similar to app development, for Windows, Android, and iOS. And for each of these products created you mention a cost.
Also, in case you have been taking payments from the clients, you will be able to set the pay that you expect on the cart page. Eventually, the client will be able to enter the amount that you have asked for.
Overall, the entire system cannot be called perfect, and sometimes can get complicated, but will make sure that the work is done well. The invoice that's present within ThriveCart is also basic and isn't made in a way where service-based businesses will be used.
But overall, making use of ThriveCart will help you to enjoy the several built-in features and this includes recurring billing, bump offers, and upsells.
But yea, one can make use of ThriveCart for selling services, but not that perfectly.
Subscription Product Selling
If you had been selling products for subscriptions, you will need not worry much as ThriveCart will be able to take the off-payments and all of the subscription payments will be there for you. It offers you the capacity to activate a kick-off automated process that is going to be based on specific payment events and will be similar to that of people buying single products.
It also comes with a section for customer management therefore you won't have to keep updating the details when the changes are made regularly. But you can also do this yourself when the details are changing.
Consultants:
ThriveCart will work perfectly for consultants. This works in a way that optimizes the website of the client's sales funnels for the conversion billing for clients. ThriveCart will be able to send them invoices that look very professional. But it cannot be used by consultants that have a much complex setup.
Other ThriveCart Features:
A/B Testing
Countdown Timer
Detailed Reporting
External Analytics
Subdomain Option
ThriveCart Review: Integrations
ThriveCart comes with Zapier integration; there is also an API that's well documented. Apart from that, you get several other interesting and needed Integrations that one might be required like:
Payment Gateways
For almost all merchants linking with PayPal and Stripe is their best choice. While Authorize.net has gained popularity, there won't be offers for Google Pay for the smartphone visitors that you have. As far as our opinion goes, you should be able to provide the commerce as smooth as it's possible.
This is mainly because easy payment with smartphones helps in increasing conversions.
1. Authorize.net
2. PayPal
3. Stripe
Although the above ones are standard for any online commerce, it would have been better if there were more options.
Email Marketing Provider
Linking up with email service becomes a critical part of integration when we speak of the shopping cart. Fortunately, ThriveCart provides several options that you can select. ThriveCart provides you with options for offering abandoned cart sequences a notification, in case the person hasn't placed their order. However, some users have said that this is slightly flaky and needs improvement.
Although the list of some famous email providers can be seen with ThriveCart as well like:
Drip
Mailchimp
ActiveCampaign
ConvertKit
Aweber
GetResponse
Ontraport
InfusionSoft
HubSpot
MailerLite
Sendy
Moosend
Membership Platforms
If you had been selling digital products or other monthly subscriptions to private areas, there is a need for a membership service that works well with it. Fortunately, ThriveCart will work well with several membership area services as well as WordPress plugin membership.
ThriveCart can work directly with the following membership system:
Digital Access Pass
LifterLMS
MemberMouse
MemberPress
OptimizeMember
Teachable
Thinkific
Thrive, Apprentice,
WishList Member
It's also possible that you integrate other systems while you are using Zapier. Although having Member press will be an amazing platform to choose from as it integrates smoothly with WordPress, there will be limitations with ThriveCart.
Specifically, Memberpress and ThriveCart need two emails for the new subscribers. One is the welcome email and another one for resetting the password. This can be a bit confusing step and is unnecessary. From the list we mentioned above using MemberMouse is what we recommend.
Webinar Platforms
In case you have been searching for direct integrations for webinars, ThriveCart won't be the best choice. The software integrates just one webinar platform and that's Demio.
However, remember that you will have a Zapier integration choice that will work swiftly with most of the webinar systems available.
Fulfillment Service
There is no need for selling digital products on ThriveCart. In case you had been looking for ways of selling physical products, then there are several options to select from.
com
Google Sheets
Kunaki
Lulu
Printful
Shippo
ShipStation
Shopify
Vervante
Zapier
Sync and Notifications:
Keep the ThriveCart information for orders to be exported to Google Sheets automatically. Or go ahead with Slack notifications for every new order. Additionally, while you have liked Zapier, your options will remain endless.
Google Sheets
Slack
Zapier
What Makes Thrivecart Unique From Its Competitors?
Unmatched Customer Experience:
ThriveCart has gained its reputation for offering the industry the most critical services. The Facebook club name is ThriveCart Academy, and one gets instant answers to all of the queries regardless of the time you posted them.
As you are about to initiate your funnel with about ten thousand fans, one can be assured that the concern and super constructive response will be so touching. Indeed, these people are providing you with support posts, helpdesk, information base and you will be able to see all answers to the questions that others have posted. You can alternatively read their articles as well.
If you want some options that can help you in being connected directly with the support team and they are pretty receptive. In simple terms, there can be slight delays in emergencies. But one of the safest paths to go for that we recommend is with the Facebook community as it provides faster assistance.
Credible Behavioral Regulations
You will be maximizing the marketing automation effectiveness. This will be saving so much of your time and energy too. Firstly, one will be able to quickly make extremely complex rules. And you can also handle the contacts as per the activities they performed in the service or product funnel.
Some of these behavioral laws include:
Payment decline
Abandoning the cart
Refund was made
When a purchase is made by the customer
Understand that the affiliate territory is a different region where these laws are applicable. One can define the how and who to pay depending on the tags and in few steps.
Accepting ApplePay
It is also a very powerful feature from ThriveCart and you won't be able to see many systems of shopping carts making use of it. Apple Pay is going to enable your customer to pay from their mobile device directly and there is no need for credit card input or authenticating the PayPal account.
ApplePay will be appearing over the cart screen only when the customer has logged in to their account with compatible accounts. ApplePay isn't going to appear in case the user has been using their laptop. The feature is only for their smartphone.
Given the latest mobile rules we have today, this will be an amazing payment process feature. You might want to consider this as your choice for payment as well. ApplePay doesn't need many initiatives. It is only going to serve you for boosting the revenues from the consumers that can't deal with all of the stress of adding the billing information.
With the usage of accurate thumbprints, things did become much smoother than before.
Dunning Capabilities:
If you had been operating subscription-based or recurring services, you might have understood how these situations can be so depressing. When one attempts to get in touch with the clients and convince them for renewing the services because of failed payments, this becomes a lot more critical.
For making sure this ends, ThriveCart can be your lifesaver. The feature will be able to automatically detect if the card of the customer is going to expire and shall mail them a confirmation message beforehand.
Additionally, it also alerts them with pending or past fees that are due. All of the processes remain automated. One can configure several alert reminders as per your liking and how you will like them to be sent.
The payment-related dunning search issues and communication with the consumer for maintain the subscription active works well here.
Zapier Integration:
You will be able to easily link the online shopping cart that has more than two thousand resources online and this automates the work. Any application that isn't mentioned here can also be linked with Zapier and there's no doubt over it.
There are about 18 powerful triggers available here. Zaps might be configured for running responses to some individual affiliate laws, price options, and a lot more.
For example, one can also configure the button for shooting when any consumer abandons their car after they have given the email address, made the transaction, (downsell, upsell, bump deals, product) or if the payment has got declined.
You might realize that around 88.5% of the people that shop online had been abandoned in the year 2020 by March. This means that all of this wasn't converted into a purchase. Abandoned carts can get a bit frustrating too.
This is where the functionality of ThriveCart can be beneficial. This is another type of stimulus that one can experiment with for the subscription-linked stimuli.
For instance, when the rebill occurs or someone makes a payment, canceled, or failed, or even when the subscription was resumed or suspended. There are almost limitless options for you right here.
Now consider what all you need to automate for your business. For illustration, one can also configure the text messages that have to be delivered instantly or on the phone in case any new order has been completed. This can also be fulfilled for the physical products and others.
Export and Import of Funnels and Shopping Cart page
The sharing checkout/funnel option is another favorite feature of ThirveCart. It is exclusive and will enable you for uploading and importing checkouts and the funnel templates that were created by varied ThriveCart users.
One of the rare attributes that about 90 percent of the tools lack, apart from the websites like Kartra and ClickFunnels.
For importing the checkout page blueprint or design, you will need a specific URL. As per the present customer, go to the checkout and then the Design tab. After this press the' import a concept' button.
Now you add the URL for sharing checkout/funnel. For exchanging the concept with the colleague or customer, you need to tap on 'share my design' and then select specific pages in the sales funnel for sharing.
Being the business owner, tax assessment can be a complete nightmare for people to handle. The measurement of digital sales tax is the kind of function that very few shopping cart websites do.
Sales Tax Calculations through Internet
ThriveCart will make the process easy for you so that you can include income tax data from consumers or companies. This will be measuring dynamically and adding the precise sales tax percent with each order placed by the consumer. This will also depend on the applicable laws or position.
At the same time, some other shopping cart websites that are standard like SamCart also include tax measurement services of the third party like Taxmo. This also entails an added monthly charge.
Here you won't have to deal with any such headache that has been associated. ThriveCart already offers the service that is included with their subscription. Isn't this just incredible?
Tax gets calculated and also attached with the price that you select with the package settings. Then, as needed, it is extended or broken down in receipts on the checkout pages.
Robust In-built Affiliate Center
The framework of ThriveCart has been made such that it can be seen as one of the strongest affiliate systems with quality management options. One can delegate the affiliates, compensate them, create connections, and track the development, operation monitoring, tracking the development, and also setting some guidelines.
Affiliate overview also offers a quality summary for the affiliate partner activity. This includes:
Additionally, one can also choose the entire funnel or just frontend, date, or individual items. You can also take a look at the clicks, purchases, returns, and other kinds of statistics.
Affiliate sales.
The active affiliate marketers.
Paid commissions.
Total commissions that were generated through affiliates.
Wherever ThrieCart has been integrating affiliates the management or the center shines stays with the ability for organizing the affiliates. This can be done through the affiliates 'Laws' tabs.
For example, one can also select people that you would like to award and the ones that generated most of the revenue in the specific duration for you. In such situations, one can also group them or make guidelines for ensuring that they are receiving their compensation sooner or receiving a better fee commission.
Similarly, with unreliable or low-quality affiliates one can ask them to follow the promotional practices.
One might also create rules for immediately increasing the duration before they get their fees, lower the commission rate or also drop them completely as soon specific requirements have been met. It will be your call.
Another amazing function is configuring out the payouts that have to be done automatically after a specific time.
You can schedule the payouts for being automatic, manual, or a combination of two. This is where the functionality is flexible!
Most of the software with affiliate management need specific added cost and for each of the flexibility, some more investment has to be made.
However, you will be able to get all of this completely free with ThriveCart for handling the partner scheme. You will also have another tier feature with this included. This is where the affiliate gets the commission to refer affiliates.
There is also the function of auto-split as well as JV partnership that enables the creation of JV contracts and automatically dividing the revenue between these partners. This is a robust one.
Pretty clear that we can keep giving information on the ThriveCart affiliate management/tracking system and without a doubt, we are impressed with this feature.
ThriveCart Review: Pricing
When we speak of the pricing of ThriveCart it is unique. Most of the services providers of shopping carts tend to offer monthly fees. For instance, SamCart packages begin with $ 49 each month. Others also cost you added amount with each transaction.
This means that the more sales you are making the more will you be paying.
But this is not the case with ThriveCart.
ThriveCart has been offering users just two tiers for pricing. And this will include their lifetime services. Therefore all you have to do is make payment once and your work is done!
Although they say that their present pricing can end soon, we are not sure of that. They have been offering promotional offers for more than three years. So that chances are that you will be able to avail of the deal!
You can get:
Standard Plan:
This costs $ 495.
Pro Plan:
This costs $690.
ThriveCart review: Pros and Cons
Now it's time to take a look at the advantages and disadvantages of ThriveCart.
Pros:
Flexible Payment choices.
Affiliate Marketing is advanced.
Amazing customer service.
The simplicity of usage.
Bump/Upsell/Downsell.
Cost-effective and just one-time fee is applicable.
Cons:
1. The upfront cost is big and can be an inconvenience for people that look forward to monthly payments
2. Not the best for physical products.
ThriveCart Review: Is it Legit?
The developers of the app have spent more than years on it and have offered a huge list of features that shall satisfy most of the consumers. Apart from the small flaws, like low customization and no cryptocurrency support, it can be called a robust checkout experience that you can find in several shopping cart applications.
ThriveCart Review: Final Thoughts:
Overall, we can say that ThriveCart is an excellent shopping cart that you can find today! Several customers have been already been using these and have got great results as well.
It has been designed mainly for selling products online and the services for creating shopping cart pages that are high-converting. It is also a lot cheaper than many other solutions present, and cost just about $495. This is better in comparison with others where you also need to pay some percent each time a transaction gets completed.
You get a quality dashboard with business insights, better-converting templates, and strong rules for customer behavior, best customer services, infinite checkout pages, and more! So just go ahead and see their tools and the way it works for you.
Hopefully, our ThriveCart review must have served the purpose well. You might have got an in-depth insight into the platform. So make sure you share the post on all of the social media channels!
Also Read: