How To Make Money With ClickFunnels is a question all of us have in mind. The number of Clickfunnel affiliate marketers has been rising with the advent of digitalization. It has become a crucial source of income for many smart internet marketers. For some people, it's the primary income source. So, they're usually looking for options that offer a high commission.
Speaking of which, ClickFunnels affiliate program is a relatively recent entry in the affiliate world but it has transformed the way marketing works. The best part is that the commissions are higher than most platforms.
To make the most out of the ClickFunnels affiliate program, it's important to know all the ins and outs, how to get started and how to keep the cash flowing. Moreover, if ClickFunnels is the funnel-building tool you have chosen, it's not impossible to gradually build a steady and high income from this interactive affiliate program.
In this post, we're going to take a look at how to make money with ClickFunnels affiliates in detail. Apart from the reasons why you should choose the ClickFunnels affiliate program, we'll check out some proven ways to make money through ClickFunnels and how to make the most as an affiliate. So, let's dive in.
Explaining ClickFunnels To a Complete Newbie
Did you know that McDonald's has been using a sales funnel for decades? This is a name we're all familiar with even though the concept of funnels has gained traction in recent years. We know that the famous go-to burger joint has been successful shortly after it came into existence, funnels being one of their key marketing strategies.
My point is, there are millions of people across the globe who make better burgers. But not everyone is as famous as a few franchises. The reason being, they're not aware of the art of smart selling and leveraging human emotions. Sales funnels increase ROI as they leverage our behavior as consumers. Coming back to ClickFunnels, Russell says that if you are selling something, you'll do a better job with ClickFunnels.
In a nutshell, sales funnels are all about warming people up with entry-level hooks and gradually converting them into loyal buyers. ClickFunnels optimizes the entire process by helping users build, customize, host, and launch funnels effectively and easily. It doesn't matter which industry you belong to. Sales funnels work with everything. Besides, the tool offers proven-for-success built-in templates for squeeze pages, email sequences, landing pages, webinars, and so on.
What Is The ClickFunnels Affiliate Program?
If you're reading this, you probably know that ClickFunnels is not merely a tool. It's an entire ecosystem of valuable products that have provided success to a lot of business owners, affiliate marketers included. According to Russell, if you're a ClickFunnels affiliate, you get paid to bring customers to the platform. Sounds simple, right?
Related Read: Russell Brunson Perfect Webinar Template Review
Why Should You Opt For The ClickFunnels Affiliate Program?
I don't really need to prove how ClickFunnels is beneficial considering the pioneers who have endorsed it. If you must know, Robert Kiyosaki and Tony Robbins have endorsed the CF books. Enough said!
However, to make things clearer, here are some reasons why you should opt for the ClickFunnels affiliate program.
High Commissions
Affiliate marketing is not child's play. It takes time and effort to build a system that generates sales. But is it even remotely satisfactory if you're doing all that effort for peanuts? Of course not! ClickFunnels offer high commissions, something affiliate marketers all over the world are running after.
You can earn $38.8 for each sale if you opt for the $97 plan. But if you have the $297 plan, you can even make $118.8 per sale! Moreover, if you manage to sell related products such as Funnel Scripts, you gain an additional 40%.
The bonus price ClickFunnels has offered to those who want to purchase or lease their dream car is another big bonus. Plus, if an affiliate marketer signs up with your link, you get 5% commissions through their earning as well.
Wide Variety of Quality Products To Sell
ClickFunnels is one of the most easy-to-use funnel builders and it comes with a variety of quality products. For instance, Funnel Scripts and the One Funnel Away Challenge.
You can try its unique features in the trial version. Even if users have to pay a monthly cost to use ClickFunnels, it's a worthwhile investment. After all, it lowers the cost per lead and helps in increasing revenue to a great extent.
Funnel Builder Secrets, Traffic Secrets, The One Funnel Away Challenge, and Funnel Scripts belong to a premium price range. This means high commissions for the affiliate marketer promoting them.
If you can manage to get some people into the funnels, the earning opportunities for you widen as they make more purchases.
Good Reputation With Enhanced Transparency
Both seasoned, as well as intermediate affiliate marketers, consider ClickFunnels as their top priority. A great reputation and enhanced transparency are some of the biggest reasons. Moreover, Russell is a renowned entrepreneur and marketer. He and his team have proven their success using ClickFunnels which creates a massive impact on potential buyers.
ClickFunnels offers affiliates with a crystal clear guideline for all the policies. The FAQ pages have answers to almost all your queries. Plus, the ClickFunnels Facebook group has a community of users available for support. ClickFunnel affiliates have access to useful dashboard material they can use to get the best bang for their marketing initiatives and strategies.
Related Read: How to Promote ClickFunnels?
Free Affiliate Training and Accurate Tracking
Even though this epic guide on how to make money with ClickFunnels affiliate will prepare you to ace the marketing game, Russell Brunson's free-of-cost Bootcamp will leave no stones unturned. Moreover, there is a paid version that includes videos from behind-the-scenes. In this course, his high-performing affiliates give you an insight into their funnels.
For more promotional material, check out your dashboard for banners ads, email swipe files, images, and so on. Other informational products and training programs are designed in a way for you to crush the affiliate marketing game!
The library of products might seem overwhelming at first. But you can earn your money back in no time through affiliate marketing. Not to mention, the immense knowledge you gain to succeed in your future business endeavors is priceless.
The commission design for ClickFunnels includes Sticky Cookie which credits the affiliate marketers for the sales they make. Once a buyer has clicked on your referral link, you receive commissions from all the ClickFunnels products they buy.
How To Make Money With ClickFunnels Affiliate Marketing?
Passive Income ClickFunnels is not merely limited to a few ways. There are many means you can earn money through ClickFunnels if you're taking the affiliate marketing route. Since there are so many products and programs, you'll never run short of stuff to promote. Let's dive into the details.
Promote the 30 Days Summit, Dotcom Secrets, Expert Secrets, and Traffic Secrets
The 30 Days Summit is a free workshop. However, when you make people sign up for it, you get $100. Dotcom Secrets, Expert Secrets, and Traffic Secrets are some of the bestsellers by Russel that has benefitted a large user base. In commission, selling these books will get to $1 for each sale.
The best part is that you can easily make $927, thanks to the wide array of backend options in this funnel. This goes for both Dotcom Secrets and Expert Secrets. For Traffic Secrets, the amount you can earn via backend offers is $248.6.
Once you sell the book, they will add your referral to a sales funnel that keeps on pitching various products for a fixed time frame. People can get these books for FREE. All they have to do is just pay the shipping cost.
Some other products in the funnel include Expert secrets, The Black Box, Storytelling Secrets, Audiobooks, Funnel Builder Secrets, and Expert Evolution. Hundreds and close to a thousand dollars in commissions after promoting free products sounds like a dream come true, doesn't it?
Promote The One Funnel Away Challenge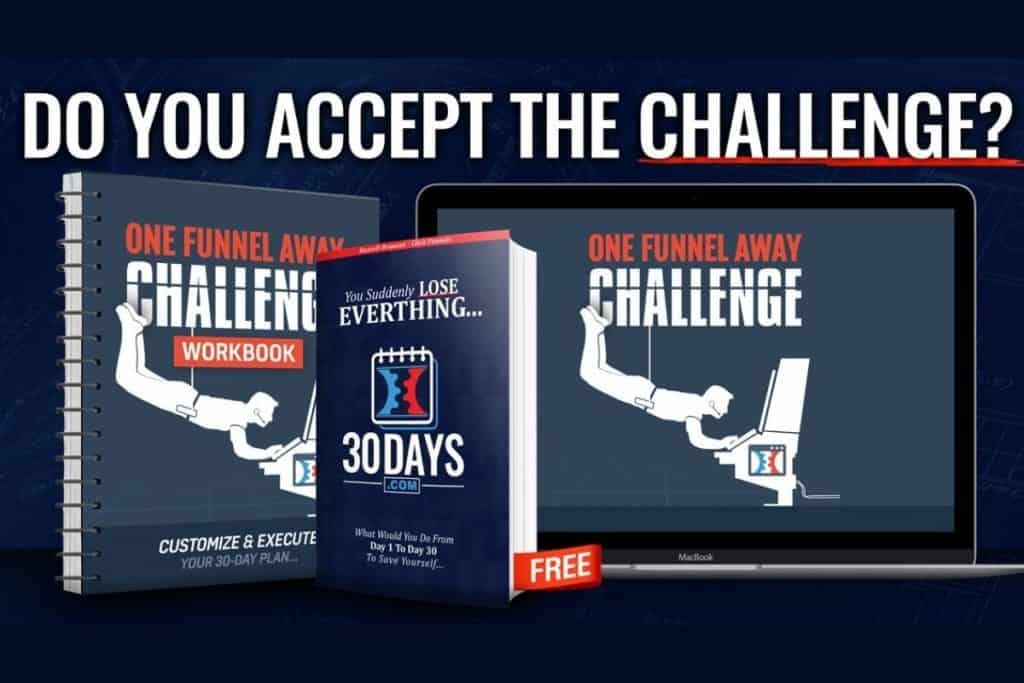 The One Funnel Away challenge costs $100 but you can easily make your money back by selling it to only one person. Imagine! Just one sale and you get all your money back. Everyone wants to increase their ROI without spending much on ads. The five-week sprint is designed in an action-oriented manner. Meaning, the participants will have to keep up with the pace.
In a way, the OFA challenge forces you towards success. The material includes books, recordings, a workbook, interviews, and a Facebook group exclusive to members. As long as a person is willing to invest $100, anyone can be a part of this challenge. This applies to both experts and beginners.
Compared to all the other expensive courses out in the market, OFA offers more or less similar benefits with extra self-discipline. Since there is sort of a deadline, the enthusiasm levels of participants are high. Russell and two of his brightest team members leave no stones unturned in keeping the morale of the participants high.
Even if someone is not a ClickFunnels user, they can easily participate in this challenge. The exclusive membership area has all the necessary material. If it's someone's first time purchasing a course, the One Funnel Away Challenge can be their big breakthrough.
Provide Funnel Building Services and Convert Loyal Customers Into ClickFunnel Users
Funnel building services are in high demand. Now, you must be thinking that you're not a freelancer. Instead, you're looking at this ClickFunnels affiliate marketing guide to make a regular passive income. If that's the case, consider offering funnel-building services as a stepping stone towards reaching your passive income goal with ClickFunnels.
Did you know that most freelancing platforms are now filled with people offering funnels? Not all of them aspire to be freelancers throughout their life. Think of it as selling your funnel-building skills for some time to ultimately help you sell the product.
Once you've created a name and recognition for yourself, the chances of loyal customers signing up for CF will be high. Keep in mind that this will only happen when you are extremely good at your art. Make sure your funnels work!
Offer Training to Simplify Using ClickFunnels
Many people enter the world of ClickFunnels by ordering one of the books. We know that they are definitely interested in the platform but they are also hesitant. Is ClickFunnels worth the cost?
Will It be right for my business? is it the right time to become a ClickFunnels member? these are some of the questions they are asking themselves and as an affiliate, you should let them know that there is no reason to be intimidated.
Talk to them and offer training to simplify the use of ClickFunnels. For someone who is not highly technical, ClickFunnels can be a bit overwhelming and intimidating at first.
But when they know that it's easy to use and the benefits are immense, they would likely take the first step. Moreover, if you build enough authority and trust, they are likely to sign up with your referral link. For training new people on ClickFunnels, you can write blogs and ebooks, give lessons, offer coaching sessions in groups or follow a one on one mentoring session.
Review ClickFunnels Products In Detail
For the audience who are already familiar with ClickFunnels products, they like to search for or details before making an informed decision. Most probably, they are going to look for reviews for a particular product or program from real people. therefore if you are reviewing ClickFunnels products in detailed targeting the right keywords can get your article on top of Google.
This way, you don't have to spend a fortune on ads, thus, increasing your organic reach. People who are searching for specific keywords are almost ready to make a purchase. your task is to offer value and give them a final nudge to buy.
A handy tip is to target keywords with high search volume and low competition. This way, you would be able to drive more traffic to your review and increase your chances of conversion.
Try to go into as many details as possible. Describe your personal experience and how the product helped you scale your own business. If there are any pitfalls users need to be aware of, cover them as well.
Instead of blindly trying to promote the product and increase conversions you should never forget that offering value has to be the topmost priority. Value is the only thing that builds trust and credibility. If users don't trust you they will never buy from you.
One of the most powerful arrows in a ClickFunnels affiliate marketer's quiver is the share funnel. If you know how to leverage it in the right manner, it can turn out to be a game-changer.
This method allows you to use a custom link for sharing your funnel. But, here is the catch. People can't use your funnel without being a ClickFunnels member. This entices them to sign up for the trial version.
If you manage to provide a funnel that can generate excellent results for them, chances are they will subscribe to one full month of ClickFunnels.
If your funnel helped your business reach heights of success it would be easier for you to convince potential buyers of the same. This way, you can also get people to be a part of your email list and build a stable income in the form of ClickFunnels commissions for the long run.
Educating Local Businesses About The Power Of A Strong Web Presence
The first step in this method is to target a really successful local business, one that can afford to spend a decent amount per month in exchange for more business. Let them know that they can increase their success to a manifold if they have a strong web presence. In the beginning, create a killer sales funnel for such business owners. Mind you, your funnel should generate results for them to convince them to sign up for the trial.
Small businesses that sell high ticket items to customers are the ideal target for you. for example dentists, real estate agents, jewelers, and so on. Once they start using ClickFunnels on a regular basis, you have got your commissions!
Using Facebook Groups To Promote ClickFunnels
With over 2.7 billion active users every month, Facebook has become a marketing hub. With the help of pragmatic tactics and proven success strategies, leverage Facebook to promote ClickFunnels. Did you know that promoting ClickFunnels through Facebook has worked well for many dream car winners?
For this purpose, you can either use your own profile or target different Facebook groups including your own if you have one. Well, this was the organic reach method. You might even want to use paid Ads for better targeting.
The main intent behind creating a Facebook group is to establish a loyal customer base. Always remember that you have to provide value to the members and build trust on a regular basis.
Include detailed guides and cheat sheets with your affiliate links to offer valuable information and promote your links in a subtle way. Once you build a group, generating free leads can become a lot easier.
Now, we understand that creating and managing a group is not a child's play. If you are not up for maintaining your own Facebook group, you can always use other groups to offer value, hold discussions, and later offer links to your blogs and reviews.
The idea here is to be like a glowing bulb among thousands of dormant group members. You will also start getting friend requests from other members of groups that have a similar level of interaction as yours.
Even your personal profile should reflect a problem-solver approach. Optimize your Bio and upload a clear picture in the profile photo section. Remember, do not directly promote affiliate links on your profile or on Facebook groups.
Group admins will Ban you in the blink of an eye and people will start unfriending you really soon if you sound way too promotional on your personal profile. If you are using Facebook ads, hire an expert, or know how to target very well. Keep track of the money you spend on ads or you might end up in deep losses overnight.
Promoting ClickFunnels By Comparing It With Competitors
Whether you are blogging, using Facebook or any other social media platform, or you have a YouTube channel, a really good way to promote ClickFunnels is by comparing it with competitors in detail. Almost every other person wanting to buy something on the Internet compares it to another product considered equally competent. If you are a ClickFunnels affiliate, it is your job to debate the audience in the direction of ClickFunnels without sounding like you are blindly taking sides.
Suppose you are making a video on YouTube comparing ClickFunnels with a similar platform. Before you start the review, pick the different aspects you are going to cover for each platform in detail. For example, commissions.
Inform the audience in detail about how much commissions ClickFunnels is offering and the percentage of passive income users can make from the competitor. As we already know ClickFunnels is offering a decent commission for all its affiliates, so, in this case, it's usually a direct win.
But if you come across a situation where another platform offers a more lucrative bonus, highlight why ClickFunnels is worth the extra effort with some striking benefits. Always make sure that your content is of high quality and value-based. The best kind of promotion is the one where your audience doesn't even realize that you are trying to sell them something.
Promote ClickFunnels Using Top 10 And How To Videos
In today's world, the internet is the first person people turn to when they have a doubt. Therefore how-to videos and blog posts can never go out of style. Moreover, if people want to buy a product or service or register on a platform, they like to be a part of the top 10 League.
For instance, if you want to buy high-quality shoes for the gym. Before you go ahead and purchase the first pair of shoes you see, you are most likely to check out the top 10 brands offering the best fitness-related shoes.
Similarly, if someone is looking for the top 10 funnel builders, they are likely to lean into the direction of ClickFunnels only when they see the name on the list. As for how-to videos, this facilitates the never-ending process of learning in the simplest possible way.
When people know how to use something, making a buying decision in favor of it becomes much more plausible. After all, everything seems intimidating as long as people have no idea how it can benefit them!
Promote ClickFunnels As An Affiliate Using PPC Ads And Quora
What is the first thing that comes to your mind when you hear about a PPC ad? Of course, Google AdWords. It is one of the best ways to go for driving ClickFunnels offers by bidding on keywords and setting the required targeting options.
The best part is you can hit two birds with one stone using Google AdWords. For example, apart from directing the audience to your affiliate link, you can simultaneously build an email list by offering a lucrative incentive.
Some other advertising networks that you can use include Bing Ads, Yahoo, Adroll, and YouTube Ads. Now, before you get way too excited about promoting your affiliate links on Quora, let me tell you one thing. It is strictly against their policies to directly promote your links.
If you are lucky, a shortened link might get approved. But it is safer to give a detailed answer and then include a link to one of your informative blogs or videos. Keep on delivering value to one of the biggest question and answer platforms and it will reward you well in the long run.
Related Read: 10 Habits to Start in Your 20's If You Want To Be A Millionaire
ClickFunnels Affiliate Marketing Commission Schedule and Payout Threshold
They make the payments on the 1st and 15th every single month. All you need is $100 in your affiliate account as a qualifying factor. 75 days after your referral has signed up for a paid account they credit the commission into your account. Once the amount reaches $100, affiliate marketers can initiate a withdrawal request. Check payment and PayPal are currently two ways affiliates can receive the money.
Now, you must be thinking, 75 DAYS??? Isn't it a really long time to wait? Why does this take so long?
Well, even though waiting for the money to credit to your account after your referral signs up can be extremely frustrating, there is a great reason behind the long waiting period.
When your referral signs up for a free trial of 14 days, there is a chance that they might not continue after that. In that situation, the affiliate doesn't get any commission. Even if they do sign up for the paid plans, there is a chance that they might want a refund later. So, as expected, if they ask for a refund, you don't get a commission. There is a 30 days cooling-off period, 45 days after which the affiliates get their commission.
But despite this minor inconvenience, the benefits ultimately outweigh the long waiting time. After all, all you need is patience and consistency. This way, there is no reason you can't crush the affiliate game! Moreover, we have already discussed the immense benefits of passive income ClickFunnels before.
Are You Ready to Crush it As a Successful and Elite ClickFunnels Affiliate Marketer?
If you are a beginner in the field of affiliate marketing, ClickFunnels can provide you with a killer headstart in this sector. If you've been in affiliate marketing for a while now, ClickFunnels can give you just the boost you need to amp up your passive income.
Mind you, if you've been searching for how to make money with ClickFunnels affiliate marketing, it's not a matter of a few days.
But if you are prepared to be dedicated and put in the required effort, you can make it a regular income source for yourself in the long run. The best part is that the efforts won't seem too much once you're used to it.
I think I have covered almost all the ClickFunnels affiliate subjects in this guide pretty well. But to sum up and answer any questions that come to mind directly, I'm going to highlight some key areas in the FAQ section.
ClickFunnels Affiliate Marketing FAQs
Is the ClickFunnels affiliate program free?
Yes, the ClickFunnels affiliate program is free. You don't have to pay anything extra to promote ClickFunnels.
Related Read: Russell Brunson's One Funnel Away Challenge: Everything You Need To Know
What is the commission ClickFunnels affiliate marketers earn?
The ClickFunnels affiliate program has a total of three affiliate tiers. Tier 1 affiliates get a 20% commission for referrals to subscribe to ClickFunnels. This commission is recurring. On the other hand, all successful referrals of front-end products get affiliates 40% of the commission. Once you complete the ClickFunnels affiliate Bootcamp training, you can usually qualify for Tier 2 if you manage to make $1000 within 30 days. For every ClickFunnels subscription, tier 2 affiliates get a 30% commission. If you have at least 40 successful referrals for subscriptions and they have been active users for about 30 days you can qualify for tier 3. Once you become a tier 3 ClickFunnels affiliate, you will earn a 40% commission for every subscription to ClickFunnels.
What exactly is the ClickFunnels Affiliate Bootcamp?
The ClickFunnels Affiliate Bootcamp is a completely free of cost training that ClickFunnels provides to its aspiring affiliate marketers. This is to ensure their optimum performance and enable them to earn as much commission as possible.
How can someone become an affiliate for ClickFunnels?
Once you sign up on the affiliate page for free, you are eligible to become a ClickFunnels affiliate. If you are a premium customer of ClickFunnels, you are already an affiliate. Another way is to sign up for the Boot Camp training.
What are the products that I can promote when I become a ClickFunnels affiliate?
Here is a list of products you can promote when you become a ClickFunnels affiliate:
– DotCom Secrets
– Expert Secrets 
– Traffic Secrets 
– 108 Split Tests
– Funnel Hacker's Cookbook 
– The Funnel Graffiti 
– Funnel Scripts
– 30 Days training
– One Funnel Away
– ClickFunnels Monthly subscription plans
– Ready-to-use funnels