Summary
GrooveFunnels is a comprehensive suite of digital marketing tools designed to help entrepreneurs and small businesses create and manage their online presence. The all–in–one suite includes website building, e–commerce, marketing automation, funnels, and much more. It is a great choice for those looking for an easy way to create a professional–looking website, manage their digital marketing efforts, and generate leads and sales. The suite is also very affordable, so it is a great option for those on a budget.
Attention all digital entrepreneurs whether newbies or veterans… Do you want one single platform to manage all your online business activities? I do! You too, as an online marketer will not like to invest in different accounts to perform multiple tasks and handle each one of them separately. We have a wide array of tools at our disposal but it's important to choose the right one for your needs. Speaking of which check out this detailed GrooveFunnels Review and check whether it works for you.
GrooveFunnels in this sense is a highly versatile tool where you can get all services related to online business including landing page building, sales funnels creation, website development, email marketing, payment services, and so on. That's exactly what we're going to elaborate in this GrooveFunnels review.
Such a wide range of services are extremely helpful in managing your entire business process quickly and seamlessly. Besides, it also saves substantially on the subscription charges that you have to pay to get different applications to run your digital business.
In this article, I will be sharing an in-depth GrooveFunnels review detailing all its unique features, pros & cons, different pricing plans, and suitability to different types of businesses, etc.
I will also provide quick answers to the major questions people are asking about GrooveFunnels in my detailed GrooveFunnels review.
So, let us start with some basic information about this unique marketing tool.
GrooveFunnels Review: What Is GrooveFunnels?
Did you know that 96% of your website visitors aren't ready to buy anything when they're browsing? Only a funnel can convert a lead into a paid customer.
GrooveFunnels is one of the very few online automation platforms that provide all the services required for online marketing automation in a single package.
Apart from being a landing page, sales funnel and website builder, GrooveFunnels also has many other tools to help online entrepreneurs to run their digital business smoothly.
GroovePages, GrooveSell, GrooveAffiliates, and GrooveMail are a few of the many tools offered by GrooveFunnels to support merchants sell their products and services digitally.
GrooveFunnels was originally named as GrooveApps. It is owned by GrooveDigital, Inc which owns all the products and services offered by Groove. GrooveKart and GrooveAffiliates are some of the brands owned by Groove along with many online services like GroovePay etc.
GrooveFunnels Creators
Who developed GrooveFunnels? Before diving straight into other aspects of this GrooveFunnels review, we'll take a look at how it came into existence.
Is it created by a single software developer or by a team of online marketers?
Well, it is a team of four experienced online experts who developed this highly useful online marketing automation tool- Mike Filsaime, John Cornetta, Mattijs Naus, and Matt Serralta.
Mike Filsaime is a renowned digital marketer known for launching several online marketing applications like EverWebinar, Kartra, EverGreenBusinessSystem, and many more.
John Cornetta is one of the most revered names in the field of eCommerce. Many of his digital stores earn two comma income every year. He is considered to be a wonderful guide on digital marketing. GrooveKart, one of the unique creations of John has surpassed several well-known shopping cart platforms like Shopify in popularity.
One of the founding members at GrooveDigital, Mattijs Naus is an expert in developing high-quality software applications for digital marketing and online entrepreneurs.
Matt Serralta has over 10 years of experience in the field of eCommerce. He has used all his experience of handling multiple areas like administration, sales, and marketing in the field of digital marketing. He had served as COO Prestashop before developing GrooveKart.
GrooveFunnels Review: A Detailed Look
GrooveFunnels is like an ocean of online marketing tools. It offers numerous tools with its different subscriptions to support different types of businesses. In this section, we will closely look at each tool that is presently available in the wide and varied tool-kit of GrooveFunnels.
#1. GroovePages
GroovePages is one of the most important and useful tools of GrooveFunnels. It helps you in crafting the most attractive landing pages, building highly functional websites, and creating high-yielding sales funnels. Some of the unique features of GroovePages include,
You can create as many funnels as you want and can sell any number of products without any restriction.
GroovePages facilitates you to develop a highly user-friendly website that uses current trends in its design and the latest technology in its functionalities.
You can build highly functional checkout options through GroovePages to make the buying process hassle-free for the customers and at the same time prompt them to look for more products.
The tool offers a unique 1-Click upsells option to enhance your sales.
You can design enticing Upsells, Downsells, and Orderbumps easily and quickly.
At the designing level, it contains many pre-made themes and templates that are surprisingly more user-friendly than many of the popular applications.
They are very easy to customize and offer very high flexibility in placing the items at the exact location on your page.
#2. GrooveSell
GrooveSell is a highly responsive, reliable, and powerful shopping cart tool that also allows its users to use it as an affiliate marketing tool. You can compare this tool with the likes of Shopify and SamCart and in certain aspects, it is even superior to many of the dedicated shopping carts.
You can use this application if you wish to establish your digital stores.
Besides, you can also sell online products and services through this highly versatile platform.
It is an ideal platform for many entrepreneurs and service providers who wish to fulfill the needs of the customers as a coach, consultant, writer, or software developer.
It is also extremely beneficial for those who want to run online courses or the leaders or speakers who wish to share their thoughts and opinions with people.
If you want to use it as an affiliate marketing tool, this platform allows you to hire the affiliates and help in organizing your entire affiliate program.
The platform also has very powerful and effective tracking and analytics tools and many other applications to grow your digital business.
#3. GrooveAffiliate
This exclusive tool to manage affiliate programs is one of the key highlights of GrooveFunnels. Its high flexibility is attracting many budding online entrepreneurs and established digital marketers.

You can sign up new affiliates using this tool and promote your products or services.
GrooveAffiliate covers every aspect of the affiliate program and is very helpful in managing all the affiliate activities.
If you want to monitor the number of affiliates enrolled in your program and wish to track their performance, GrooveAffiliate allows you to record all this information. It also allows you to pay to your affiliates from the dashboard itself.
You don't need to pay additional charges to get access to the affiliate tool. You get this facility as soon as you subscribe to any of the plans offered by GrooveFunnels.
#4. GrooveMail
Why pay for an external email service when you already have an in-built email marketing tool with your online marketing automation software?
GrooveFunnels support email marketing through its GrooveMail application. This tool allows you to be in touch with your prospects more regularly thus helps in increasing chances for their conversion into customers.
The tool allows you to make personal contact with prospects. And by connecting personally with the prospects and the customers you can enhance your sales opportunities quite significantly in a short time.
GrooveMail is a new entrant in the field of email marketing and supports only if you are a GrooveFunnels user.
You can use this tool for sequence automation to strengthen your follow up process with your prospects.
This tool allows you to use it to communicate through text SMS' and at the same time, it also supports voice SMS broadcasting.
You can use a .csv file to import leads and can also prepare a list manually to add to your specific campaign.
HTML emails feature allows you to customize your email presentation through various themes of colors and backgrounds, etc.
The tool offers strong and reliable tracking and analytics through which you can track your click-through and engagement performance.
You can subsequently use these performance data to improve the quality of your emails.
Though presently GrooveFunnels has only GrooveMail to offer as an email marketing tool, very soon it will be integrated with more than 15 email marketing automation services to give you an even better experience in running your online business.
#5. GrooveMember
GrooveMember is an evolving tool to support online businessmen to operate an exclusive membership site. The tool allows you to run your online courses or organize virtual seminars using your membership site.
RelatedRead – Unbounce Vs Clickfunnels
You can set different levels to allow access to different content material by fixing up prices for different zones. The tool is still evolving and promises to offer many useful features to its users shortly.
This includes creating websites using the drag-and-drop editor tool. You can also publish your post on these sites and can offer attractive videos, as well. Gaming and certification are some of the other tools to offer a superior experience to the young student.
GrooveMember is easily integrable with many of the other membership applications like MemberPress etc.
#6. GrooveVideo
This is one of the most favorite platforms of many young and enthusiastic entrepreneurs. Nonetheless, the most experienced online businessmen are also using this highly powerful platform to increase their conversion rate and enhance their sales. Mike Filsaime is known to have been using this platform quite extensively in all his business campaigns.
The GrooveVideo offers some of the most effective features to support its client create high-quality videos in a quick time. You can use these videos as an effective online marketing tool.
GrooveVideo allows you to automate the whole process of video hosting. Besides, it also allows you to optimize and share your videos on other social media channels to generate more leads.
Those who do not want to use YouTube videos can use this platform and gain a lot of control in playing and hosting their videos, and embedding them on their website. Besides, they can easily add tags in their videos through GrooveVideo and can also include CTA and pop-ups while playing the video.
The application also allows you to analyze the performance of your videos using A/B split testing and analytics. This helps you in getting a fair idea of the kind of videos to be created for better engagement of the target audience.
Related Read – Clickfunnels Review
#7. GrooveKart
GrooveKart is yet another highly useful tool offered by GrooveFunnels. Being new, it offers many features that are not included in many of the popular shopping cart applications. Even if some of the dedicated carts use these features, their apps are not as comprehensive as GrooveKart.
Apart from having some of the most useful shopping cart features, GrooveKart also is one of the least expensive options available in the market.
GrooveKart, though not included in the standard plans of GrooveFunnels, is available separately at an additional charge.
#8. GrooveBlog
GrooveBlog is also one of the GrooveFunnels tools that have not yet come in their complete version and the users need to wait for a while to know more about this tool.
However, the objective of offering this tool is very clear. Mike wants to offer his customers to have a blogging tool that can give them a better experience than they find using WordPress.
It is aimed to simplify the whole process of publishing content that gets a higher rank on prominent search engines.
You can integrate GrooveBlog with WordPress quite easily and seamlessly. So, you can use the GrooveBlog platform to publish your post on WordPress.
#9. GroovePay
It is one of the most important factors to have a reliable and quick payment processing tool to ensure the smooth running of any online business.
GroovePay offers all the features in its payment app necessary to provide a seamless experience to its users. The payment tool allows you to accept Credit Cards securely.
It does not surprise you with any hidden charges in using the facility. Besides, it does not ask for any recurring charges, as well. GroovePay also offers phone support to assist customers during any issue faced during any payment process.
The tool is most suitable for entrepreneurs who are interested in a cheaper yet reliable payment option for their online business.
Related- Read – Clickfunnels Vs Leadpages
GrooveFunnels Review: Other GrooveFunnels Tools
So, these were the tools that are presently available with the GrooveFunnels platform. Apart from these tools, in this GrooveFunnels review, we'll also elaborate on how the platform is ready to release many more tools during the first quarter of the current year i.e. 2021. Some of those tools include the following: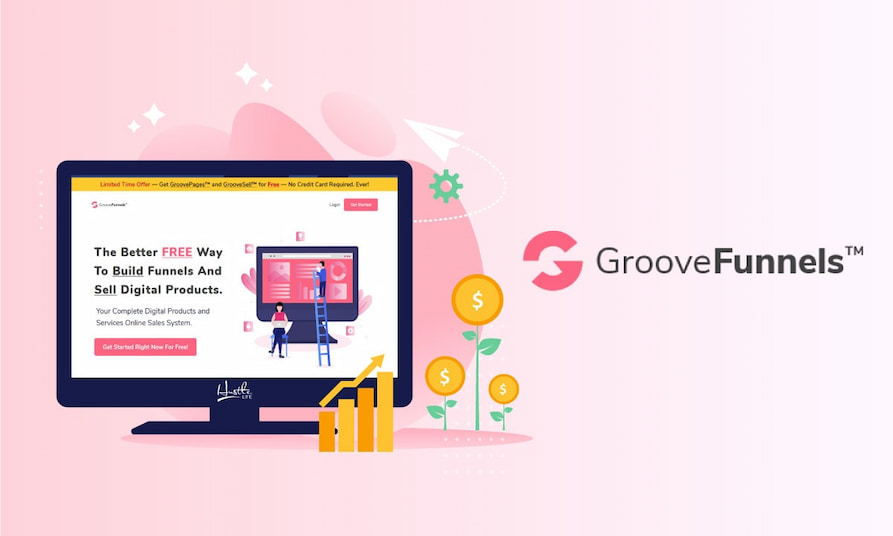 #1. GrooveDesk
GrooveDesk is the tool designed by GrooveFunnels to provide effective support to its highly valued customers. The tool helps manage tickets and resolve any issues related to the platform.
#2. GrooveCalendar
GrooveCalendar is a simple tool that is useful in scheduling meetings, setting up calls, or organizing coaching sessions, etc.
You can book your time easily and quickly by using GrooveCalendar. The other very important feature of the tool is that it can be integrated with GrooveMail.
So, appointments and meeting schedules can be included in the email sequence that will prompt the automation to send emails only to the target recipients.
#3. GrooveWebinars
Mike's experience in developing WebinarJam and EverWebinar has been quite helpful in creating GrooveWebinars and offering better features with the tool.
GrooveWebinars is a very effective tool to design and organize live webinars. The tool also offers many useful automated functions to avoid constant checking and monitoring of important schedules.
This tool also allows you to track your webinar performance through GrooveVideo. You can also integrate it with GrooveMail to send automated follow-up messages through broadcast or email.
#4. GrooveSurvey and Groove Quiz
GrooveSurvey is an effective tool to know what your audience is thinking about your services. Using this tool, you can develop exclusive content to interact with your audience to know their specific needs and desires.
It is a highly professional service that can also be integrated with GrooveMail. You can further use this integration to obtain email leads to create email lists and send your prospects automated messages.
GrooveQuiz is similar to GrooveSurvey where you can design quizzes for your website or pages. You can use the tool to increase engagement on different assets of your website and also in getting feedback on your digital campaigns.
Related- Kartra Review Clickfunnels Vs Kartra Review
You can also use both these tools to modify and develop products, services, or content as per the feedback received from the participants.
#5. GrooveAds
GrooveAds is one of the most unique features of GrooveFunnels that will be released to the users very soon. It is designed for publishers who want to target product-specific advertisements.
It is an extremely efficient platform, considering that all your ad services including YouTube, Facebook, and Google will be managed by this single tool.
Besides, it will also support in creating funnels and also help you in your copywriting work. You will just need to provide the team with the intellectual assets related to your ad campaigns and the team will execute the project most professionally. The tool will be especially suitable for the professionals running an eCommerce site.
GrooveFunnels Community
Apart from the customer support and training, you can also connect with the GrooveFunnels community to know more about the platform. More than that, community members can interact with each other and share their experiences. They can suggest each other and mutually help in resolving business issues through practical solutions.
GrooveFunnels has a Facebook community that has more than 40,000 members as of now. You can join the group as soon as you sign up with the platform.
GrooveFunnels Review: The Partner Program
GrooveFunnels Partner Program is one of the most lucrative affiliate programs offered by any online marketing automation software.
The first and foremost feature is that you can join this program for free.
It offers you a 40% recurring commission for the lifetime plan and 20% for all other existing and proposed plans.
The affiliate program also has Groove Affiliate Assist which allows you to earn-
Full commission for promoting the upgrade and
Half of the commissions if another affiliate promotes the upgrade
How Does The GrooveFunnels Partner Program Work?
The affiliate program of GrooveFunnels is very scientifically designed. It works in the following way:
As soon as you successfully refer any person to any of the GrooveFunnels tools, the system creates a link between you and that person like a parent-child relationship.
The account of the person who joined GrooveFunnels through you gets automatically linked with your account.
The linkage of the account is not affected by cookies. Also, it won't be affected by using another computer or even another device while upgrading.
It also doesn't get affected by the time taken by the individual in joining the program.
You also earn a commission when your affiliate successfully refers someone else to GrooveFunnels.
The system is so powerful and efficient that it automatically tags your reference's reference to your account immediately.
GrooveFunnels Support & Training
GrooveFunnels is quite aware of the customers' needs and therefore it has included robust customer support and training programs with the application. You can get the customer support team's response through multiple channels. Besides, you can also know the important features of GrooveFunnels and its different tools. You can even send support tickets using the customer support function.
GrooveFunnels training programs include creating awareness through answering common questions, using knowledge-based tutorials, videos, and so on. The pop-ups, canvas, and many more tools also help in providing useful information to the users.
GrooveFunnels Review: Contact Information
You can send an email to GrooveFunnels customer support team through email at support@groovedigital.com
For the chat support, you can connect with them from 8.00 AM to 6.00 PM during weekdays and from 9.00 AM to 5.00 PM during the weekends.
GrooveFunnels Pricing
One of the key features of GrooveFunnels is that it has flexible pricing plans to cater to a variety of customers. Users can select the plan as per their online business requirements. It has come up with a free plan for life that is still available for everyone. Moreover, it also has a Lifetime Platinum Plan for the users.
Let us dive deeper into all these GrooveFunnels packages in this GrooveFunnels review.
GrooveFunnels BASE / FREE Plan
This plan offers new users to join GrooveFunnels for free. It is available for everyone. The offer includes the following features:
You get a free account for life
No need to use a credit card ever
GroovePages Lite
A powerful funnel builder
Full access to GrooveSlaes and Groove Affiliate
Very powerful affiliate software
Affiliate Commission- 20%
GrooveFunnels Silver
The Silver plan will be made available for subscription by July. It will have a subscription fee of $99/mo. It includes some of the applications for the newbies to start up and operate a digital business.
GrooveSell
GrooveAffiliate
GroovePages Pro
GrooveMail
GrooveVideo
GrooveMember
GrooveFunnels Gold
The Gold plan too will be made available for subscription by July. It will have a subscription fee of $199/mo. You get all the features of the Silver plan plus many more tools for professionals to operate an online business.
GrooveBlog
GrooveDesk
GrooveCalendar
GrooveSurvey
GrooveQuiz
GrooveFunnels Platinum
GrooveFunnels Platinum plan too will be made available for subscription by July. It will have a subscription fee of $299/mo. You get all the applications for professionals and experts to operate an online business. It includes the following apps in addition to the Gold plan:
GrooveKart
GrooveWebinars Live
GrooveWebinars Automated
GroovePages for Shopify
GrooveFunnels Platinum Lifetime Plan
GrooveFunnels is presently offering a Platinum Lifetime Plan in which you get lifetime access to all the features, tools and applications and upgrades to be offered on any of the apps in the future. You get the following benefits over and above the Platinum plan:
Lifetime access to all GrooveFunnels templates
Anything added to GrooveFunnels platform
All features and upgrades
Discounted pricing
Affiliate Commission- 40%
Non-promotional Bonuses- 20%
Mike has announced that The Platinum Lifetime Plan is available only for a limited time.
Platinum Lifetime Payment Options
Following are the GrooveFunnels Platinum Lifetime Payment Options available on the official website now:
Pay $0 today

4 monthly payments of $497

1st payment to be made after 14 days

Pay $1397 as a one-time payment

Save 35%
No need to pay anything ever

Pay 6 installments of $388 starting today
Pay 12 installments of $249 starting today
GrooveFunnels Pros & Cons
The following are some of the pros and cons that I can input in GrooveFunnels Review
Pros
Lifetime free plan
Exclusive Platinum Lifetime offer
All-in-one online marketing automation platform
User-friendly landing page builder
Very easy to build funnels
Highly lucrative Affiliate program
A large community of loyal members
Fast and rapid up-gradation of the platform
All apps are completely integrated
Helps in enhancing sales easily
Do not need to pay for any external tool
Cons
GroovePages editor tool can be a bit tricky for the beginners
It requires time to learn the tool
The platform is still in beta
Many tools are not available as of now
GrooveFunnels- Suitability
There are multiple areas of online marketing that GrooveFunnels promises to offer its support. Be it one of the most sought-after fields of blogging, the challenging area of small businesses, or the all-so-popular arena of content marketing, GrooveFunnels has a wide range of marketing tools to cater to all of the varied demands of digital marketers. Anyone who wishes to sell their products or services can use GrooveFunnels and get all-round support in running their online business.
GrooveFunnels is Suitable for:
Those who have any product or service to market or promote
The ones who wish to craft the most attractive landing pages
Those who want to create high-yielding sales funnels
Online entrepreneurs
Online content creators
Those interested in operating a membership site
GrooveFunnels is Not Suitable for:
Those who don't have any product or service to market or promote
The ones not interested in learning and use new tools
Those who do not want all the online marketing tools in a single product.
Conclusion
So, this was the detailed GrooveFunnels review, one of the most happening things in the world of online marketing.
It has got many positives to prove its worth. GrooveFunnels offers one of the most fascinating tools for building landing pages, creating funnels, and developing websites. Besides, it also offers a highly powerful GrooveSell tool that not only helps in selling products but also allows it to be used as an effective affiliate marketing tool. And on top of that GrooveFunnels offer all these features for free.
The platform includes tools for email marketing, membership site, video hosting capabilities, blogging facility, and so on. Besides, it also has a vast community of experienced and successful entrepreneurs.
The platform offers a solid customer support system and offers efficient training facilities for its customers to enhance knowledge. The Lifetime Platinum Plan is one of the most highlighting features of the platform. It offers you to own the plan at a highly discounted rate for a lifetime.
Overall, the newly emerging online marketing automation tool is one of the very few genuine all-in-one platforms that is offering a wide range of features to ensure that the users do not need to come off the dashboard of the platform for any of their online business requirements.
GrooveFunnels Review: Frequently Asked Questions (FAQs)
The following are some of the questions asked by the people considering buying GrooveFunnels that I'm gonna cover in this GrooveFunnels review:
Can I share funnels using GrooveFunnels?
Yes. You can do that by sharing a link or by sending through email as you do in the google doc.
Do I need to buy any other third-party tools after buying GrooveFunnels?
GrooveFunnels is an all-in-one marketing automation tool. Once all its apps are released it will have all the features to start up and run your online business seamlessly. You won't need to buy anything else from outside to run your online business after buying GrooveFunnels
Does GrooveFunnels charge additionally for hosting?
No. GrooveFunnels does not charge for hosting. It offers free hosting and also provides unlimited bandwidth and storage.
Is it worthwhile to subscribe to GrooveFunnels?
 GrooveFunnels offer true value for your money. It is difficult to find any online marketing tool that includes such a wide range of apps at such low rates.
Can I integrate GrooveFunnels with my email autoresponder?
Yes. It is possible to integrate GrooveFunnels with some email autoresponders like ActiveCampaign etc. Moreover, the platform is continuously working on multiple email integration projects with many more email service providers.
Does GrooveFunnels allow users to import funnels?
Yes. You can very well import funnels. In fact, it allows you to import almost everything including hyperlinks, buttons, and even colors.
Can I join the GrooveFunnels Facebook group after signing up with the platform?
Yes. You can join the Facebook community after signing up and interact with more than 40,000 members of the group easily.