Moreover, they have structured the commission in a way that makes their affiliates earn recurring income for their lifetime. So, if you are a ClickFunnels you can fulfill your dream of making a passive income by promoting ClickFunnels. All in all, the benefits offered by ClickFunnels are too good to be ignored.
ClickFunnels has become one of the most popular tools of affiliate marketing among online marketers. And why not? It provides some of the most attractive commissions to its affiliates. Besides, they offer a wide range of high-quality products to share with their affiliates.
However, the big question is how to promote ClickFunnels?
What are the different ways to promote ClickFunnels?
Well, there can be as many ways as the number of affiliates of ClickFunnels. There can be even more ways than those. Each affiliate can innovate a new way to promote ClickFunnels. And this is the beauty of this highly adored affiliate program. ClickFunnels is highly adaptable and flexible.
Having said, there are some almost universal methods that any affiliate can use to promote ClickFunnels- whether a novice or an experienced marketer.
Using Facebook
Most of the successful ClickFunnels affiliates use the following four techniques to promote ClickFunnels.
1. Create Your Facebook Group
The most effective way to promote ClickFunnels through Facebook groups is to create your own group. Creating a Facebook group can benefit you in more ways than you can imagine. But to use it effectively, you need to decide on how you will use it to promote ClickFunnels.
The most important element of any objective-driven Facebook group is the value the group owner provides to the group members. And if you are using it to promote a product or service, you must ensure that you win the trust of the group members before you even introduce the product to your group.
Once you establish their trust, you can easily get the buy-in of the group members for the ClickFunnels and then you can promote the ClickFunnels affiliate offers.
To maximize benefits from the Facebook group you should customize it to suit your objective. It can include all the relevant information about the group, its purpose, what the group members can expect from the group, and also how they can contribute constructively to the group activities.
Including relevant resources will add value to the group. Besides, it will also help build the foundation to promote or sell your offers without the need to persuade the group members to accept the offer. You can include information about different ways to perform specific activities. Besides, you can also provide your affiliate links, and links to your other social media activities including your sales funnels.
Facebook groups can be a powerful way of generating leads without incurring any expenses. You can request your group members for their email IDs to share with them some useful gift items. This is a very simple way to collect email addresses without a need to enter each address manually.
2. Use Someone Else's Facebook Group
Instead of creating your own group, you can use someone else's Facebook group to share your views and offer high value to the whole group. Do something that others don't do to create a positive impression among the group members. Interact constructively with other group members and make them feel comfortable discussing matters with you. Offer your expertise to help them. Be visible in the group. Present your offer only after you have gained the trust of the group members.
3. Use a Personal Facebook Profile
Your personal profile is a powerful tool to market your products or services. However, you should use this tool wisely. When you are using your personal profile to promote ClickFunnels, you must create it in the most professional style. It should clearly reflect your sincerity towards the objective.
You should take care of the finer details of your profile. For instance, you must put a professional headshot that can draw people's attention and make them relate it to your profile. You can also use your profile to share your vision and mission.
Furthermore, when you are using your Facebook profile for professional purposes, you should sound like a problem solver. You can offer solutions to the problems of the audience, educate them on how ClickFunnels can solve their business issues. Once they start raising genuine questions, consider that you have earned their trust. Now is the time to offer them more information on ClickFunnels and guide them to take free CF trials.
4. Using Facebook Ads
You need to initially invest either your time or money to build a strong foundation to earn passive income. Facebook Ad requires an investment of money to help you sell ClickFunnels affiliate links to your customers. There are many ways to use this feature. One of the simple ways is by running the ad campaign through short videos.
In this method, you can share a short video view of up to 5 minutes, briefly touching upon the concept of funnels and how it is different from a website. You can further post another video for the viewers who have viewed at least half of your first video and take them through a top-quality sales funnel related to a special segment.
Continue with the third in the series for the viewers who have viewed at least half of the previous one. This one should have you on the screen performing an interesting short video act on funnel building.
By now, you would have collected many email addresses of your leads. Begin following up with your leads by creating high-yielding email sequences. Send them a few entertaining clips of videos to stimulate them. Then share with them different ClickFunnels affiliate offers.
Related Read: Russell Brunson Perfect Webinar Template Review
Using YouTube
YouTube is one of the most used search engines in the online world- number two to be precise. With such high utilization, this can be used very efficiently to promote ClickFunnels, generate leads, and guide your leads to sign up for the affiliate program. And all of this for free.
However, you need to do sound preparation before starting to use the channel for promoting ClickFunnels.
1. Selecting and Creating the Content
The first and foremost is to decide the kind of content that you should create for your potential audience. Here are some of the most effective content that you can choose to create for your YT viewers.
Create videos containing an in-depth review of ClickFunnels.

You can also create comparison videos showing how your product is better than all other products in the category.
Creating "Top 5 or Top 10 videos" is also a very effective way of pulling viewers to your YT post. You can give an overview of the features and pricing plans of all the tools that you have selected for the video.


Once you receive a good response on your review, comparison videos, and top sales funnels videos, you can start posting "How to" videos on the channel.

In these videos, you can guide your audience on how to build a sales funnel simply and systematically.
You can use many engaging ways to make it more interesting for your viewers like a face-to-face tutorial or by showing your screen and demonstrating each step to your audience, etc.
2. Optimizing the Videos
Posting videos on YouTube is much easier compared to attracting viewers to watch them. You need to optimize them so that they appear on the top of the search list. Here are some of the effective ways to rank them high on YT.
The first and foremost requirement is to serve the audience with the content that they like to view.

For this, you need to search for the high-ranking keywords keyed-in by the viewers.

Use these high-ranking keywords wisely to get the top ranking for your ClickFunnels affiliate videos.

Ensure to use these key-words/ keyphrases in the title of the video.
Write a detailed description of your video incorporating many high-ranking keywords. You can use multiple ways of adding these keywords. However, you should avoid overusing them or stuffing them unnecessarily.

Many video developers ignore the importance of video thumbnails. They do not realize the importance of an attractive and engaging thumbnail in enticing their leads to watching the video.

Use a high-quality software application or hire a professional agency to make an alluring thumbnail for your ClickFunnels affiliate video.

Use Shortened URL Links when adding ClickFunnels affiliate link in the description of your video.

Long URL links present an unpleasant view of the web address and make it look quite confusing, as well. Shortened URLs provide a pleasing appearance to the link.
Many branded URL maker companies offer free shortened URL link services. You can use any of them to get one for your web page.
You can also use the shortened link to track and monitor your link to get useful information about the traffic on your web page.
3. Sharing Videos on Other Social Media Channels
You should promote your YouTube videos through all other social media channels where you have already established your image.
You can share YT videos with your friends, followers, and dear ones and request them to like, comment, subscribe, and share with their contacts.

Make your videos visible on as many platforms as possible and as quickly as possible. This will help you get a high rank on the YouTube search list in a quick time.
4. Guiding Your Viewers to Take Action
Only viewing the videos will not convert your audience into your customers. You need to lead them to take some meaningful result-oriented actions.
Use different CTAs (Call-to-action) to guide your viewers to take action to participate in your marketing activities.

You can use CTA to direct your viewers to sign-up ClickFunnels, subscribe to your video, or guide them to connect with any other video or link related to ClickFunnels that can help you promote the ClickFunnels affiliate program.
Related Read: How To Make Money With ClickFunnels
Blogging
If you own a website, it will help you immensely in promoting ClickFunnels through blogging. And if you use this website for affiliate marketing, it will be even easier for you to follow the process.
To promote ClickFunnels through blogging, you need to follow almost the same process described in the section for YouTube. In place of videos, you will need to write effective and engaging contents that people want to read and know about.
The first step is to search for high-ranking keywords related to ClickFunnels.

There are many keyword research tools that you can deploy to find relevant keywords for your purpose.

After getting the high-ranking keywords, the next step is to write high-quality content on the related topic on ClickFunnels incorporating these keywords.

The trick here is to use long-tail keywords or key-phrases. This is what most of the people use while searching and this is what most of the bloggers ignore while writing.

You can write many different types of blog posts.

Product Reviews describing every feature of ClickFunnels along with its pros and cons, price plans, and its way of working, etc.
Comparison Reviews, comparing the ClickFunnels with the competitors' explaining why ClickFunnels is superior to them.
Write articles on "Top 5 or Top 10 Sales Funnel Affiliate Programs" reviewing each one of them on different features, and their advantages, and disadvantages.

"How to" blog posts are a very effective way to subtly describe the salient features of ClickFunnels while guiding your audience through a step-by-step method to use ClickFunnels.

You can use many screenshots or short clippings for an easy understanding of the processes.
Share tricks and tips for making it more and more productive for the user. Share your examples to give the write-up a personal touch.

You can create roundup posts by collecting the experiences and opinions of experts on ClickFunnels.

You can also share this post on your other social media channels to get more viewership to your blog post.
Related Read: 10 Habits to Start in Your 20's If You Want To Be A Millionaire
Responding to Questions in Quora
Quora is a wonderful question-and-answer platform to direct traffic to any of your channels including Facebook, YouTube, or Blog, etc.
To begin the process, you need to search for the relevant questions in Quora related to sales funnel, affiliate marketing, or ClickFunnels, etc.

Provide a highly thoughtful, relevant, and articulate response to the question asked on Quora.

Provide your link along with your answer, directing the reader to come to the desired page.

Here you need to be aware of the Quora Policy that does not allow you to put naked links to your answers.
So, use anchor text to direct the reader to visit the targeted channel.
Funnel Sharing
Funnel sharing is an exclusive feature of ClickFunnels. No other sales funnel developer offers this feature in their software application. This is one of the most effective ways to promote ClickFunnels as an affiliate and earn money without making any investment. If executed properly, this single feature can get you unimaginable commissions.
ClickFunnels has a very simple method of building sales funnel through your ClickFunnel account.
It gives unique URLs to every funnel you develop on your ClickFunnels account. They are called sales funnel URLs.

You can copy the URL link and share it with others on any channel.

As soon as someone goes to the shared link, they are directed to a ClickFunnels page.

On the ClickFunnels page, they will be requested to opt either to log-in or sign-up for free access to the sales funnel that you have created for them.

If the person is a ClickFunnels user, the sales funnel gets automatically downloaded to their CF account.
If the person is not a CF user, they are offered a 14-day free trial to sign up and access the free sales funnel.

As soon as they pay for the membership plan, you start getting the 40% commission offered by ClickFunnels on any of their purchases.
What are the different ways to use sales funnels?
There are many different ways to use sales funnel to promote ClickFunnels
You can use an already built share funnel. In this case, you just need to replace the built-in links and products with your affiliate links and products.
Instead of using an in-built funnel, you can build your funnel and share it with others showing them how they can grow their traffic using the funnel.

This will entice people to sign-up to your list to access and use the sales funnel offering such benefits.
You not only earn commissions from ClickFunnels but also increase your leads.

There are many organizations and marketers in your area who need sales funnels. They want to engage the services of a professional sales-funnel creator for their business.

You can tap this opportunity to build a sales funnel for them and share the URL link accessible through their new ClickFunnels account.
This way you earn by sharing the funnel and get new affiliates under your umbrella.
Related Read: Russell Brunson's One Funnel Away Challenge: Everything You Need To Know
Using Solo Ads
A Solo Ad is an indirect way of advertising your product. In this method, someone else sends your emails to their email list for your product promotion. The list owner charges you for sending emails to their list on pay per click (PPC) basis.
There are some important points to remember when using this method to promote ClickFunnels.
Do not send your leads directly to the ClickFunnels page.

Create a buffer or a squeeze page where you can gain control over the traffic and can also get some front end sales in the process.

Be patient. Solo Ads does not have a high pick up.

It takes time and several follow-ups to convert your leads into your customers. However, once converted they become a great source of your recurring income.

Test the method by purchasing only a small list of, say, up to 100 persons. Purchase more if the method yields favorable results to you.

Test different ways while sending emails to finetune the process like making changes in the affiliate offers, testing with different email list owners, etc.
Google Ads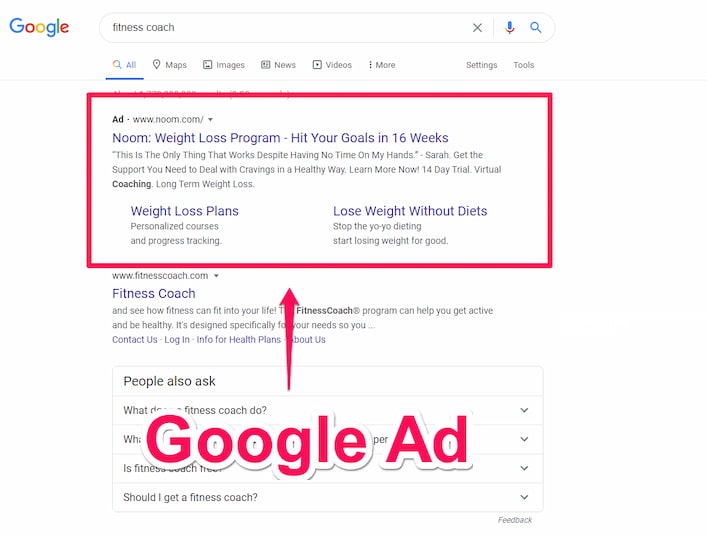 This is one of the most effective ways of generating traffic and increasing sales. Google AdWords is also a wonderful method to drive people on the ClickFunnels links.
In this method, you need to bid on a keyword and then make people click the link.
While directing people to click the link, you should always remember never to send them directly to the ClickFunnels offer link but you should incentivize them before redirecting them to the ClickFunnels page.

This will help you build a list that subsequently will help you in promoting ClickFunnels to them.

Though this is a very effective method, you need to be an expert in AdWords to reap its benefits.

So for a newbie, it is recommended to hire an expert or do a course on the subject before beginning to promote ClickFunnels through GoogleAdwords.
Conclusion
ClickFunnels is a wonderful affiliate marketing tool that can provide you an opportunity to earn recurring income. It is a very simple and easy-to-use application. You only need to select any of the method(s) described above and execute them effectively to drive your traffic and earn passive income for your whole life.
Frequently Asked Questions
What commissions do ClickFunnels offer to its affiliates?
ClickFunnels offer a 40% commission to its affiliates. The commission is recurring for the main software and one-time for all the other products.

Is it free to join the ClickFunnels affiliate program?
Yes. You just need to apply for your links to become a ClickFunnels affiliate.
How do I start selling affiliate products with ClickFunnels?
To start promoting an affiliate product with ClickFunnels, you need to first build a squeeze page. This will enable you to collect emails and build a list to direct to your affiliate offer.
Do I need to have a ClickFunnels account to promote its products as an affiliate?
No, it is not necessary to have a ClickFunnels account to promote its products. However, in the long run, it is beneficial to be a ClickFunnels subscriber to earn the trust of your customers and train and educate them about the tool.