Summary
Kartra is an all–in–one marketing automation and e–commerce platform designed to help entrepreneurs and small businesses grow and succeed. It offers a range of features such as website building, email automation, CRM, payments, and more. The platform is easy to use and provides users with comprehensive analytics which allows them to track their campaigns and optimize their performance. Kartra is a great choice for businesses looking for an affordable, comprehensive and easy–to–use marketing automation platform.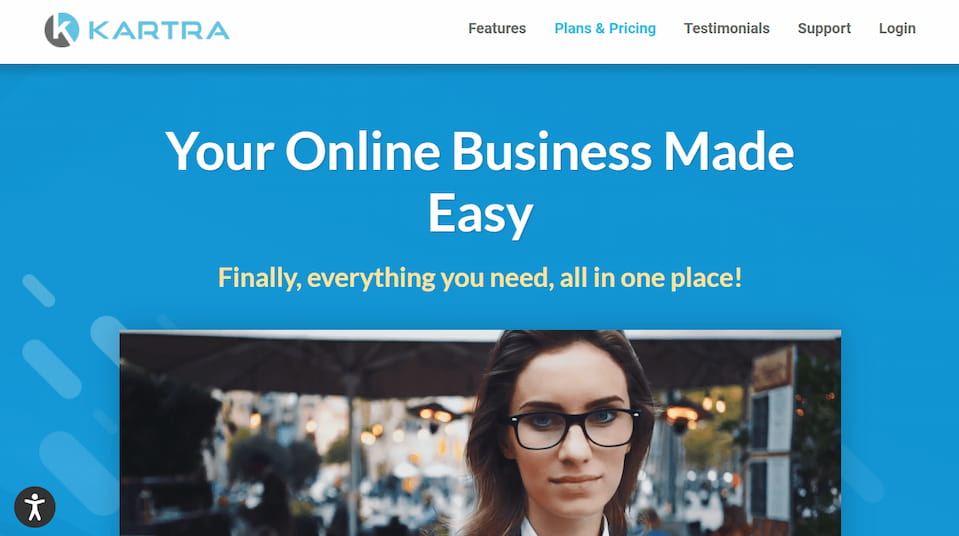 Furthermore, all the different sections and tools in the software are woven together so that they can communicate with each other without any hassle. It avoids the need of searching a lot of different resources required to launch your online business thus saving a lot of your time and energy. It also provides a global platform to launch your content.
What is Kartra?
Kartra is one of the most popular online marketing automation platforms to build, market, and launch an online business. It was developed by Andy Jenkins and Mike Filsaime and is one of the most useful products released by Genesis Digital.
Kartra, as your one-in-all solution serves the multiple purposes of sales funnels builder, landing page creator, email marketing and online automation tool, and so on. The platform offers you an entire system replete with all the required tools and templates to launch your online business instantly.
The all-in-one application offers solutions to all your digital marketing automation needs from building highly attractive pages to automated email marketing and creating high-performance sales funnels to launching the most impressive marketing campaigns.
The biggest selling point of Kartra is the wide range of highly functional online marketing support features under one roof and that too for the price of one application. So, you get all the required tools and templates and grow your online business quickly and seamlessly without needing to spend your fortunes in buying the software.
Kartra: Detailed Review
As mentioned above Kartra is a highly functional and feature-rich business automation software. It contains numerous tools and applications to build landings pages, sales funnels and launch your online business seamlessly. The following are some of the major features of this wonderful online automation tool:
Page Builder
Page building feature is the most highlighting feature of Kartra. To help you run your online business by building and launching highly impressive landing pages, Kartra provides an extremely user-friendly page editor tool. You don't need to be tech-savvy to use this tool.
Kartra has more than one hundred pre-designed templates to build any type of page including home pages, lead capture pages, squeeze pages, sales pages, and so on. It offers a wide range of templates to suit many different tastes. You can find the most conventional kind of layout to the most modern one to suit your requirement.
Related Read :Groove Funnel Reviews
How to Use Kartra Page Builder?
You can create your own design of any landing page from scratch or can opt to edit a pre-made template as per your design need. To edit a template, you simply need to select the template, load on the page builder, and make changes in the text, images, or the style of the template page. You can also add new elements to the template.
The editor tool is very easy to use, quick and intuitive. However, it lacks the flexibility that a few other editor tools offer in their applications. To perform some of the activities requiring only click and drag functions, the editor tool offered by Kartra needs a few more actions to complete the task.
The impressive integration of the software, however, compensates for the limitation and allows you to quickly perform many functions that are not allowed in many other tools.
How effective is the Split Testing feature of Kartra?
Kartra has an outstanding Split Testing feature that allows its users to create two variants of a page to compare and decide the winner. You can also set the benchmark to decide the winner automatically. The platform allows you to conduct the test from an external URM, as well.
The tool offers a lot of flexibility in conducting the test which makes the Kartra Split Testing feature more effective compared to many other applications.
Shopping Cart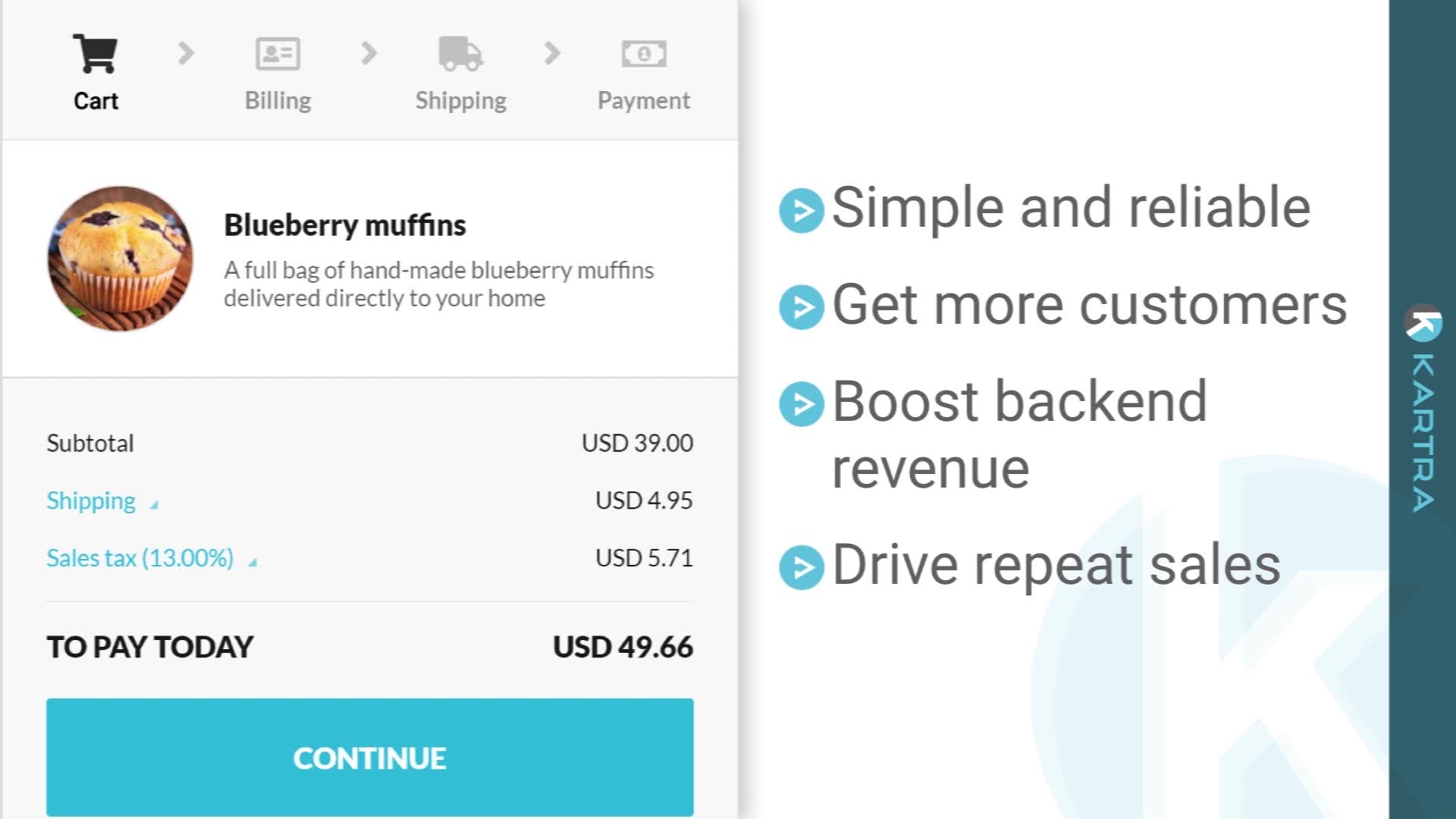 You can design one of the best websites for your online business but it won't be of any use if you don't offer any product to your potential customers. So, using any online automation system for your online business is beneficial only if it offers an effective products and carts feature.
Kartra provides an in-built shopping cart and this is one of the most powerful features offered by the software. You can select one of the two options offered by the platform- either build the main product or add an upsell or downsell.
The product adding process is no different compared to what you have used earlier in other product selling websites. The simple-to-use interface, however, makes it much easier to operate compared to the shopping carts of many other similar platforms.
You will get all the required functionalities such as pricing, payment gateways, checkouts, and so on. For the payment gateways, you can opt for internet payment mode, use PayPal, debit or credit cards, etc.
The shopping cart feature of Kartra also allows you to stack these features to design more complicated sales offers. You can connect your online courses too with the Kartra using its membership feature and offer a seamless experience for your clients.
Related Read : ClickFunnel Reviews
Affiliate Tools
When we discuss the shopping cart as a stand-alone feature, it does not look as functional as when we look at it holistically. Incorporating an affiliate portal in the application takes shopping cart features to an altogether different level.
How is that? Well, by designing all your products in such a way that you can integrate all of them with your affiliate portal. This way all the customers that are purchasing your product through your shopping cart also become your promoters. You can select the potential affiliates through a customized design of the questionnaires.
Furthermore, the affiliates can share their code through a customized URL enabling you to pay them their due commissions on every sale that they make through that code. The tool also allows you to track the sales data of each affiliate and analyze their absolute and comparative performance.
Besides, you can also monitor the referrals that they receive and also their commission payouts. Moreover, the tool also allows you to have access to the analytics of all your product sales. So, you get comprehensive data on the visits to your website, sales numbers, earnings, and refunds executed through your account. You can also get the data related to the overall value of each customer.
Many shopping carts in themselves are pretty tricky to use and when they are integrated with the affiliate portal, it becomes even more difficult to handle them. However, the Kartra shopping cart and its integration with the affiliate tool is extremely smooth and seamless.
Email Automation
Email automation is like a lead-booster of online marketing. When the traffic on your site goes beyond a certain threshold, it may become really hard for you to follow up manually with each potential client or customer. Kartra provides a perfect solution to this favourable yet challenging situation through its impeccable email automation feature.
The platform's seamless integration with some of the leading email services like MailGun, MailChimp, and SendGrid, etc. enables it to design a strong email automation strategy. Kartra offers a highly functional email automation system in which it not only gathers information based on customers' email ids but also analyzes the customers' behavioural patterns.
It allows you to build an email list manually or by importing a CSV file from another application. Kartra follows different features to design an effective and efficient email automation system.
Its broadcasting feature facilitates you to send an email. It also allows you to communicate through SMS, as and when required.
The Kartra Automation workflow builder is as good as many popular dedicated email marketing service providers. However, they are not as complete, comprehensive, and seamless as the top-most email marketing solutions.
The sequence builder, as Kartra calls its email builder, is a little tricky to use in certain aspects. For instance, when you add any element it chokes up the editor. A similar condition occurs when you try to shift an item around.
However, if you get through this small hassle, the Kartra email marketing system is just fabulous. It also allows you to save on your subscription fees for the email marketing services that you might be having before subscribing to Kartra.
Clients residing in the EU area need to comply with the rules and regulations of the General Data Protection Regulation (GDPR). Kartra fulfils all the norms set up by GDPR. So, it is an advantage over and above all the powerful features that you get with the email marketing services of Kartra.
Launching Marketing Campaigns
Creating exclusive marketing campaigns is one of the major features of Kartra. Users can build their own marketing campaigns or can use several ready-made campaign templates. The designs of the pre-made templates are inspired by the work of famous marketers and designers like Frank Kern.
The benefit of using pre-designed templates is that you don't need to have a bulky media library to select your designs, Kartra has everything included in its extensive tool featuring five different marketing campaigns.
Each campaign comes with an informative video about the specific campaign educating you on the purpose of the campaign and other relevant information about it. You can even import a campaign to Kartra. The tool will execute it on your Kartra account keeping all the elements of the campaign intact.
The tools allow you to edit and amend the campaign after its positioning and deployment. You can find out the improvements required in the campaign and can edit as per your business requirements.
Related Read: Unbounce vs ClickFunnels
Kartra Marketplace
Kartra marketplace is where all the Kartra users can mutually share their campaigns. This is a wonderful platform to share your experience and skills with others and learn through their experiences.
This feature allows you to find out many different campaigns designed by others that may fit in your specific business situation in exchange for a fee. So, for a specialist in creating marketing campaigns, this can be a highly profitable potential source of income.
To sell a campaign in the Kartra marketplace, you have to design the campaign and include all the assets related to the specific campaign. For instance, you can charge a fee to share different pages or lists with other users to save their time in building those assets. You can even offer your consultancy in re-designing or amending their campaigns to suit their marketing needs. This opens up a great opportunity for the users to start another avenue to generate income.
Form Builder Tool
Designing forms is a good way to generate leads for those who are new to email marketing. It is a wonderful tool even for those who don't have any leads until now. All Kartra users can generate leads using this unique feature of the platform.
The best feature of the form-builder tool is that it does not call for a separate interface to design forms. You can use the interface of the platform to build the forms very quickly and easily. Like designing landing pages or market campaigns, Kartra offers several pre-designed templates with this tool, as well. You can customize these templates to suit your specific requirements.
Customizing your forms is pretty simple and you can use many different methods to customize them on the platform. You can select single opt-in or can go for double opt-in forms. The form editor tool, however, is not as flexible as the landing page builder. It does not allow for complex editing of the pre-made templates.
Smart opt-in forms and Embedding forms of Kartra uses semi-cookies to use the information provided by the users on other platforms while building forms on Kartra. If you have a blog on WordPress you can build a form on Kartra by including the code provided by the platform on your blog.
And the best feature is that if you make any changes on Kartra, you don't need to fiddle with the snippet of the code on WordPress. You can enable the auto-sync feature to automatically update changes made on one platform on the other platform.
Video Hosting
Video hosting services are not limited only to YouTube and Wistia, even many online marketing automation services also offer video hosting with their platform. And why not? Exclusive videos help immensely in promoting sales.
Providing video content is one of the most powerful ways to engage an audience to your website. And that is the reason why all the popular social media channels prefer video content over other types of content.
Kartra allows you to upload your marketing and product-related videos directly to Kartra. It further allows you to embed these video contents into different pages such as blogs, membership sites, etc.
Kartra has many positives in its video hosting feature. At the same time, it also has a few flip sides in this feature. The plus point of Kartra video hosting is that it pops-up CTA while the video is running. Besides, it also allows you to send messages to new clients and add them to the sales funnels automatically.
On the downside, Kartra is not the fastest in uploading videos. For the bigger videos, you may have to wait many times for video buffering. This can be a bit frustrating at times. To get a better speed of uploading you will have to compress your video content.
Furthermore, you cannot upload unlimited bandwidth of videos. Different plans have different limitations on the bandwidth of video content that you can upload on the platform.
So, it is advisable to use the Kartra video hosting platform for some of the marketing activities like sales page videos, etc. For most of the other purposes, you can use other dedicated video hosting services like YouTube or Vimeo.
Analytics Tools
It is important to track and analyze your business at regular intervals to know your business performance and take suitable actions required to improve your marketing performance. Depending on the importance of marketing parameters, you can set the frequency of monitoring and analyzing these parameters.
A robust and effective tracking tool is one of the most powerful features of Kartra. It offers extensive analytics tools that can track any of the marketing parameters of your business in quick time. You can get data for any activity that you perform on the platform.
Kartra can provide multiple sets of data related to leads, clicks, sales, conversions, lists, memberships, and affiliates, etc. Such comprehensive data recording enables you to analyze data from various aspects making data interpretation extremely accurate and precise.
The tracking tool of the software is so comprehensive that by using the tool you can access all the data related to visitors' views, goals achievement, and your business income during any period. Not only does it provide you data for a specified period but within that duration, it provides details on the date of transaction, about the sellers and purchasers, all the products in the list, and their price.
When you are using Kartra on different devices, Kartra also provides data on the conversion rates and also highlights the gaps in the conversion rates of each device against the set target. Kartra also has a unique Lead Tagged feature. This feature allows you to be attentive towards your lead while they are moving through your different sales funnels.
Customization Ability
Customization ability or flexibility of a landing page or sales funnel is one of the most important factors for any business owner to use professional online business automation tools. Any marketer, whether a newbie or an experienced one, though wants high functionality in the application but does not want to compromise on the ease-of-use, and customization ability.
So, for any marketer functionality and flexibility to customize are not an "either-or or" choice but they want "both" of these features to be incorporated into the application.
Developers of the Kartra platform were very well aware of this expectation of the online merchants. And offering such a highly user-friendly and customizable tool is, therefore, not so surprising.
The ease-of-use with Kartra begins with the dashboard itself. While using the dashboard, you will observe that Kartra has offered one of the most user-friendly dashboards which is laid down in a highly orderly manner.
The items on the dashboard are so neatly organized that you never need to spend your time searching for them while designing your campaigns. The panel on the left side of the dashboard stores all the icons systematically and only waits for you to click the icon for the page you want to visit.
It has a simple drag-and-drop feature that enables you to build different types of pages quickly and easily. If you are using the pre-made templates, it makes your task even easier. Select the template that suits your purpose of building the landing page and add the content that you have already selected for the page. You can even select the size of different buttons on all your landing pages.
The flexibility of Kartra does not restrict to page and funnel building tasks but extends to publishing your pages to any of the sub-domains of the platform. One-Click-Button allows you to even publish live to your domain. On top of that, it does not let you lose your control over the design of the pages on different SM platforms.
On the downside of the Kartra builder, its rigid grid lines sometimes pose problems in placing the elements at the exact location on the page.
Native and Custom Integration
Some online business support platforms offer only the page and funnel building applications to their clients. With the limited services, it is easy for them to manage the platform. However, platforms like Kartra, provide complete business automation support to their clients.
For this purpose, they need to include several features in their applications so that their clients do not need to depend on other applications to fulfil their marketing needs.
However, incorporating all these applications in a single platform may make it too bulky to manage. So, they need to integrate many in-app and third-party applications with the main application. Kartra has been very effective on both fronts. Not only does it offer a wide range of applications but also integrates it efficiently to offer a seamless experience to its clients.
Online Gateways- Stripe, Authorize.net, PayPal, and Braintree.
Email Gateways- SendGrid, MailGun, Elastic Mail, and Postmark. Besides, Kartra Mail also offers its own email gateway.
SMS Gateways- Twilio, Plivo and Nexmo.
Membership Platforms- Kajabi, aMember, Digital Access Pass, Optimize Press, S2Member, and Wishlist. Kartra also offers Kartra Memberships to its subscribers.
Hub Connectors- Zapier. By integrating with Zapier, Kartra offers access to thousands of applications.
Calendar Apps- Google Calendar.
Custom Integration- API and IPN. Custom App Program to connect your own App with Kartra.
Kartra Memberships

Kartra has a comprehensive Membership portal that allows you to manage and share your business material with your clients. You can use this platform to organize a training program or publish high-quality content effortlessly.
With its highly user-friendly interface, it is very easy to build your membership using drag-and-drop, create the most impressive member sites using highly attractive and colorful templates, and upload text, audio, and video files in no time. The membership site allows you to organize your lessons for easy navigation. You can also set your time to make your content available to your viewers.
If you have more than one membership, Kartra offers you to integrate all of them into one global portal. This feature allows you to create more selling opportunities by broadening your client base. Kartra also includes a progress tracking tool on its membership site. It is a useful tool to track the performance of all the users.
So, in a nut-shell Kartra offers all the features in its membership portal to make it easy to run your business and at the same time provide you with an opportunity to earn through the tool.
Kartra Helpdesks
With the growth in your business, it is often difficult to handle your clients' queries and suggestions through email. Kartra Helpdesks provide a perfect solution to the situation.
The Helpdesks allows you to track all the customer queries through an organized ticketing system, facilitate internal and external collaboration with different agents, and integrate billing, etc.
The chat feature allows clients to post their queries even offline. It allows multiple agents to connect with each other to satisfy customers' questions. The feature also enables you to download the chat log for your record.
The email management system allows for a quick and easy response to the clients. Offering email support directly to their email address relieves them from the burden of remembering their email credentials. Besides, the tool recognizes the new and historical conservations and creates or updates the ticket accordingly.
Helpdesk analytics provides another powerful tool to track and analyze agent-based data to reward the high-performers and motivate those who have lagged in the system. Besides, this tool also provides you to get direct and immediate feedback from your customers allowing you to take action in improving or sustaining the customer satisfaction level.
Handling all the billing requirements on your own may be quite tedious and time-consuming. Kartra realizes this fact and incorporates the self-billing portal in its Helpdesk. This portal allows your customers to view and manage their data and transaction details on their own.
The Wiki support takes off a lot of load from your shoulder. It can respond to many of the customers' queries before they reach out to you. You can organize your content in an orderly manner to enable users to search your content easily on Wiki and find the exact article they are searching for.
They will also get links to the supporting material for more in-depth information. The tool will also help you to get feedback on the quality of support material provided on the page.
Kartra helpdesk is designed to be proactive. You can embed your site with a floating support button, add any bubble message you wish, and also set the time of popping up of the message.
And last but not the least, Kartra breaks the old mindset of having a dull and non-attractive Helpdesk software. Kartra designs a highly attractive Helpdesk with an option for you to host it as a stand-alone page or embed it as a floating side-bar.
It makes it compatible with all the devices such as desktops, laptops, tablets, and cellphones, etc. Furthermore, it allows you to choose the colours matching your branding and even supports the bold dark mode.
Kartra Support System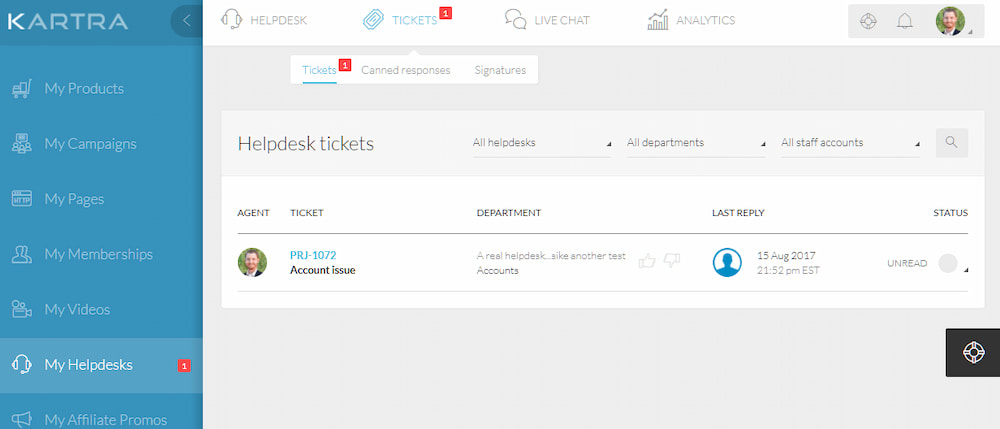 There are different ways that Kartra supports its users to build their business using this unique platform.
From receiving the login credentials to the welcoming video, Kartra offers very effective support to its onboarding customers making it a wonderful first experience for the new subscribers.
Subscribers can join the well-monitored Kartra Facebook group to connect and interact with a large community of professionals and marketing experts. This is a wonderful platform to learn from the experiences of others and also to share your experiences with the group members. You can join the Facebook group even during the 14-day trial period.
You can also take the support of the Kartra concierge service if you do not want to be a part of Kartra right now. Concierge services are not a part of any package offered by Kartra and is charged separately.
There is also a highly educational Kartra training center. It offers training to the clients to make them aware of the software, its different features, and the methods to use all the tools and templates offered with the application.
Kartra: Other Important Features
So, these were the different tools and features offered by Kartra to provide effective and efficient support to the entrepreneurs to run their online business. There are some other features of Kartra that provide tremendous convenience to the users:
Subscribers do not need to have any design skills to use Kartra.
They don't need to know anything about coding to work on the application.
Clients can use their domain by changing a few settings in the cPanel of their web host account.
Related Read : ClickFunnels vs Leadpages
Pricing Plans
Kartra offers four different pricing plans viz. Starter, Silver, Gold, and Platinum. Following are the features offered in each plan along with their prices:
Starter Plan
This is the basic plan offered by Kartra which is priced at $99/mo for the monthly payment and $79/mo if paid annually. It includes the following features:
Up to 2,500 Leads
1 custom domain
15,000 emails /mo
50 GB bandwidth
Host 100 pages
Host 50 videos
Sell 20 products
Build 2 membership sites
Add 1 additional
team member
Connect 1 helpdesk
Silver Plan
This plan is available at $199/mo and $149/mo with monthly and annual billing respectively. This plan includes,
Up to 12,500 Leads
3 custom domains
All the other features offered with the plan are unlimited, unlike the Starter Plan which has limits with each one of them.
This plan also includes the facility of Kartra agency which is over and above the Starter Plan.
Gold Plan
Gold Plan offered by Kartra is priced at $299/mo for monthly billing and $229/mo for one-time annual payment.
It has all the features that are available with the Silver Plan plus the following two features with extended limits:
Up to 25,000 Leads
5 custom domains
Platinum Plan
Platinum Plan is priced at $499/mo and $379/mo for monthly and annual billing respectively.
It includes all the features offered in the Silver and Gold plan with increased limits in the following features:
Up to 50,000 Leads
10 custom domains
Kartra Enterprise Plan
Apart from these four subscription plans, Kartra also offers an exclusive Kartra Enterprises Plan. To know the features of the plan you need to interact with the Kartra support services who will provide you plan details as per your specific business needs.
Trial Plan
Besides these pricing packages, Kartra also offers a free trial option to those who want to experiment with the tool and ascertain its suitability for their business. The 14-day trial offer is available for $1.
Advantages and Disadvantages of Kartra
Every system has some unique advantages to offer to its clients and also have some opportunities for improvement. Kartra is no exception to it. It also has many benefits and a few flip sides in the system. Here are some of the pros and cons of Kartra.
Major Advantages
All-in-one automation software application.
Extremely user-friendly yet highly functional application.
Every plan includes all the features offered by Kartra.
Highly useful and feature-filled shopping cart.
Attractive affiliate tools.
Multiple email automation tools.
The big Kartra marketplace opens up opportunities for a great career option.
Highly flexible and effective video hosting allowing users to play their videos from any page.
Effective and efficient tracking and analytics tools.
Highly functional membership site which allows users to perform numerous functions on the platform.
Comprehensive Helpdesks offering help via multiple channels on a wide variety of business aspects.
Massive and robust integration with in-build and third-party applications.
Minor Flipsides
Slow in uploading pages and videos.
The web builder has rigid grid lines that make it difficult to place the elements at desired locations.
Kartra: Suitability
The different sets of features offered by a software application determine its suitability for different marketers and business situations. With its unique feature-sets, Kartra is most suitable for the following businesses and situations:
Entrepreneurs who want all online business automation solutions under one roof.
Marketers who want plans that they can afford without losing on the functionality aspect of the platform.
Those who want to provide support to their customers through a professional and dedicated Help Desk.
Business campaigns that have huge requirements for video hosting.
Highly dynamic businesses.
Those who want to explore a new business opportunity by representing and sharing their market campaign designing skills within the Kartra marketplace.
Conclusion
From the above review, it is pretty clear that Kartra includes all the features that you require to start, run, and scale up your online business. It offers the distinct advantage of being highly functional without compromising on the ease of using the application.
Kartra excels in many of the features that keeps it ahead of many other online business automation applications. Whether it is the easy-to-use page builder, highly functional shopping cart, or lucrative affiliate marketing tools, Kartra has an effective support system for all these online functions.
The GDPR complied email automation system of Kartra is one of the most evolved systems and at par or even better than many of the dedicated email services.
Similar to building an attractive landing page, Kartra also has a very simple-to-use tool to create the most fascinating marketing campaigns on multiple themes.
The powerful features like Kartra's marketplace, membership site, form builder tool, help desk, and support system collectively make Kartra one of the most sought-after and reliable software tools for all online businesses.
The pricing plans offered by Kartra have the uniqueness of having all the feature-sets in all its subscription packages. This allows users of even the starter plan to use some of the advanced tools that are not accessible even in the higher plans of many other software platforms.
With no design or coding skills required to run the application, Kartra, by far, is one of the most effective platforms for the novice as well as the established online entrepreneurs.
So, why wait? Grab the 14-day trial offer and begin your most fascinating online journey with Kartra!
Related Read :ClickFunnels vs Kartra