Summary
Traffic Secrets: The Underground Playbook for Filling Your Websites and Funnels with Your Dream Customers is a book written by digital marketing expert Russell Brunson. This book is a comprehensive guide to driving traffic, creating leads, and converting sales. It covers an array of topics, including SEO, content marketing, paid advertising, email marketing, and more. It explains how to create an effective digital marketing strategy to attract and retain customers. It also covers how to track customer data and optimize campaigns for maximum results. Additionally, the book provides detailed case studies and examples from Russell's own experience, offering readers practical advice and actionable strategies that can be implemented quickly and easily. With Traffic Secrets, readers will learn how to drive more website traffic, generate more leads, and increase sales.
We shall take a look at the traffic secrets book review today! But first, answer a question,
What are the three most important requirements to grow your business sustainably?
To have customers. For having more customers. Or To have more and more customers!
All marketers- young or old, novice or experienced, and offline or online- know these secrets- the secret of getting the customers.
Then what differentiates between a successful and an unsuccessful entrepreneur? What differentiates between a successful and a sustainably successful entrepreneur?
Well, the difference lies in applying these secrets, the difference lies in applying these secrets effectively and the difference lies in knowing enough secrets hidden behind these secrets to find the dream customers!
So, the entrepreneurs who know these three secrets but don't apply them or apply them ineffectively either fail in making the profits or fail in making the profits consistently.
And if you know the hidden secrets behind these secrets of getting the unlimited traffic of customers, you not only will not fail but will consistently make profits. Knowing many secrets also keeps you loaded with several ideas. And you can apply different secrets in different business situations and continue the sustainability of your business in any business environment.
Now, a few questions randomly cross our minds,
Is there anyone who knows about these secrets of secrets?
If yes, can they share these secrets with us? Where can we find them and how can we learn the secrets from them?
Well, let us take all these questions one by one.
The answer to the first one is YES and the man who knows about these secrets is no other than Russell Brunson!
Related Read : Best Copywriting Books
Traffic Secrets Book Review: Russell Brunson, the Magic Man of ClickFunnels!
Yes, Russel Brunson started his entrepreneurial journey just 5 years ago with his company, ClickFunnels. Russel was not tech-savvy and didn't have any skills in coding. But he was pretty clear about his role of attracting more and more people for a free trial of his product.
In the beginning, it was tough to make people aware of ClickFunnels. Russell and his team tried many ways to bring traffic. In the process, Russell learned many new techniques of generating traffic, innovated new tools to tap more potential sources other than Facebook or Google to find their dream customers, realized their mistakes from their many failures, and eventually succeeded in establishing a consistent flow of customers into funnels.
The traffic secrets that Russell used in filling the funnel has been so successful that now Russell gets over 1.79 million average visitors per month to his main ClickFunnels website.
If you are a digital marketer, you must be knowing that Russell is also the author of two best-selling books, DotCom Secrets and Expert Secrets. And similar to the ClickFunnels, he also gets incessant traffic on the official websites of both these books which are visited by over 5K average users per day and around 30K average visitors per week respectively.
What does this huge online traffic signify?
To compare it with the physical traffic, it amounts to hundreds of books being sold every day round the clock. Imagine the traffic it would have generated in every nook and corner of the world.
Russell not only used his traffic secrets in bringing traffic to his company and books but also in filling funnels of all his business activities whether it is the Lead Squeeze Funnels or his Webinar Funnels; High Ticket Phone Application Funnels, or the Funnels that Sell his services and so on.
And what it has resulted in can be understood by a single example of the number of visitors to his webinar funnels which are almost touching 100,000 visitors per month consistently for more than a year. Imagine the kind of growth your business will witness with such huge traffic.
The best quality of Russell I have been observing since I read his first bestseller, DotCom Secrets is that he has a mindset of helping others. Sharing is one of Russell's most powerful traits. And what does it mean?
It means a lot! It means a lot to those who want to listen to others' success stories, it means a lot to those who are open to new learnings, it means a lot to those who want to execute their learnings and also love to share with others.
During all his learning years, Russell documented all the tools and techniques he used in filling his funnels as and when he applied them and as and when he was observing the outcome of those techniques.
And once he could concretize the results of all these tools, he decided to compile them in the form of a book for the world to know about those tools and techniques.
It took him a good one year to bring together all these secrets before he could organize them in a book form. And when the task was accomplished, the world witnessed yet another masterpiece from Russell. Yes, the masterpiece called the "Traffic Secrets".
Traffic Secrets Book Review: The Release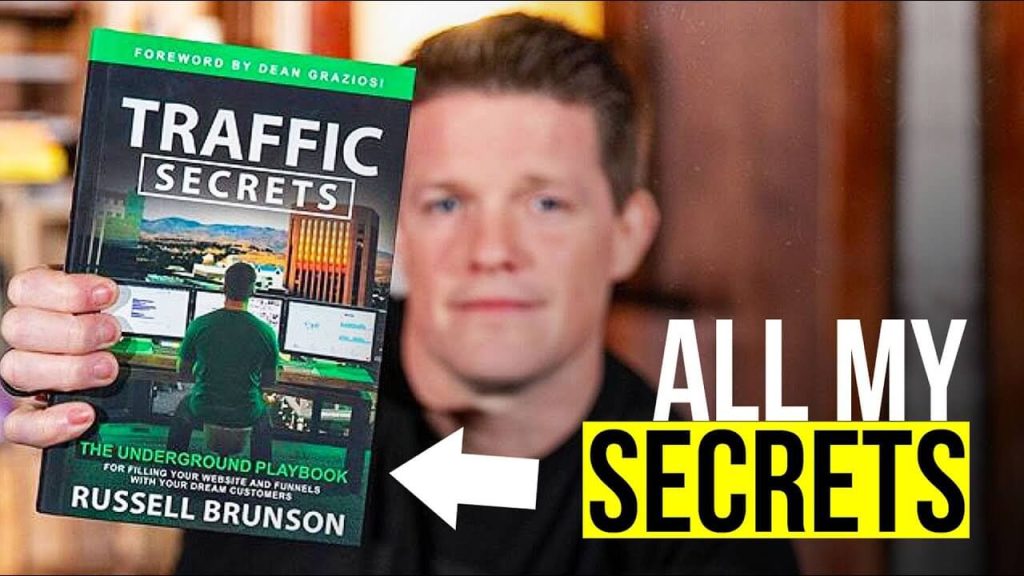 During his days of learning about generating online traffic, Russell was helped by many contemporary entrepreneurs who had learned it through their experiences. However, there was no organized and systematic compilation of those first-hand experiences and learnings.
Russell always felt a need for some high-quality book for those trying to make their own paths to generate traffic for their online businesses.
While preparing Traffic Secrets, Russell had all those people in his mind. He very well knew that many people would love to see a publication on funnel filling in the market. However, even in his wildest of dreams, he had not imagined the kind of response Traffic Secrets received from across the world.
Traffic Secrets is now no more a secret in over 163 countries of the world. Over 141,000 books sold within the first 90 days of a book launch is the biggest testimony of how desperate people were to have a superior quality publication on the subject.
Having over 250,000 FB community members is the biggest testimony of how delighted people are to have such a masterpiece in their hands! And reaching to the top of many Bestseller Lists is the biggest testimony of how much appreciation Traffic Secrets has received from people to whom creating profits in business matters.
It has acquired top positions as New York Times Best Seller, #1 Wall Street Journal Best Seller, #1 Amazon Best Seller (Kindle Business), and so on.
Traffic Secrets Book Review: What is the book All About?
Traffic Secrets is a book that tells how to fill your funnels with your dream customers. On one hand, it discloses many never-before-heard secrets of funnel marketing, and on the other hand it busters off many myths surrounding online business.
The book shares 20 secrets that carry significance not only in the present time but will be relevant for all times. They are the fundamentals of online marketing.
The biggest myth that the book burst is quite prevalent in online business. Online marketers believe that they have to create traffic for their business. Traffic Secrets outrightly shatters this belief. Russell very categorically says that similar to the universal laws, the online traffic of your customers is always present, you only need to discover it.
This is one of those many beliefs that once understood will cause a paradigm shift in your entire belief system. This is one of those many beliefs that once understood will change your area of attention… in the right direction.
Traffic Secrets Book Review: Is the book For Me?
Well, there is no straightforward answer to it. It depends on many different factors.
I will NOT suggest you read Traffic Secrets,
If you are neither involved nor interested in any business activity whatsoever.
In case you are content with your current traffic and are not interested in learning new tools and techniques to increase it- at least for now.
If you are looking for a get-rich-quick-rich scheme or a panacea for all your traffic-related issues.
But, I will strongly suggest you read this book if,
You are a beginner in the field of traffic generation and want to build a strong foundation for your business.
If you are ignorant about the concepts of traffic but realize its importance in enhancing profitability in your business.
You own a product and want to utilize online platforms to generate free traffic.
In case you don't own a product but want to promote products through affiliate marketing.
You are an experienced entrepreneur but are going through a tough time getting the desired traffic to your business.
You are growing in your business more by chance rather than by plan and your funnel does not get filled consistently.
If you are an experienced or successful entrepreneur and already have robust traffic to your business, but wish to further strengthen it, or expand or diversify your business activities by learning and using new ways of bringing in traffic to your business.
In all the above situations reading Traffic Secrets will be a highly enriching experience for you. Though different individuals will have different learnings from the book.
But one common understanding which everyone will surely get is about the importance of consistent traffic and the necessity of continuous funnel filling. You will more profoundly realize the fact that only a consistent flow of traffic to your funnel can provide sustainable business growth.
The book will provide great value in any area of business activity, be it Network Marketing or E-Commerce, be it running a Coaching Institute or B2B business set up, be it a Freelancing activity or Consultancy services.
Traffic Secrets Book Review:
What will be the Most Basic Learnings?
Traffic Secrets is a practical handbook for running a successful and sustainable business and thus offers so many vital learnings to start, build, and consolidate the online business.
It deals with the most basic requirement of any business activity and that is having more and more customers buying your products and services.

It goes further down to strengthen your foundations to ensure high-level consistency in your business.


By reading Traffic Secrets you will learn how to identify your dream customers, reach to them, and attract them towards your funnel.

You will also learn not to spend your time and energy with those who are not your real customers.


Traffic Secrets will also guide you to utilize different social media channels to fill your funnel with an incessant flow of traffic.

Creating the right content on different platforms and amending them with the change in clients' behavior patterns are also some of the basic learnings that the book will offer not only to the newbies but also to the experienced merchants in the online circuit.
Is reading Experts Secrets or DotCom Secrets, not Enough?
If you have read both the DotCom Secrets and the Expert Secrets you would have realized the difference in the approach of both these books. And then you will be more than ready to read Traffic Secrets with the same zeal, enthusiasm, and curiosity as you felt while reading the other two.
However, if you have read only one of the above two books, you are eligible to ask this question in all its fairness. What I will suggest is that if you have read any one of the above two books and have benefitted from it, (which in all probability you would have) then not only you should read Traffic Secrets but also the one you have left among the above two.
They are three different books on the same topic. Though they all talk about how to grow business sustainably, their approach is different, their treatment of the topic is different, their very flavor is different from each other.
If DotCom Secrets deals with the "skill" part of using secret keys. This will unlock many doors of growth, Expert Secrets reveals the "why", "how" and "how much" of opening those doors.
Traffic Secrets shows you the source of getting the energy to open those doors.
If DotCom Secrets represents the body and Expert Secrets represents all its physiological functions. Then traffic Secrets represents the breath that allows the body to sync with all the physiological functions to keep it moving.
Yes, even if you have read DotCom Secrets and Expert Secrets, Traffic Secrets is a must-read for you. If you want to gain the maximum benefits from the other two Russell Brunson's books of secrets,
Diving Deep into Traffic Secrets- Traffic Secrets Book Review In Detail
pic credits: Amazon.com
So, if you are into online marketing and have realized that Traffic Secrets is a must-read for you to grow it bigger. Let us take a deeper look at different facets of this glittering gem.
In this section, I will not only show you the outer glitter of the precious gemstone called Traffic Secrets. But will also show you the source of that marvelous sparkle and the shimmer.
The 20 different secrets of the book represent 20 different facets of a magnificent gemstone, cut in the most precise shape and size to reflect and display the most heavenly qualities of the gem.
These 20 secrets are hidden inside 3 sections of the book representing the fresh unexplored mines of wisdom that were waiting for centuries for a connoisseur to come and extract them from the deeply hidden crust of the earth.
Russell brings them up for us with all his passionate efforts and perseverance. To continue the work of compassion begun by Russell, I will explain to you the best features that cause them to shine even in the deepest of the dark.
Section #1: Your Dream Customer
Your dream customers are not the one who you search in desperation, but the one who desperately craves what you offer to them. They are already searching for you everywhere and therefore as soon as they see you, they will move towards your funnel.
The first section unveils seven secrets with each secret discovering several taps already filled with an incessant flow of traffic. You only need to open the taps to fill your funnel.
Secret #1
Who are your "Dream Customers"? Most digital merchants assume that they already know it and consider this to be the easiest task of online marketing. But when you read through the secret, you realize that though it surely is an easy task, it is not easy in the sense most of the online marketers consider it.
Russell points out that many marketers never realize that who they considered as their dream customers were not even their customers.
I just paused for a while reading through the secret. "Goodness me this is a big secret…!" In a flash, I realized how much time and energy I had spent on these look-alikes.
Another great learning that I got from Secret #1 is that you don't need to create your customers but they are already there.
Secret #2
After reading Secret #1, you amuse for a while and ask yourself as to how could you be so wrong in this simple identification of your dream customers and how could you miss those genuine ones who were already there waiting for your call?
Well, Russell not only clears off your misunderstanding but also replaces it with the techniques of identifying your dream customers. These unique techniques help you change your viewing angle and with this new angle, you can find those eager eyes hiding online already yearning to find you.
You can literally view their needs and then serving them becomes all so easy. Pulling them to your funnel is then, not a task but an instinctive action. Russell also elaborates in great detail how finding customers for different segments and different niches require different kinds of strategies.
Secret #3
Entering into the busy schedules of your dream customers is what Russell explains in this Section. You need to identify these customers and learn to put a brake on their search travel and stop them from taking the turn of your competitor's site.
You need to catch them from the front as the dream customers like opportunities are bald from behind. And for this, you need to create a genuine story that is compelling to them. So compelling, that your dream customers leave the terrain they are tracking and move into your track field and grab the offer that they were searching for elsewhere.
Secret #4
Visibility and more and more visibility. Russell is a master of showing how to be visible. And rightly so, after all, marketing is all about staying visible- through your products, services, or messages. In Secret #4 he reveals two secrets of getting your message right in front of your dream customers. The ultimate objective is to guide them to move as a part of your traffic and allow you to send your messages repeatedly, for free.
Secret #5
Your business should not be fully dependent on anyone, not even on you. And that is the fundamental of passive income. This is the most basic concept of financial freedom. And that is what is meant when we talk about sustainable business profits.
So, when you think on those lines, how can you allow anyone else to plummet your profits, whether in the form of Google slaps or an FB snap. You cannot allow a few tweaks here and there in the algorithm to change the figures in your balance sheet, can you?
Russell unravels this secret of being insulated from the biggest jolts in your business environment. Russel tells you the secret to be unshaken and unwavering in the most trying business situations. Secret #5 of Traffic Secrets lays the foundation for financial independence in your online business.
Secret #6
Russell reveals a fact which I was hearing for the first time. He says that when you guide your customers through your funnel, the estimated potential sale that will occur for the first time is only 19%. Your dream customers are still holding the remaining 81% potential with them unutilized. And that is a big percent, is it not?
And tell me honestly, will you not like to tap this huge potential of, not the random leads, but your DREAM CUSTOMERS? Arithematically speaking, this simple phenomenon, if turned into reality can boost your prospects of selling to each of your dream customers by more than four times!
My salutes to Secret #6 that is exposing this massive but "invisible second funnel"- as Russell calls it.
Secret #7
Alone you can walk only a mile, together you can climb the mountains. Russell learned this secret the hard way through his most challenging life experiences. However, he reveals this hard-earned master-secret to all his readers and to all others who he so compassionately wishes to read his book and live the secret.
Secret #7 is the secret of leveraging the power of partnership. Relate to your partners so that they happily do more than merely promoting your products. You build such a relationship with them that they love to respond to your calls or e-mails and are even ready to allow you to use their traffic for your business for free.
And can you imagine the explosive power of this seemingly simple secret? You will see all your funnels filling in no time while you busy yourself in manufacturing more and more funnels to accommodate this never-ending traffic, traffic of your Dream Customers… through your Dream Customers!
Section #2: Fill Your Funnel
Once you have identified your customers, the next step is to fill your funnel with the clients who are interested in your products.
Secret #8
There is no differentiation between offline and online marketing when it comes to winning customers of your competitors. Those who are buying the products that you offer from other shops are already your potential customers. So, you don't need to create the demand to sell them your products.
You just need to pipe that entire traffic of customers into your funnel. This becomes easier once you learn the traits explained in Section #1. Mainly because you have already started putting your entire focus on your dream customers only.
By taking away your attention from those who were never your customers in the real sense. You save a lot of time and that you can divert in creating offers for your dream customers, many of them at present are with your competition.
Secret #9
Consistency. Russell calls secret #9, one of the biggest secrets of the success of ClickFunnels. He emphasizes that consistency in all actions related to business including filling the funnels can be the biggest factor in determining the success or failure of any enterprise.
The sudden huge upsurge in the business results can make you highly optimistic about your business. However, if your actions are not consistent, howsoever big an upward swing you get in your business, it will sure to see a similar downward trend in no time.
Secret #10
Review your strategies every day. Even 3 minutes or 5 minutes of your daily strategy has a compounding effect on your long-term traffic. This is such a subtle secret that no one notices its absence. And here is where the experience and expertise of Russell hugely benefit both young and old entrepreneurs.
It sounds to be quite a trivial activity, however, following this seemingly unimportant activity. You can discover many large pools of dream customers who are not on your followers' list as yet. You can analyze their behavior patterns and accordingly plan your strategy to attract them to your funnel.
​Secret #11
If you are genuinely interested in knowing about the biggest social party on the earth. So that you can use it to fill your funnels with your dream customers then you need to read the book. Secret #11 is a secret!!
​Secret #12
Filling funnels can be really interesting. All through the business travel, the marketers keep searching for the customers keeping the funnels ready at all times. But have you ever imagined the other way round? Amused?
Yes, it is true and very much possible if you learn the traits given in secret #12. It's real magic when you find that the customers who do not know you and are not even searching for you become your traffic on Google. And Russell teaches this magic trick in his own unique style.
​Secret #13
This is no secret that if you offer extraordinary content to your audience, they will simply love it and go out of their way to come to your funnels. But offering such content that accompanies your customers to eternity is what Traffic Secrets reveal in secret #13. The 6-steps to creating such content will boost your viewership with every passing day.
​Secret #14
Their response during the changing times is the biggest testing of any entrepreneur. Many people think that responding positively to an adverse situation is an inherent quality and cannot be cultivated through learning. Russell outrightly negates this thought-process and brings out a secret about how to acquire it if you do not have it.
​Secret #15
Secret #15 suggests you do something different than serving monotonous content every day on different social media platforms. It gives you a trick to create your show and feed all your social media channels most innovatively. By tweaking it a bit to fit perfectly on each platform in their own flavor.
Section #3: Growth Hacking
Identifying your dream customers is important. Filling the funnels with your dream customers is equally important, but then what is next? Will filling funnels alone bring profitability to your business or you will require something more to take the growth path? Section #3 illustrates some of the simple-to-follow growth hacks to pace up your growth prospects in online business.
Secret #16
Your landing page is the best pulling factor for many public relations agencies. They guide traffic to the sites that have an impressive landing page. Secret #16 guides you on how to design an attractive landing page.
​Secret #17
Using customer's distribution channels is one of the easiest yet least understood ways of growth marketing. Learn to master that art on this secret page and grow your profit unimaginably fast.
​Secret #18
Learn the more advanced secrets of affiliate marketing. Follow 5 steps. Develop a team of expert marketers to promote your products at their expense. And pay them when they sell your product.
​Secret #19
Call it unbelievable, or too unrealistic to be true but this secret reveals a proven method of converting cold traffic to hot buyers in 7 easy steps.
​Secret #20
Learn the three fine-tuning hacks that can boost your growth prospects to unimaginable levels. Secret #20 reveals these small tweaking tactics used by many famous technology companies.
Traffic Secrets Book Review:- The Highs and the Lows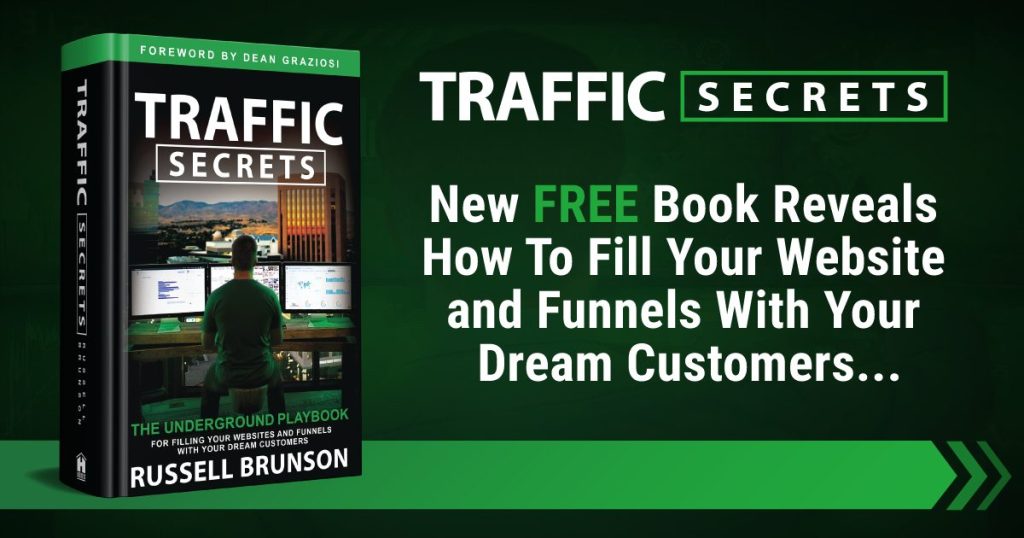 Every book has some inherent features. But it is the reader who assigns value to those features. While reviewing Traffic Secrets I could find a lot of insights about the online business. However, I could also identify certain segments of readers for whom the book does not hold so much value.
Let us look at those features of Traffic Secrets that have the potential of turning around the online business for many but won't be too beneficial for some others.
What do I get if I read Traffic Secrets?
The book is available for free.
It makes you realize that you don't need to create the customers. You just need to discover them where they already exist.
Also, you will learn the technique to identify your dream customers and then fill your funnels with them.
You will get rid of the customers who don't add any value to your business.
You will learn the secrets of many unique ways of utilizing different social media platforms- your own, your customers', and even your competitors'.
Get to know about many growth hacks for generating and multiplying high traffic to your business.
What would I lose if I read Traffic Secrets?
You lose shipping charges if you don't like the book and still don't claim the refund of shipping charges.
If you are not interested in enhancing your traffic. And still, read the book, it will be sheer wastage of your time.
Traffic Secrets is not the ideal book for those who want a get-rich-quick scheme. You need to apply the fundamentals of the book to master the art of funnel filling.
The book is not for those who want to learn everything through their first-hand experience.
Traffic Secrets Book Review: Pricing
Russell Brunson is offering Traffic Secrets for FREE. You can get your copy of the book at your doorsteps just by paying shipping charges of $9.95 if you want the book within the US and $19.95 for any country outside the US.
You won't need to pay anything extra if you are buying from the official website of Traffic Secrets. Besides, you will get many bonuses offered on the sales page of the website.
On the website page you also get the "You've Gotta Be Crazy" Guarantee where Russell guarantees that you will love reading Traffic Secrets and if you don't for any reason, you will get your shipping charges of $9.95 back without needing to send the book back.
Free Bonuses With Traffic Secrets
Russell is offering free bonuses worth $509.95 for a limited period. These bonuses include,
#1: Hardback Copy Of Traffic Secrets ($24.95 Value)
#2: The Traffic Secrets Foundation ($97.00 Value)
#3: The Ultimate Unfair Advantage ($97.00 Value)
#4: How To Make A Video Go Viral ($97.00 Value)
#5: The Ultimate Traffic Hack ($97.00 Value)
#6: 30 Day Traffic Secrets Challenge ($97.00 Value)
Traffic Secrets Book Review: Summary
Traffic Secrets is a practical handbook that guides you to get the most important element of online business i.e. your dream customers.
The biggest finding for me is the fact that our dream customers are not created but already exist there in the system. You only need to learn to find them out and discover them within the system. The book also reveals the secret of finding non-value-adding leads or customers in the channel so that you can take your focus away from them.
The book discloses many secrets of filling funnels with your dream customers. You can find them on your own social media platform, in the channels of your customers, and even in your competitors' channels.
The book finally unravels many growth hacks to generate stable and sustainable growth in your online business.
Overall, Traffic Secrets is a must-read for those serious about building a sustainable online business. It is the perfect book for those who want to keep their online business unaffected by Facebook snaps or Google slaps. Traffic Secrets is the most ideal book for those who want to build a business that generates passive income and gives them financial freedom.
Frequently Asked Questions About Traffic Secrets (FAQs)
If you still have any questions in your mind, check these FAQs for your answer. These are some questions which many online marketers have asked before ordering their copies of Traffic Secrets.
Where can I purchase the Traffic Secrets book? 
You can shop for Traffic Secrets on the official website of the book. You can pay the applicable shipping charges to receive the book at your given address. 
What is the shipping time for the book?
It takes 5-7 business days to deliver the book within the US and 10-15 days to ship outside the US.
What are the benefits I get if I become a ClickFunnels affiliate?
By becoming the ClickFunnels affiliates you become eligible to get a commission of 30-40% whenever anyone purchases any ClickFunnels product.
You can also be a part of Affiliate Bootcamp which is an elite group of ClickFunnels super affiliates who get an opportunity of earning some extra dollars each month
Is it necessary for me to use ClickFunnels to purchase the Traffic Secrets book?
Nope. Anyone can buy Traffic Secrets by paying applicable shipping charges. It is not a part of the ClickFunnels affiliate program. It is available as a separate product and anybody can buy and read the book to get the benefits of knowing the secrets of growing traffic in their online business