Summary
Funnel Hacking Secrets is a comprehensive online course designed by internet marketer Russell Brunson. It provides a comprehensive guide to the essential elements of developing a successful online marketing funnel. The course covers topics such as how to design an effective sales funnel, what to include in a funnel, how to market your website, and how to optimize your funnel for maximum success. It also provides an in–depth look into funnel hacking and how to use it to increase conversions and sales. Through the course, users will learn how to create a successful online business and maximize their ROI. With detailed instructions, step–by–step tutorials, and real–life case studies, Funnel Hacking Secrets is the perfect resource for anyone looking to get the most out of their online marketing campaigns.
Indeed, you're thinking of buying funnel hacking secrets, but you're wondering whether it will be worth your money?
It's worth it cause they're offering 6 Months of ClickFunnels Platinum plan, which costs around $1,782.
This funnel hacking secrets review will relieve all of your concerns, including:
What are funnel hacking secrets?
Is it a scam?
What you'll learn?
What's inside of it?
Should you buy it or not?
And Lot more.
If you know Russell Brunson, you have heard of ClickFunnels. Russell Brunson founded the company and developed the Funnel Hacking Secrets Masterclass to assist budding entrepreneurs who are having trouble establishing their online businesses.
This will be an unbiased review that will assist you in deciding whether or not to purchase the funnel hacking secret.
Let's get started right now.
Funnel Hacking Secrets Review – Overview and Bonuses
Name: Funnel Hacking Secrets
Creator: Russell Brunson
Bonus: 6 Months of ClickFunnels Platinum and Masterclass
Price: $997 (one-time)
Training: Included (FREE)
I believe this is the only offer that delivers a gem bonus out of all the courses and bonuses offered by ClickFunnels.
Let's extract the entire funnel hacking secrets program to have a more in-depth look, which will help us decide whether to buy it.
What Is Funnel Hacking Secrets?
Russell Brunson (co-founder of ClickFunnels) created this Funnel Hacking Secrets Masterclass, a free online training curriculum for funnel hackers and funnel builders.
You'll receive a 6-month platinum plan, Funnel Hacks Secrets masterclass, Traffic Secrets training course, and additional incentives to assist you in getting through your ClickFunnels experience when you finish the program.
In this webinar, he will show you how to build the proper framework for a profitable funnel.
You'll find all of the top entrepreneurs' tactics for selling online, and this training will work in any market or niche.
Within three days, you'll discover how to apply ethical sales funnel hacks to develop effective sales funnels, including designing and setting up high converting lead magnets, landing pages, offers, and upsells.
I am confident that you will be able to identify your competitors' weak areas, models, what benefits them, and much more with this training,
You might be wondering what funnel hacking and Virtual Hack-a-Thons bonuses are.
Let me clarify.
What is Funnel Hacking?
Funnel hacking is a technique in which we research our competitors from scratch to reduce labor costs, such as content-copywriters, and graphic-web designers, to dominate and outsell them.
Ethical stealing is in which we investigate what techniques, tactics, formulas, tips, and tricks they use to produce sales for a profitable outcome.
Now you may say it's stealing.
Creating a landing page, offers, upsell, and lead magnet takes more than a week.
We are not stealing everything from our competitors but evaluating them to create our funnel promptly.
If you want to study their entire funnel strategy, follow the steps below:
Locate your competitors.
Make a List
Subscribe to Their Email List
Purchase their deals.
If you correctly apply the above points, you can determine what they are doing to produce sales.
Why Should You Learn Funnel Hacking?
If you own an online business, funnel hacking is a talent that will help you grow it.
It is the top-rated skill that every entrepreneur wishes to acquire; it assists you with discovering your competitors' funnel secrets, including their techniques and strategies.
With funnel hacking, you can quickly study their landing sites, advertisements, emails, prices, and other aspects, assisting them in generating orders.
You'll discover all the tried-and-true tactics that work for you without creating and testing them from scratch.
An incredible talent lets you see your competitors' performance in the market or niche.
In addition to teaching you how you can do this, the Funnel Hacking Secrets Masterclass offers a free 6-month platform and other benefits to aid in developing your online business.
So what are you waiting for? Sign up now:
Add a button with your affiliate link.
Who Should Attend Funnel Hacking Secrets Masterclass?
The phrase Funnel indicates that this is for an entrepreneur or web marketer.
You may be wondering, what if I am a freelancer, a business owner, or own a marketing agency, whether this masterclass isn't
Don't worry; It's for you and those who don't have a funnel or a product to sell online.
This web masterclass is created to assist you in developing the most significant marketing efforts by studying your rivals to build a successful online business.
The primary goal of this webinar is to teach you how to increase traffic to your business.
Is Funnel Hacking Secrets A Scam?
If you've heard of Russell Brunson, you're probably aware that the funnel hacking secrets masterclass isn't a scam.
He is a well-known web marketer who also owns a business.
I cannot guarantee that this training program will lead to the success of your business because if the SOPs are not followed correctly, you will receive nothing.
You can create and flourish in your internet business effortlessly if you take the appropriate actions.
Funnel Hacking Secrets Webinar
A free webinar (add your affiliate link here) will teach you how to apply funnel hacking secrets masterclass if you're willing to learn more.
It is intended for young entrepreneurs, marketers, business owners, and marketing firms who wish to improve their business results.
This webinar will assist you in finding your ideal product for your business and what other entrepreneurs are doing to sell their items online using funnels.
What You'll Learn in the Funnel Hacking Secrets Masterclass?
You will learn three essential concepts in the Funnel Hacking Secrets Masterclass:
Funnel Hacking – You will learn how to ethically steal over $1,000,000 in funnel hacks from your rival, even if you only have $100.
Funnel Cloning – Learn to clone proven funnels within ClickFunnels in under 10 minutes.
The Number One Traffic Hack – How to Convert Competitor Visitors to Your Website.
What Is Inside the Funnel Hacking Secrets Bundle?
After enrolling in the course, you'll get multiple methods and click funnels 6-month platinum plan is the best bonus in all of them.
The following are the funnel hacking secrets bonuses:
ClickFunnels: Platinum Account for 6 Months
FREE Funnel Hacking Secrets Masterclass including 100+ FREE Funnel Templates
FREE Training Course on Traffic Secrets
FREE UNLIMITED ACCESS TO VIRTUAL HACK-A-THONS
Onboarding Call
Priority Support
BONUS "ClickFunnels UNLIMITED" FOR FREE!
Let's explore each.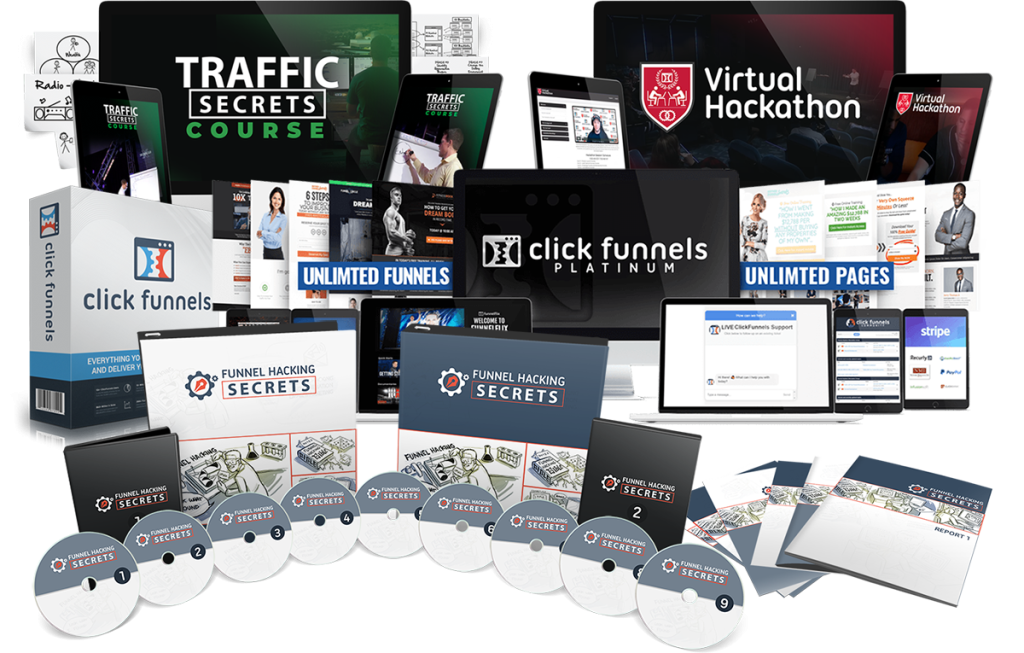 6 Months of ClickFunnels Platinum Account [Value: $1,782]
Did you know that? Clickfunnels users save more than $1000 because it includes everything needed to construct funnels, such as software, clones, courses, and more.
If purchased outside of a promotion, such as a Black Friday or New Year's sale, the ClickFunnels Platinum membership costs roughly $297/month.
Which generally costs around $1,782, but with the Funnel Hacking Secrets masterclass, you're getting it for $997, a 45% discount CRAZY BRO!!.
The Funnel Hacking Secrets program is for you if you construct and manage multiple funnels and want to gain access to funnel flix, a utopia for entrepreneurs with numerous courses.
You'll have access to all the courses and tools, including the drag-and-drop editor, which allows you to build a funned in under 10 minutes.
Funnel Hacking Secrets Masterclass [Value: $1,997]
It is an excellent value funnel training masterclass that includes a variety of courses and templates to assist you in developing funnels.
Here's the list of funnels that you'll go through:
Lead Funnels
Survey Funnels
Summit Funnels
Book Funnels
Cart Funnels
Challenge Funnels
Video Sales Letter Funnels
Webinar Funnels
Product Launch Funnels
Application Funnels
These templates can be used to produce lead magnets, landing pages, and other content.
Traffic Secrets Course [Value: $1,997]
This is the most acceptable option for anyone in digital marketing because every digital marketer has to deal with YouTube and Google Ads.
If you haven't read the Traffic Secrets book, don't worry because this is a digital copy of the book that Russell Brunson will teach you within two days.
This is the course that will guide you on how to run Facebook and Google advertisements, social media marketing, and SEO.
You will learn the following topics:
Solo ad secrets.
Media buying secrets.
Facebook traffic secrets.
SEO secrets.
Social media secrets.
Affiliate secrets.
And much more!
Daily Virtual Hack-a-Thon [Value: $5,776]
Daily Virtual Hackathon is a real-time (LIVE) group coaching session for only Two Comma Club X members and costs around $25,000 annually.
You get it as a bonus with this Funnel hacking secrets training program, where you can join the live sessions where they pick a new topic every 1-2 days. You will learn the ideas and tricks they use to complete their funnels in minutes.
During the live event, experts will solve all of your concerns by setting up your funnel.
Onboarding Call
When you come to the payment part, you'll have the opportunity to select this bonus to connect with click funnel professionals.
I recommend you to take advantage of this benefit and learn from specialists who work for ClickFunnels because they are the ones who understand how to use ClickFunnels efficiently.
Priority Support
After purchasing the Funnel Hacking Secrets bundle, you will become a Click funnels platinum member.
All technical issues that you may encounter while constructing funnels, having technical issues, and so on will be resolved by the support team in this bonus.
Huge "UNLIMITED" Bonus!
You can create UNLITIMED Funnels
Can Add UNLIMITED contacts
Have UNLIMITED Traffic.
Funnel Hacking Secrets Bundle Price
This funnel hacking secrets masterclass costs $997 and includes several bonuses, including:
6 Months of ClickFunnels Platinum Account [Value: $1,782]
Funnel Hacking Secrets Masterclass [Value: $1,997]
Traffic Secrets Course [Value: $1,997]
Daily Virtual Hack-a-Thon [Value: $5,776]
When you sum up the costs of the above bonuses, the total value is $11,552, which you get for free by only spending $997.
Russell seeks to assist young and intermediate entrepreneurs by providing low-cost services.
It's worthwhile because you're paying 1% of all the benefits contained in this masterclass.
Additionally, this package comes with a 30-day money-back guarantee, which helps protect your investment.
Funnel Hacking Secrets Pros & Cons
Pros:
Money refund guarantee for 30 days
Various training and courses are available.
A user of Clickfunnels Platinum for 6 months
Everything needed to establish a successful online business using funnels.
Cons
Little expensive
You've waited for all the training and bonuses.
Final Thoughts
Overall, The Funnel Hacking Secrets Bundle is a treasure since it provides the bonuses that every entrepreneur craves.
It is a little pricey but worth purchasing and will not squander your money.
Anyway, I hope you like my Funnel Hacking Secrets Review.
So, what's your decision? Will you buy it?
Let me know in the comments area.
FAQs
Q1: What if I already own an account with Clickfunnels?
A: If you already have a ClickFunnels account and purchase this funnel hacking secrets bundle, the 6months term will be added to your account, and you will not be charged for the following 6months.
Q2: Does a money-back guarantee back the Funnel Hacking Secrets Masterclass?
A: Yes, it comes with a 30-day money-back guarantee that you can use if you decide you don't want this bundle.
The refund policy, will ask no questions in the complete refund process, which is a great way to protect your money.