Russell Brunson Perfect Webinar Template
Summary
Perfect Webinar is a comprehensive online course created by digital marketing expert and entrepreneur Russel Brunson. The course is designed to teach marketers, entrepreneurs, and business owners how to deliver successful webinars and use the power of webinars to grow their business. The course includes over 20 videos that cover topics such as creating engaging webinar content, developing effective webinar presentations, and building a successful webinar funnel. Additionally, Perfect Webinar includes step–by–step instructions on how to use the technology and tools to create, promote, and deliver webinars. The course also includes templates and scripts to help users quickly create their own webinars and access to an exclusive Facebook group where they can get feedback from other webinar experts. Perfect Webinar is designed to help entrepreneurs and business owners get the most out of their webinars and grow their business.
If you have something to sell, webinars are the gateway to grabbing revenue. That's why using the perfect webinar to promote your business is the ideal way to grow. But does such a thing even exist? Russell Brunson Perfect Webinar Template knocks on the door!
Convincing people to buy your offering online is one of the biggest challenges budding entrepreneurs face today. Not to mention, the business pros can always use webinars to scale and for that, it just has to be perfect. No matter how expensive your product is, it is important to convince the audience that it's worth the value.
Russell Brunson has explained some details about this subject in his book Expert Secrets. But in this post, I am going to provide you a detailed review of Russell Brunson perfect webinar template. So, let's dive into the details.
What is the perfect webinar template?
If you are reading this, you must know the importance of great presentations to increase sales. The perfect webinar by Russell Brunson is a script template to help entrepreneurs in various niches cell more products.
Initially, Russel used the script only for his business. But since he started sharing the template with fellow entrepreneurs and other ClickFunnels users, it started to gain massive traction. Russell learned a crucial marketing principle from his friend Jason Fladlien. The primary idea is to build your message around one point of belief and use different angles to emphasize the same.
Since the 'Russell Brunson perfect webinar template' came out, a variety of entrepreneurs have been closing sales thanks to the holy grail. This means that it does work and I am going to elaborate on the how part later in this post. You can definitely use it to your advantage, that's for sure!
Who should use the perfect webinar template?
Before diving into the details of what the perfect webinar template contains, let us take a look at who is it for. Simple answer, if you have services or products to sell Russell Brunson perfect webinar templates for you.
It helps maximize profit and build trust regardless of whether you are speaking at a webinar or a seminar. If selling from the stage is what you aspire, the perfect webinar script is a blessing in disguise. Primarily, it's for online marketers and entrepreneurs.
I am going to lay this down in points so that you have a clear understanding of this section. All in all, you can use the perfect webinar template if
You are a coach with the intention to sell a service
You are a freelancer or an agency providing services
You want to build trust for your non-profit organization
You are a blogger or an affiliate marketer offering something to an audience
You own an eCommerce business
Related Read: How to Promote ClickFunnels?
What exactly does the perfect webinar template offer?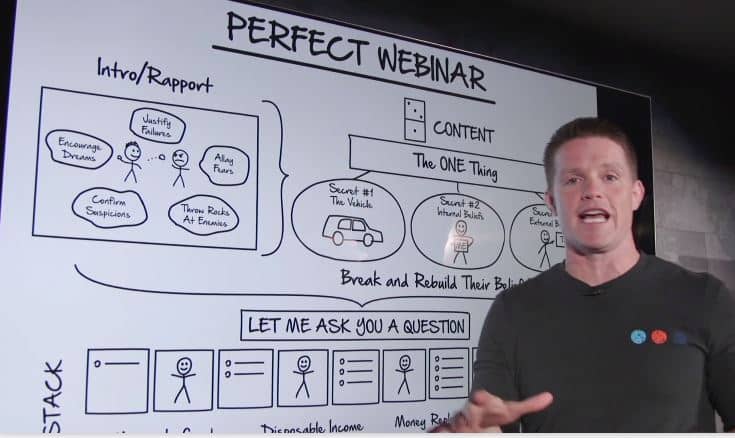 This is the main part of Russell Brunson perfect webinar template review. Here we are going to see how Russell provides valuable information segregated into 4 parts. They include:
The Introduction/ Building Rapport
The One Thing
The Three Secrets, and
The Stack
Let's move on to the detailed explanation of all four parts.
1. The Introduction/ Building Rapport
It goes without saying but if you can't build a rapport with the audience, you can't persuade them. As simple as that! After welcoming potential customers, you can begin the persuasion in a strategic manner. While giving an introduction, establish a connection with attendees.
Some presenters make the build-up way too long. As a result, the audience gets tired. The key here is to keep conversions in mind right from the start itself.
Your tone has to be subtly persuasive the moment you start speaking. Blair Warren has mentioned 5 major ways to approach persuasion in his book called the 'One Sentence Persuasion.' They include:
Encouraging dreams
To justify failures
To allay fears
To throw rocks at their enemies
To confirm suspicions
2. The One Thing
Since webinars are long, keeping your audience hooked to your presentation can be very tricky. That's where the element of curiosity can come in handy! If they're curious, they'll stay with you. Keep making them want more and feed as much curiosity as you can. It's crucial to get your audience excited and maintain that state for some time.
Leverage the power of the epiphany bridge in such a way that the audience experiences a similar epiphany as you did. It is the perfect way to tell your story. At this stage, you can get an idea that the audience is already into your presentation. All you have to do is instill a hunger for more relevant information and keep the attendees engaged all the time.
I read about the epiphany bridge in Russel's bestseller, Expert Secrets. Many of you might be able to relate to what an epiphany feels like. Have you ever experienced that something turned around in your life or business when you read something or followed a training? If yes, the epiphany bridge would be the most relatable thing you might have ever seen. If no, trust me it would be life-changing for you in many ways.
Now, getting back to your audience it's important for you to provide them with the same experience. The best part is that you don't have to worry about how the perfect webinar template covers it all. The one thing section lines about 9 actionable steps to letting your audience experience what you felt when you had your epiphanies. Here they are!
Title Slide
Intro/ Rapport
The Ruler: Goal #1 – The New Opportunity
The Ruler: Goal #2 – The Big Domino
Qualify Yourself
Epiphany Bridge Story #1
Liken Your Story to Them
Case Study/ Proof
Transition to the 3 Secrets
Do you see that? It's just the second stage of the perfect webinar template and you already have so much valuable information. I can't say for others, but by the time I was in the middle of this stage, I felt it was 200% worth the amount I spend.
Related Read: How To Make Money With ClickFunnels
3. The Three Secrets
I know what you're gonna say. Wasn't the stuff in Expert Secrets, Traffic Secrets, and Dotcom Secrets enough? What could these new 3 secrets possibly be? Well, learning has no end which makes these three secrets of Russell Brunson perfect webinar template even more fruitful for you.
It's important to note that no matter how much content you keep on sharing with the audience, it won't do you any good if you are unable to break their belief patterns and rebuild them to both your and their advantage.
The actions and behavior of each individual are controlled by their own belief system. So you should know that before they became a part of your webinar, it was their beliefs that bound them. Mostly it's a stereotype or a negative thinking pattern. It's your job to rebuild that with your offer. Of course, the epiphany bridge stories will make this part a lot easier for you.
On that note, the false beliefs your audience have about these 3 secrets include
The Vehicle or new opportunity
Their internal belief about their ability to use the vehicle.
Their external belief is keeping them from taking action.
As expected, here come the actionable steps you can take to present these three secrets.
State the Secret
Share Your Epiphany Bridge
Show Other People's Results
Break the Related Beliefs
Restate the New Belief as an Undeniable Truth
Rinse and Repeat for Secrets #2 and #3
The Transition to Selling
The Question
Related Read: Russell Brunson's One Funnel Away Challenge: Everything You Need To Know
4. The Stack
When I was done with the third stage, I thought the perfect webinar template couldn't be any better than this. It felt like I know everything that I needed to know for boosting sales through presentations. But once I started with the fourth stage, it felt like there was a missing puzzle piece before that I didn't even realize. Without a doubt, now I can say that this is the most powerful part of the perfect webinar template.
It's time to get real and get everything your audience is going to acquire out on the table. You need to increase the perceived value of your product or service which makes the price more acceptable. This is the stage where you make the pitch.
Did you know that when Russell first used the stack, he sold 34% of the attendees with the help of his seminar presentation? That's a pretty impressive conversion rate. At this point, every objection that your audience ever had would vanish away. It destroys the hesitation which prevents people from getting started. Once again, here are tried tested, and proven steps you should follow in this stage.
What You're Going to Get
Quick High-Level Recap of Deliverables
Show 3 Case Studies
Who This Works For
Destroy the #1 Reason People Don't Get Started
Stack Slide #1
Introduce Element #2: The Tools
You'll Be Able to…/ You'll Be Able to Get Rid of…
The Problem This Tool Solved for You
How Much Time/ Money This Tool Will Save Them
Break Related Beliefs About the Tools
Stack Slide #2
Introduce Tangible By-Product #1
Determine Pain and Cost
Break Related Beliefs
Stack Slide #3
Introduce Your Other Two Tangible By-Products
Stack Slide #5
If/All Statements
I Had Two Choices
What Would the End Result Be Worth?
Price Drop
Price Reveal
Price Justification
You've Got Two Choices
Guarantee
The Real Question
Stack Slide
Urgency/ Scarcity Bonus
Closing Call to Action/Q&A Slide
Related Read: 10 Habits to Start in Your 20's If You Want To Be A Millionaire
Are there any upsells?
Yes, the Perfect Webinar Slides is the first one. It walks you through to the Perfect Webinar and costs $47.These slides are customizable so that you can use them for your own services and products. Another upsell includes the Perfect Webinar Secrets Training. It costs $297 and goes into the details about how entrepreneurs and marketers can apply these scripts and templates for presentations and business.
Does the perfect webinar template still work?
Did you know that ClickFunnels has more than a hundred thousand active users? Without a doubt, most made their purchase after attending sales presentations and webinars. Russell leveraged the perfect webinar template and so can you. That effectively proves the script works wonders!
The testimonials make it clear that plenty of other entrepreneurs have been utilizing the power of the templates and scripts to increase their sales and revenue. The real question here is not whether it works. It's about how different aspiring entrepreneurs can make it work for their business and ideas.
But you should remember that just like everything else, you are unlikely to nail it on the first try. But as you practice, you keep on increasing your chances of success with every second you spend hustling. The more the better! After continuous practice and consistent implementation, you will start seeing some promising results.