Do you know how to write a high converting sales page? You have the knowledge you need to bring revolution in a field. So, you decided to give it to the world and made a course pouring out your expertise with the intention of selling it to millions of students out there itching their hands-on learning the skill.
You built an email list, spread out the word on social media, and are ready to level up your blog by finally launching the product you've been looking forward to for a while now. You're pumped up because you know that the online learning industry has already crossed the $100 billion mark and is expected to grow further!
But what's the point of all this effort if you're not able to get the conversions you want. It's good to share your knowledge but it's also about you getting the reward for preparing a killer course, right?
If you're a course creator, it's vital to write a high converting sales page for your course to reap the benefits of your knowledge and gain the profit you deserve. In this post, I'm going to tell you some foolproof ways on how to write a high converting sales page for your course. So, let's begin.
How to Write A High Converting Sales Page For Your Course
It takes a lot of trial and error for a long time to finally decide what to include in your course. You must be proud of your brilliant creation and I'm sure it's something we would all vouch for in the future.
But to build the future where merely the mention of your name is enough to sell your course, it's important to write a high converting sales page for your course.
For your convenience, I'm breaking down the entire process into simple and easy-to-understand steps. All you need to do is follow these steps with all your might. Within no time, you'll be hopping on the train leading you to the pinnacle of abundance. Sounds lucrative? Let's dive in.
Read About One Funnel Away Challenge And its Detailed Review.
1. Picking the Perfect Headline is Not Enough!
But what if I tell you that I'm going to make you the headmaster of Hogwarts after you complete my course and you'll have your own ministry of magic with no need to defend yourself against the dark arts? Sounds like a dream, but an unrealistic one.
Quit it, people are not going to fall for that.
When picking a perfect headline doesn't work, the best way is to give up perfection and come back to reality.
Promise what your course really provides and why should students opt for it not in a cliched way. In short, your headline should be catchy, simple, and straightforward that people can actually relate to.
2. Testimonials
I can't stress this enough, social proofing is a boon for a potential course seller as people are more likely to register for your course if you have a clear testimonial for your course.
Plus, it would be better if the testimonial is in a video format. It's a proven fact that people are 64% more likely to register for your course when you have a video testimonial.
But if you are just starting out, you might not have a success-series dedicated to your course. However, you can ask fellow bloggers and influencers to try the beta mode of your course and provide their feedback in the form of a video.
You can ask your testimonial creator to provide a concrete example of how your product was helpful for them.
They can also reveal a before and after instance to make it clear what positive changes your course brought about for them. You can ask them to reveal how your course contributed to their success.
Related Read : 21 Ways To Market your online course and increase revenue
3. Have a solid Call-to-action (CTA) plan
A CTA button is probably one of the most crucial aspects of a sales page. One of the most common questions that one might ask when trying to perfect this button, is regarding what it should look like and what it should say.
One of the simplest changes that you can make in order to increase your overall client conversion rate is to change the color and shape of the CTA button on your product pages. Let's take a look at a few examples: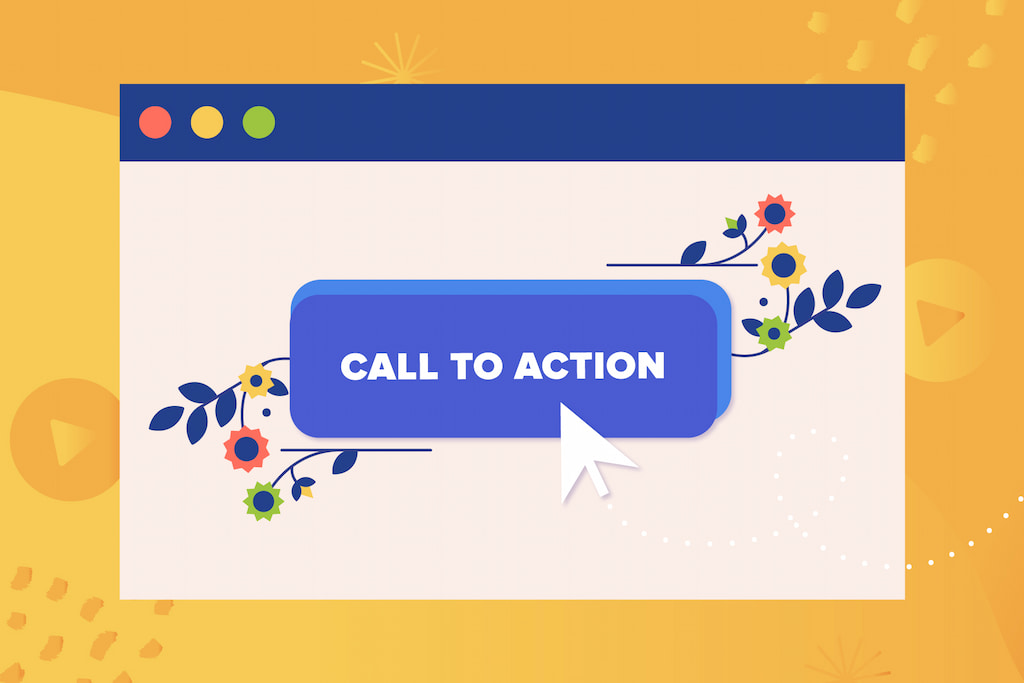 Colour Contrast – Having contrasting colors for your CTA button will make sure that it stands out from the rest of your sales page. For example, you can combine the colors yellow and blue in order to create contrast and draw your viewer's attention.
Size of your CTA button – If your CTA button is small, there is a chance that the viewer might not see it at all. Hence, it always helps to have a big CTA button that will not miss your visitor's eye.
4. Usage of visual aid
Visual Aid can come in multiple forms such as diagrams, charts, and even videos. Visual representation of data is easily one of the most effective conversion tools out there.
Using visual aid will help your viewers get a better idea of what they can expect from your product. In fact, for many people, visual aid is a much better communicator as compared to text.
Here are a few things you could try:
Using a mockup – A digital product will require a different approach in terms of marketing it successfully. Simply displaying its contents might not be very effective. However, you can display a mockup that will make your product look much more appealing.
Charts – This is another great tool that can display comparisons very effectively. You might have all sorts of numbers and data, however, if you are unable to showcase them to your visitors in a simple manner, it won't be of much use. Hence, charts play a great role in bridging this gap.
Videos – What is better than a picture in terms of selling your product? Moving pictures! We would highly recommend you incorporate videos in order to see your product or services.
5. Display what your viewer will get
One of the easiest ways to convince viewers to buy your product is by showing them exactly what they will get if they buy your product. For instance, if you are trying to sell an online course, you can show your potential clients or students the class curriculum.
In order to make it a more convincing offer, you could even highlight all the bonus material and guides that come along with your course. This is one of the most important steps if your goal is to show your viewer the value of your products.
6. Learn to convert visitors into buyers
Yes, you can certainly learn how to convert your viewers into buyers. In order to do this, you will have to master these three steps:
Identify your buyer's pain points
You can call your product successful if it manages to bridge some sort of a gap in your buyer's life. Every single person on this planet faces problems of different kinds. For instance, financial issues, issues pertaining to time management, inadequate education or skillsets, and more. Hence, whenever you are writing your sales page copy, acknowledge their shortcomings and assure them that your product might help them with some of their shortcomings
Showcase benefits
Once you have identified your buyer's pain points, show them how they can benefit from your product. Determining how your product might benefit them totally depends on the nature of your product. You need to answer this one specific question for your potential buyer's perspective; "How will I benefit from your product?".
Your product is the solution
The last step is to sell your product as a solution to a specific problem. Once you have addressed your buyer's problems and highlighted the benefits of your product, this part of your sales copy will be much easier to attend to.
Related Read : How to Write Good Ad Copy for Your Online Course Ads
Wrapping It Up
Merely writing a huge chunk of text on what your course comprises is not going to get you sales.
It's a combination of you painting a picture of profitability and letting them experience the benefits of your course before they make a purchase.
Moving forward from a hobby blogger to a full-fledged successful course creator is a matter of taking the right steps at the right time.
But the most important part is to write a high converting sales page for your course to enable more sales than you could have ever imagined.
The end goal is to have people register for your course and go all the way through with it. Having a winning copy of a sales page means that you are halfway on the road to success.
So, what are you waiting for? Make your monetary dreams come true by imparting the best of your knowledge.