Online marketing is all about attracting your audience to your web pages or websites and keeping them engaged throughout the sales process. The engagement with the clients and prospective clients extends beyond the selling of products.
In the absence of any physical contact with your visitors as in traditional marketing, you are dependent on the design of your messages on a digital platform to attract your clients to your site and hook them on the pages for a long time. Furthermore, your interaction with the visitors should be so inciting that they love to visit your website/page repeatedly.
Unbounce and ClickFunnels are the two popular platforms that help you in attracting the leads, converting them into clients, and also support in engaging with your audience and clients after their first and subsequent visits to your site. Both these platforms offer many unique features that make them better than many other online software applications.
After knowing about the two software, you must be wondering which one of the two will be more beneficial for you?
Well, to know that let us thoroughly review both these applications and compare their features, advantages, and disadvantages from all the aspects related to online business.
Unbounce Overview
Unbounce is the pioneer in the field of online marketing automation services. It was launched in 2011 to cater to the rising demand of the emerging online marketers of having a system that can compete with the traditional marketing systems.
Unbounce realized quite early that attracting traffic to the marketer's site is the most essential requirement in triggering growth in their online business. The team at Unbounce also realized that an attractive web page design is the first point of attraction for any visitor to view and remain on the marketer's web pages. With this objective of creating highly attractive landing pages, Unbounce designed this unique online marketing support platform.
Through its outstanding page editor tool, that could help many users to design and develop the most attractive web pages. Many online business owners observed a huge increase in their traffic and also witnessed impressive conversion rates.
Using Unbounce, the online entrepreneurs were able to design SEO based web pages, test their landing pages, and analyze the performance of their marketing campaigns. Many software companies came up after Unbounce to cater to the needs of online business owners.
However, with its unique landing page-building tools, Unbounce continues to enjoy the regard of many new and established digital entrepreneurs.
Unbounce Pros & Cons
Unbounce is a wonderful software with many powerful features to support online marketers in running their business seamlessly. It offers many benefits to its users.
However, it also has a few minor flip sides that call for an improvement in the functioning of the platform. Let us quickly go through all the pros and cons of this highly popular digital application:
Pros
Builds and publishes landing pages very quickly.
Highly impressive in-app and third-party templates.
Very attractive landing pages.
High level of customization.
Superb split testing feature.
Quick in developing different testing variants.
Integration with many useful external applications.
Cons
Not possible to perform split testing of external landing pages not created using Unbounce.
Improvement opportunity in the feature of Form builder tool.
Limitation in monitoring goals.
It is difficult to find any entrepreneur in the online platform who has not heard about Russell Brunson. Russell has been instrumental in spreading the concept of sales funnel across the width and breadth of the world.
He launched ClickFunnels in 2014 and since then ClickFunnels is growing in the area of digital marketing automation by leaps and bounds and also helping many budding and experienced entrepreneurs to grow their business in the same proportion.
Unlike other applications developed to support online business platforms, ClickFunnels has not restricted itself to building attractive landing pages and creating high-yielding sales funnels. ClickFunnels is far ahead and beyond these most essential requirements.
ClickFunnels has created its own online eco-system in which it offers a wide variety of features to its users. It facilitates them to sell their products, monitor, analyze, and take actions to improve their online business performance, automated email marketing, and quick and self-driven product delivery and payment realization.
There are several ways that ClickFunnels facilitates its users to earn money. Sharing funnels with others, high commissions through affiliate marketing programs, and exclusive upsells and downsells features are some of those unique ways.
Russell considers knowledge as the most essential aspect of developing any kind of business. To ensure that all the subscribers of ClickFunnels have the required material and tools available with them to learn about the ways to grow their online business.
ClickFunnels has a vast library of training material and a wide variety of training courses. This keeps all its users updated on the latest trends in the field of sales, marketing, and the area of personal development.
ClickFunnels Pros and Cons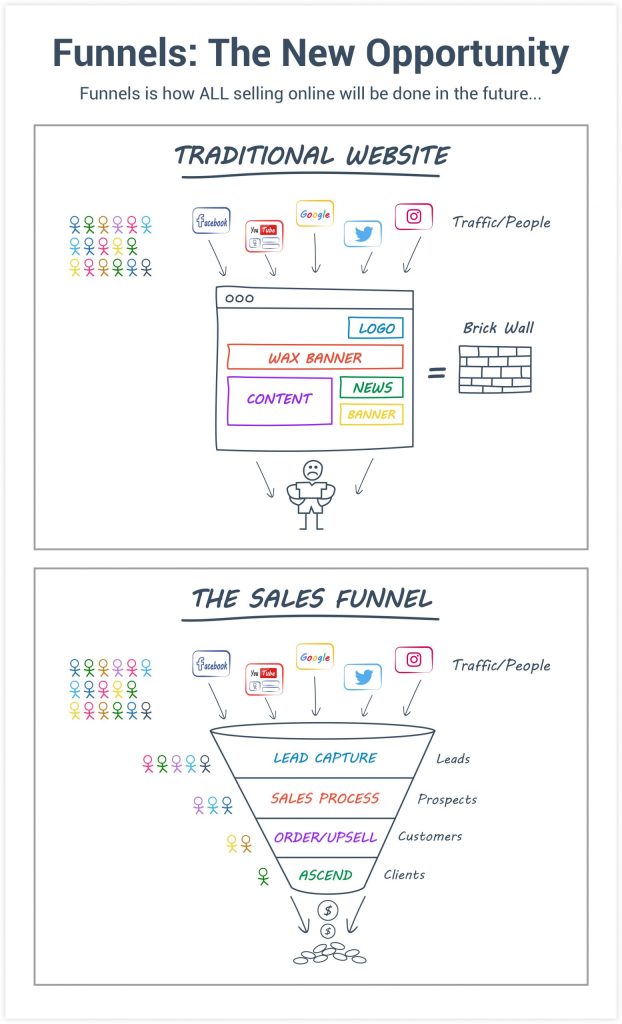 The following are some of the advantages and disadvantages of ClickFunnels:
Pros
All-in-one online marketing package.
Very simple drag and drop web page editor that facilitates quick and easy creation and publishing of landing pages and sales funnels.
Very impressive pre-designed templates to create sales funnels and landing pages.
A highly lucrative affiliate program with the name Backup to enable affiliates to create recurring income.
The sharing funnel feature allows users to share funnels with others.
A/B split testing.
Integration with numerous apps.
Massive training material and training courses.
Cons
The Standard plan lacks some of the useful features.
Not possible to upload videos directly from the ClickFunnels application.
Not possible to monetize through membership options.
Related Read: Kartra Review
ClickFunnels vs Unbounce: Basic Functionalities
Being an all-in-one digital marketing automation platform, ClickFunnels offers a wide spectrum of features to allow its users to perform all activities related to their online business. This is one of the major reasons for its high popularity in the online business segment.
Unbounce also offers a variety of features to create impressive front-end landing pages. It allows its users to add SEO, metadata, and keywords to their landing pages. The ease of creating high-quality landing pages is one of the major reasons for its high demand among different business owners.
Before exploring their features, let us first look at some of the basic functionalities of both these highly popular software applications.
Features Set: The basic objective of ClickFunnels is to provide automation to all online business activities. For this reason, it offers a lot more features compared to Unbounce whose primary objective is to create highly impressive and high-performing landing pages.
Dynamic Text Replacement (DTR) Tool: This is one of the most useful tools of Unbounce. This unique tool allows users to personalize their Pay-Per-Click (PPC) campaigns by matching the copy of their paid ads with the landing pages. This, in turn, helps in improving the relevance of the landing pages.
Customization: Both ClickFunnels and Unbounce use drag-and-drop page editor tools to create landing pages. ClickFunnels' has powerful customization capabilities. However, the customization ability of Unbounce is unmatchable. It is far more superior than most of the landing page builders.
A/B Split Testing: Both platforms offer highly effective split testing. Using the feature, you can improve your conversion rate and also find out which one of the two variations of your page is performing better than the other.
Convertibles: Unbounce offers this unique feature that allows you to create sticky bars and overlays. Overlays are quite useful in getting the pop-up CTAs all across your page for more engagement. Besides, it also allows you to set an attractive pop-up when your lead or client is leaving the page.
Upsells and downsells: ClickFunnels allows all its users the features of upsells, down-sells, and order bumps.
Email services: ClickFunnels offers its users an in-built email responder. Moreover, it has integrated with many external email marketing providers. Unbounce too has integration with many popular email platforms. However, it does not have an in-built email provider.
ClickFunnels vs Unbounce: Cost-effectiveness
The number and kind of different sets of features offered against any pricing plan decide the cost-effectiveness of any software. How much do those features help you in fulfilling your business objective also adds to their worthiness. Let us find out which one of the two platforms under review will be a more cost-effective option for your business.
Pricing Plans
ClickFunnels
ClickFunnels offers 3 fixed price plans to its users.
Starter Plan having a price of $97/mo
Platinum Plan having a price of $297/mo
TwoCommaClubX Plan having a price of $2,497/mo
Unbounce
Unbounce has four unique conversion-based pricing plans.
Launch: Priced at $80/mo
Optimize: Priced at $120/mo
Accelerate: Priced at $200/mo
Scale: Priced at $300/mo
Feature-sets
ClickFunnels
To cater to all the requirements of online business, ClickFunnels offer a comprehensive set of features in all its plans. In the above section, we shared the prices offered by ClickFunnels in each of their plans. In this section, we will see the features provided by the platform in each of these packages.
#1 Starter Plan includes the following features:
Funnels Sharing feature: It's a win-win feature for those having funnels and want to share with others and those who do not have funnels but want some for their marketing campaign.
20 ready-made templates to create high-yielding sales funnels.
100 sub-pages with each sales funnel.
1 sub-user allowed to have admin and login authority.
3 payment gateways for the seamless payment process.
3 domains to allow different products and brands under one account.
Customer support through chat to resolve any technical issue or respond to queries related to funnel-building.
Access to FunnelFlix program that provides educational tutorials in video format. The field of training may include sales, marketing, and personal development, etc.
#2 Upgradation to the Platinum plan makes users eligible for many features over and above the Starter plan. The plan includes,
All the features are offered with the Starter plan with extended or no limits.
Unlimited funnels and pages
3 sub-users can have login and admin authority.
9 payment gateways instead of 3 available with Starter plan making the payment process extraordinarily smooth, seamless, and quick.
9 domains instead of 3 in the basic plan enabling users to have several products and brands under one account.
Unrestricted Follow-up Funnels. This helps users to be connected with the visitor even after exiting the funnel.
Priority support in resolving technical or funnel-building issues through live chat and email support.
Step-by-step guidance by the funnel building experts from the starting of the funnel building process to its finish.
FunnelFlix program with many more additional training hours compared to the basic starter plan.
Access to exclusive training material like #1 Business and Life Strategist, Tony Robbins Private Collection, 10X secrets webinars, OFA Challenge video, Funnel-U and Traffic Secrets by Russell Brunson, The Warrior's Way Doctrine (Director's Cut), and many more.
#3 The TwoCommaClubX plan is not a plan for selection by the new users rather it is a privileged plan offered to those who have attained the 7 figures or two comma income by using ClickFunnels. It is a reward given to the entrepreneurs who have succeeded in their business endeavors and can motivate and inspire others, as well, to achieve success in their respective fields of operation.
The TwoCommaClubX plan opens up an exceptional opportunity of learning and growing your business along the process. The plan includes all features of the Platinum plan and many more.
#4 In addition to the paid packages, ClickFunnels also offers a 14-day free trial package. Users can try out the features and check their effectiveness in fulfilling their specific business objectives.
Unbounce
All the conversion-based pricing plans offered by Unbounce are designed to support their subscribers to grow their digital business. The following are the features offered by different Unbounce pricing plans:
#1 Launch: This plan is for those who are new in the field of online business and who are creating the landing pages for the first time. The plan includes,
Drag-and-drop builder
Quickstart templates
Up to 500 conversion
Up to 2,000 visitors
1 Domain
#2 Optimize: It is for entrepreneurs who have hands-on experience in creating landing pages and wish to optimize them to get a high conversion rate. The plan includes,
All the features of Launch with enhanced limits
A/B testing
Conversion intelligence tools such as Smart Traffic. This tool allows you to get a higher conversion with each click.
Up to 1000 conversions
Up to 30,000 visitors
3 Domains to have multiple brands and products under one account
#3 Accelerate: As the name suggests this plan is for the fast-growing companies who are looking for ways to maximize their yields. The plan includes,
All the features of Optimize with enhanced limits
Quick-loading of AMP pages
Up to 2000 conversions
Up to 40,000 visitors
7 Domains to have multiple brands and products under one account
#4 Scale: This plan is to support those businesses which are growing uncontrollably in the positive sense and require high traffic to tap the maximum potential of the market. The plan includes,
All the features of Accelerate with enhanced limits
Up to 3000 conversions
Up to 50,000 visitors
Massive 15 Domains to have multiple brands and products under one account
#5 Like ClickFunnels, Unbounce also offers a 14-day Free Trial for those who want to experiment with the features of the application before buying any plan.
Related Read: ClickFunnels vs Kartra
Cost-effectiveness Comparison
So, these were the pricing plans along with their features-sets offered by ClickFunnels and Unbounce. From the pricing point of view, ClickFunnels looks more expensive compared to Unbounce.
However, it offers a wide range of features to support all your online marketing automation needs. Unbounce, on the other hand, is less pricey and offers many tools primarily to help you in converting your visitors or potential clients into your paying customers.
So, overall, the cost-effectiveness of each of these plans will depend on the type of services you want to have from your online automation platform.
ClickFunnels vs Unbounce: Features
Cost-effectiveness is one of the many ways to compare the worthiness of two platforms. However, to get a more holistic view of their functionalities, it is important to compare all the features offered by both these platforms objectively. So, let us have a detailed review of all the features of ClickFunnels and Unbounce.
Landing Pages Builder
Creating landing pages is the basic requirement for any company operating in the field of digital marketing. Landing pages allow business owners to collect information from the visitors coming to their websites and convert them into customers.
This is the most fundamental method of increasing sales while working on the online platform. For this reason, it is important not only to create landing pages but also to create highly attractive pages that entice visitors to visit your pages, spend some time on them, buy products and come back on your pages again and again.
ClickFunnels
ClickFunnels uses drag-and-drop page editor tools to create landing pages. It is pretty simple to place different elements on your page- just select the element, drag it and drop or place it at the desired location.
After placing it at the desired spot, you can modify the content as per your requirement. ClickFunnels also provide many pre-designed templates. You can select according to your basic designing requirement and make changes as per your marketing campaign needs.
Unbounce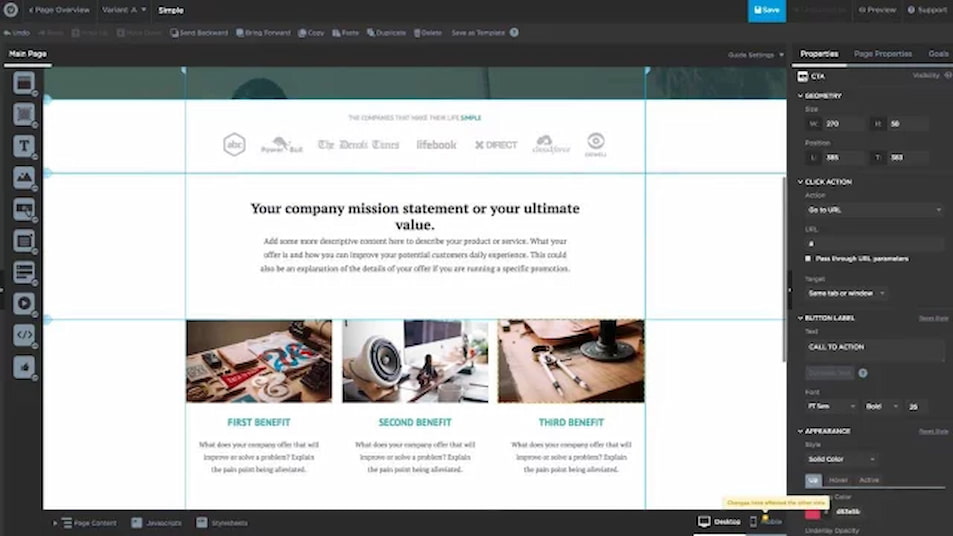 Unbounce also uses the drag-and-drop page editor to build leading pages. The page editor tool of Unbounce also allows you to change the size of your landing page, enabling you to place the desired elements at the exact spots.
The Unbounce Form Builder feature of the page editor facilitates you to create one-step and two-step forms easily. Besides, it also allows you to use radio buttons, drop-down, and many other useful features.
Triggering pop-ups is another unique feature offered by Unbounce to increase the conversion rate. This feature will cause a pop-up to activate after the visitor has left your site. You can pre-set the condition for activating the pop-ups.
For instance, you can set the time spent on the page by the visitors or the depth of scrolling to trigger the pop-ups. You can use different in-built tools to increase lead generation and enhance the conversion rate of your visitors.
Unbounce allows its users to use customized JavaScript and HTML to amend their landing pages as per their campaign requirements.
Templates
ClickFunnels
ClickFunnels contains more than 100 templates in its vast library of themes and templates. These include both internal and external designs. You can select the template according to the type and nature of your business.
The platform offers different types of templates for different funnels such as templates for lead capture funnels, sales page funnels, funnels for product launching, and event funnels, etc.
Unbounce
Unbounce also offers over 100 templates to build attractive landing pages. All these templates are designed in a way that allows you to amend them as per your specific business need. You can do a few modifications to the template or you can completely change the design as per your requirement. The platform offers more templates with higher pricing plans.
Tracking and Analytics Tools
ClickFunnels
For a platform designed to offer an all-in-one solution to online marketing automation, it is necessary to integrate different features to track and analyze the performance of an individual marketing campaign and study the collective and comparative performance of all the campaigns.
ClickFunnels has incorporated several analytics tools to ensure effective recording of every click executed on the users' web page.
A/B testing: It is performed to compare the latest page with the previously designed page. The tools allow users to compare two pages simultaneously. The comparison helps in diverting the traffic to the more effective variant based on the response received by each one of them.
Google Analytics Tools: This tool helps record the number of visitors' views on your page. The integration with these tools allows you to monitor the growth of your business for a specified duration.
Campaign Analytics Tools: These tools help in comparing different marketing campaigns. They also help assess the performance of each sales funnel by analyzing the comprehensive sales report.
Unbounce
Unbounce is no novice when it comes to tracking and analytics features. They have been in the business for a long enough time to realize the importance of these tools. Let us look at what this highly systematic and analytical platform has to offer to its users to track their business performance.
A/B testing: Unbounce offers a very simple set up to carry out A/B split testing that helps in getting the high conversion rate. The best part of the facility is that it is available with all the subscriptions.
Google Analytics Tools: You can use this tool to track various parameters of your online performance. You can set up your digital marketing goals and also get access to specific data of all the landing pages. You can integrate your popups and sticky bars with Google Analytics to track events.
Landing Page Analysis Tool: This is one of the most comprehensive tools to analyze the performance of your landing pages. You can use this tool to get an instant report on the effectiveness of your landing pages on five different parameters:

Relative ranking of landing pages across segments.
Delivery of results as expected from the designing of the landing pages.
To check whether the copy of your landing page has enough optimization for your target audience.
Level of SEO and PPC compliance.
Page speed.
Integration Ability
The ability to integrate with other apps enhances the utility of the software. At the same time, integration helps in managing the platform more efficiently despite the expansion. With ClickFunnels and Unbounce offering so many functional features to their customers, it will be interesting to review their integration ability.
ClickFunnels
ClickFunnels offer over 40 native integrations. With the inclusion of Zapier, it provides access to additional 1500 apps to its users to launch numerous successful campaigns.
From shopping carts to cloud-based communication, ClickFunnels offer many powerful in-app and third-party integrations to provide a complete package of online marketing automation solutions. Some of the major integrations of ClickFunnels include,
Website creation: WordPress etc.
Tools for Email automation: HubSpot and Mailchimp, etc.
Payment gateways: PayPal and Stripe etc.
Ecommerce: Shopify and other apps.
Webinars: Zoom, GoToWebinars, and others.
Messaging and cloud-communication: Facebook, Twilio, and so on.
CRM: Salesforce etc.
Designing app: YouZign
Zapier
The software also allows you to integrate many other tools manually. You can refer to the video tutorials to know how to execute manual integration.
Unbounce
Like ClickFunnels, Unbounce too has a massive list of in-app and third-party integration applications. It can connect directly to many of these applications. Besides, it also allows integration to the apps through Zapier or WebHooks. The following are some of the integrations offered by Unbounce:
Microsoft Excel and Google Sheets etc. as utility tools
For Email automation: AWeber, Campaign Monitor, and Gmail, etc.
Chat: 123 Form Builder, LiveChat, and Slack
Social media platform: Facebook
For Marketing Automation: Drip, Marketo, Pardot, and so on.
Groove, Intercom, Zendesk, for customer support.
CallHub, Myphoner, and Twilio, etc. for call-tracking.
eFront Pro for education integrations.
Crazy Egg, Google Analytics, Mouse Flow for analytics.
GoToWebinars for webinar integrations.
Optimal Workshop, and VWO, etc. for Optimization/ Testing.
Zapier and WebHooks
And many more…
Support System
ClickFunnels
ClickFunnels has multiple channels to support its users. Different packages provided by the platform offer different methods to assist its subscribers.
Chat Support: The online support service is available on weekdays for all its users to answer their queries.
Email Support: The Platinum Plan holder of ClickFunnels get email support along with the live chat to resolve their technical or other issues related to the platform.
Phone Calls: This support channel is exclusively for the Premium plan holder.
Apart from the above channels, ClickFunnels also offers support to its customers through several training materials in the form of books, videos and web training programs, etc. Affiliate Bootcamp and Funnel University are the two highly popular training programs offered by the platform.
Russell Brunson has published four books to teach budding and established entrepreneurs to run and grow their online businesses. Dotcom Secrets, Expert Secret, Traffic Secrets, and Funnel Hackers Cookbook are those four highly popular books offering support not only to the ClickFunnels subscribers but to everyone passionate to learn the basic and advanced tools of digital marketing.
Unbounce
Unbounce offers its support to its users and those interested in knowing about the platform or interested in subscribing to it.
Support Ticket: You can initiate a support ticket by emailing its qualified customer support team at support@unbounce.com.
Phone Call: You can also connect them via phone calls on the contact number for Worldwide support and the toll-free number provided exclusively for North America.
Support Timings: 1 Am to 8 PM PST during weekdays via Live Chat, Phone, and Email and 9 AM to 9 PM via email during weekends.
Help Center: Unbounce offers support on Getting Started and Integrations, helps you in connecting with the Community for expert advice, and invites you to join their beginners' seminar to enhance your knowledge on using Unbounce through their Master Unbounce program- all through its Help Center.
Convenience
Both the platforms offer a highly user-friendly experience to their customers. The difference in offering convenience is the intended objective of both applications.
ClickFunnels
The key objective of ClickFunnels is to support its clients to build entire sales funnels and provide end-to-end online business solutions. To fulfill these specific objectives, it offers cloud-based business automation and high-yielding page-building applications.
This way ClickFunnels easily caters to the requirement of the online marketers in generating leads and enhancing sales.
Website hosting, sales funnels builders, membership sites and email autoresponder are some of the major features of ClickFunnels offering high convenience to its subscribers.
Unbounce
When it comes to converting leads to subscribers and subscribers to high-paying customers, the convenience offered by Unbounce is unmatched. And for this reason, Unbounce is one of the most favorite landing page builders for e-commerce or SaaS in a variety of industries.
Attractive and efficient landing pages are still considered to be paying off more compared to the websites. And those who favor this opinion prefer landing page builders like Unbounce over the platform that is focussed on developing the entire website to obtain a high sales to lead conversion rate.
Affiliate Management Tools
Generating passive income to attain financial freedom is the dream of many marketers. The affiliate management program allows its users/affiliates to earn passive income by offering high commissions on their sales.
ClickFunnels
Up to 40% commissions are among the highest commissions offered by any marketing automation platform. ClickFunnels offers such a high commission through its affiliate program called Backup. In addition to the commissions, there are many other benefits offered by the platform:
Adding an affiliate program to your sales funnel. This allows you to earn commissions on your products sold by your customers.
Creating many affiliate programs to manage your commissions.
Offering useful tools to your affiliates to enhance your sales.
Allowing you to run all affiliate projects and also to set up payout percentages from the convenience of your dashboard.
Tracking sales by allowing access to the special affiliate links.
Identifying high-yielding affiliates to reward them and inspire others to improve performance.
Unbounce
Unbounce offers up to 20% commissions for every sale occurring through your referral through its partnership program. You can get a 20% commission for 3 months for every new partner that joins you.
Exclusive Features of ClickFunnels and Unbounce
Though Unbounce also has a sales funnel application, the sales funnel builder offered by ClickFunnels is unique and very powerful.

It supports creating upsells, downsells, and order bumps.
Inbuilt email automation and email autoresponder making follow-up extremely efficient and prompt.
Creating a Facebook group to help your members to interact with a wide community of people desiring your products.
Creating a membership site on your landing page making the whole process extremely simple.

The convertible feature of Unbounce allows you to build overlays and sticky bars. ClicFunnel too has this feature but not as extensive as Unbounce.

Overlays help trigger pop-up CTA to enhance lead or clients' engagement before leaving the site.
Sticky bars draw the attention of the visitor to all your products thus increase the chances of shopping.

ClickFunnels offers its members a specified site to store secure information accessible exclusively to the members who subscribe to the service. This feature allows you to generate more revenue.
The Dynamic Text Replacement feature of Unbounce allows you to design the text on your landing page matching the keyword parameters. It helps your PPC campaign to yield high results in a quick time.
ClickFunnels vs Unbounce: Summary
After going through the detailed review of both these platforms, we can very clearly understand why the two applications are so popular among online marketers.
ClickFunnels
Numerous features cater to the vast requirements of digital marketing automation.
Easy-to-use high performing funnel builder and quick land page creator.
Integration with several useful in-apps and third-party applications.
Email responder feature to enable leads to reach different sales funnels without any hassle.
Attractive affiliate program to generate passive income by offering up to 40% commissions and many more attractive features.
A large community of dedicated and loyal followers.
Effective customer support system.
Massive and wide variety of training material and courses.
Webinars.
Unbounce
More affordable conversion-based pricing plans.
Quick and easy creation of landing page.
Very attractive landing pages with highly flexible pre-designed templates.
Excellent split testing feature.
Several in-app and third-party integrations.
Help Center for extensive support for beginners as well as experienced businessmen.
Highly useful Dynamic Text Replacement tool.
Convertibles allow you to create pop-ups, sticky bars, and overlays to enhance lead engagement.
ClickFunnels vs Unbounce Suitability
Both ClickFunnels and Unbounce are the two leading web marketing automation software. Both have many powerful features to support their users to run and grow their online businesses. Having said that, both the platforms offer distinct advantages to their clients and serve different purposes.
ClickFunnels
ClickFunnels is efficient in building sales funnels and running your online business. It is suitable in the condition when:
The business objective is to design and launch comprehensive and high-performing sales funnels.
The marketers intend to create big web pages and also when they want to design an entire web site that offers many functionalities under a single platform.
The entrepreneurs are looking for a complete solution that has numerous useful features. And they are ready to pay for those features fully realizing the high cost-effectiveness of the platform.
Unbounce
The main objective of Unbounce is to help their customers set up attractive landing pages using several tools and templates to obtain a high conversion rate of visitors into subscribers and high-paying clients. Most of the marketers find Unbounce useful in the situations when:
They want to make highly attractive landing pages that ensure a high-conversion rate in quick time.
The marketers want a high level of personalization through the Dynamic Text Replacement feature which allows them to personalize their landing pages using desired keyword parameters.
Unbounce is suitable in the condition when the entrepreneurs want to transfer pages to and from the Unbounce application for publishing.
Related Read: ClickFunnels vs Leadpages
Conclusion
Creating landing pages for multiple marketing campaigns can be really hard to manage and at times impractical to execute manually. Moreover, the manual building of landing pages can take a lot of time and may not prove to be a very effective process in the end. Therefore, choosing software to build landing pages and sales funnel and also automate many of your online business activities can be very beneficial.
Now, as selecting software is important for the efficient running of online marketing, selecting the right automation software is equally important. ClickFunnels and Unbounce are two highly popular and efficient applications for this purpose.
We have reviewed both these software and compared their features and functionalities. We have also suggested the suitability of both these platforms in different marketing scenarios.
From the review, it is evident that both platforms have some highly powerful features to support your online business. However, with both having different objectives, they are suitable for different marketing scenarios. So, you can select any one of them for your online marketing as per your specific requirements.