Facebook is one of the most famous platforms for advertising. And there are majorly 2 reasons for it. First of all, it is undoubtedly the biggest platform in the world when it comes to social media. There are about 2.5 billion users and then it provides several granular options that can help you with audience targeting. This makes it easy for you to get the ads right in front of the audience that might be interested in making a purchase.
Advertising on Facebook is one of the best choices that you can make as you can target the niche audience and is termed as Facebook Custom audiences. Custom audience allows you re-targeting of the people that have got in touch with your business before. They can be the ones that have purchased something from your online store or maybe just visited the website.
The more one is aware of the people that you want to advertise to, the better will be the performance of the ads. When you decide on marketing to the custom audience, you are exactly aware of people that are looking at your advertisements, and you can even message the targeted audience with precision. This is also going to increase the conversion rates and you will get better returns for the investment.
How Can You Use Facebook Custom Audience?
The Facebook Custom Audience allows you to choose from a wide range of parameters for being specific on who you are looking forward to the target. This gives you an opportunity for better creation and optimized ads. Here I enlist six of the top things you can try by making use of Facebook Custom Audience:
Make your Facebook audience grow:
Custom Audience allows you to grow the Facebook Audience. So you can try creating a custom audience of the people that have signed up for the email list or might have recently visited your website. Then you can use the Custom Audience for running ads that encourage people to follow the brand on Facebook.
Upsell Present Customers:
You can also use the Custom Audience for creating a list that has people that might have already purchased from you. This is the perfect way for increasing the lifetime value of a customer in case you have several items open to selling. For example, in case you have some related accessories or products you can provide an ad that is targeted at that specific shopper. When you make use of this special promotion that's time-sensitive you are encouraging the viewers to take fast action.
Abandoned Cart Audience Has To Be Targeted:
There are several reasons for people abandoning their cart. Usually, they get busy and were not able to complete the purchase. But if they have added it in the cart, there is a high probability that they are looking forward to buying it. Make sure you send a follow-up email as soon as possible so that they don't forget it, or even worse, make the purchase from a different store.
Make Sale To The Active Subscribers:
People that are not aware of your brand, are some of the most difficult people to target for making a sale. Most people don't visit a website for the first time and make a purchase. everyone first wants to see if the business is reliable or not. This is why selling products to strangers is so difficult when it comes to Facebook. To improve the conversion rates by selling products to active subscribers. These are the people that have subscribed to you and are still are open for emails. They are the ones that know about your business and also read your blogs regularly to see what you want to say.
For any business, owner feedbacks are very valuable. This is going to ensure that your clients are happy and if some important changes need to be made. Even better, is that this is an amazing source or marketing of your products. So use Facebook for following up the customers after they buy something, and request then to fill a short survey. In case you are looking forward to getting more surveys completed, running a contest will incentivize it.
This is a great idea for any business that runs online. It is also one of the most reliable ways of keeping it in touch with both potential and active clients. And although your list usually is made on your specific website, one can also use Facebook. When you target the people that visited your site, you will have more number of subscribers. And as the visitors know you already, there is a better chance of them signing up with you over strangers.
How to create facebook custom Audience?
There are so many options available to create a Facebook custom audience, and I will take you to step by step to each of them. And explain how you can create a Facebook custom audience using whatever data you have.
The Facebook custom audience using customer file:
This option is one of the most popular and traditional ways of creating a Facebook audience. In this format, we upload data of customers we have, like email addresses, names, and phone numbers. Then facebook searches the same users on Facebook and makes an audience.
This is highly useful if we are starting a new business online. But we have our database of the email address of customers that brought our products offline or in any other way.
These audiences are not dynamic but are static as it doesn't get updated.
Example-
I made an audience with the database when I have 100 emails, then after one month, my list grew to 500. Then I have to repeat the process, as there is no way to get it updated on its own. The second thing they are good but not excellent, because sometimes people give email id which differs from their Facebook ids email ids, so this is also an issue.
Now How To Upload The Database?
Step1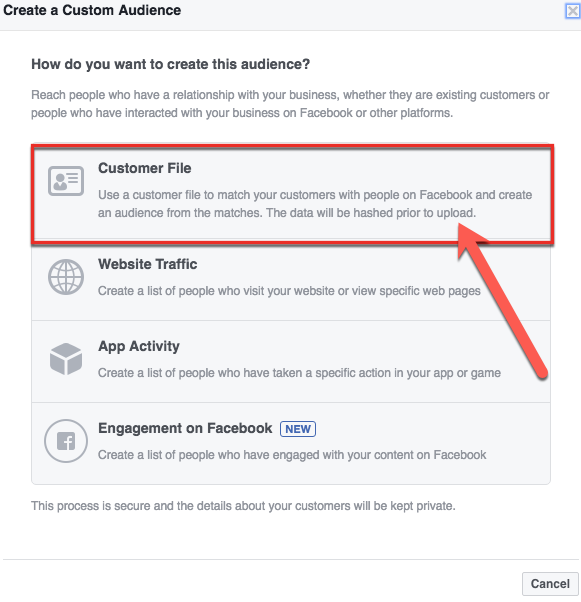 Add Customers From Your File Copy Or Paste Data
We have options to upload our data using this data consisting of up to 15 identifiers.
I usually prefer copying and pasting in this segment or sometimes I do prefer integrating to
Mailchimp and import data in one go.
Key Notes on Facebook Custom Audience:
If you are ready for creating the Facebook Custom audiences, there are some points that you need to remember. This will ensure that you are avoiding any mistakes and targeting the right people with the ads:
1. You need ads manager account On Facebook For Creating Custom Audiences:
If you don't already have this account, Facebook will be prompting you to make one as you go ahead with the step of building the custom Audience. You can also begin with first making the account.
2. There is a need for a minimum of 20 people to present ads to a specific audience:
In case your website doesn't have much traffic, or the email list is small, you might want to go ahead and try running ads to send traffic towards your site. Another way is encouraging the subscribers before you set up the Custom audience.
3. There is a probability that you can't pull all visitors, subscribers, and customers in your Custom Audience:
Not everybody that is visiting your website will be on Facebook. Also, the people that are on your list might be using the different email address for the Facebook account. So if the Custom Audience is smaller than you earlier thought, it not mainly because of a mistake.
4. You will have to update the Custom Audience email regularly:
If you had uploaded manually the contact list on Facebook for creating the Custom Audience, you have to be sure that you are updating it regularly with the new CSV file and only new contacts. You can replace the Custom Audience with the latest CSV file of all contacts, or just copy-paste the new subscribers on the new list.
Some advanced ways of using the Facebook Custom Audience:
Once you have mastered the above points that I consider to be basics, you can go a step ahead. These are the ways by which you can create more target ads and have some advanced choices that Facebook has to offer.
Website Custom Audience:
The Website Custom Audience allows the marketers for creating an audience that's based on the actions that are performed on the persona website. All thanks to Facebook Pixel as it is a snippet of the codes that are added to the website. Audience granularity that you make depends a bit on the traffic amount and also the effort you put in for creating a detailed pixel event.
Another good thing about WCA is the updating is done in real-time. Also, the rate of match-up remains high. Here are some samples of the powerful audience that one can create.
Basic Specifications:
1. Source: Chosen owned pixel
2. Time: 1 to 180 days
People that have Visited Specific Web Page:
One can include a complete URL, partial or multiple URLs. Then there are also Keywords that you can easily include. There are countless and one can use it for this kind of audience.
Visitors by the Time they Spent:
Not all of the visitors on the website have been created equal. You need to mainly focus on the people that are spending much time. This can be achieved through a small audience and still lead to excellent results.
From the Events by Page View:
If we assume that you have installed Facebook Pixel on the website with events, you will be able to see applicable events that fired.
From the website Events: through Search String Parameters
You can also create the audience with people that had performed any kind of search on the website. But you should also focus on the specific keyword search.
From the website Events: through UTM Parameters
UTM parameters are mainly the tracking codes that can add to broken links end in the campaign source, term, name, content, and sequence. At least you need a source to be included.
Engagement: Video
The best first stage audience is anybody that is engaged with one or more videos that you publish on your website. Anyone that views the video will be added automatically to the audience and you can target them later. Here are the details: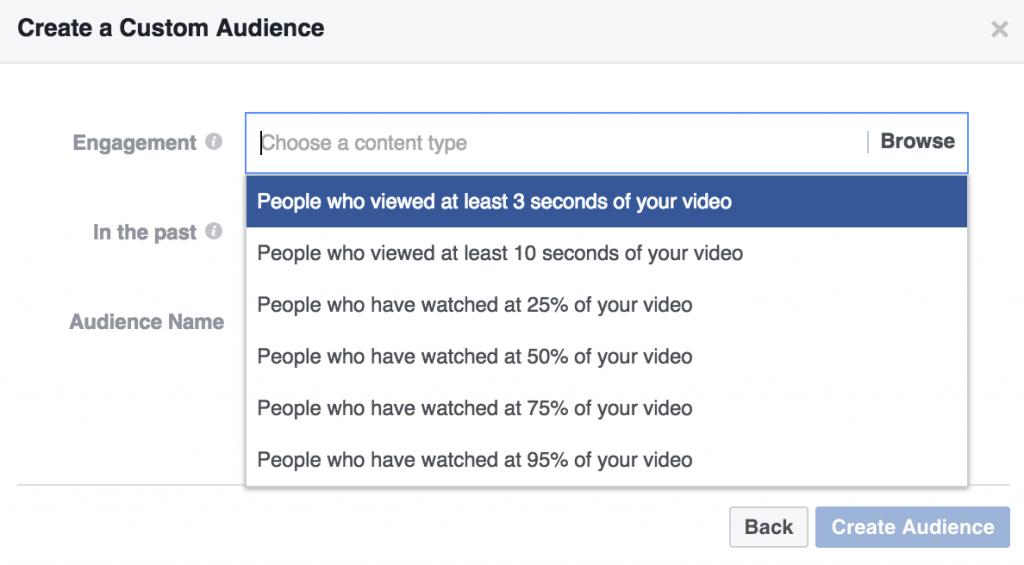 People that have seen a minimum of 3 seconds of the video: This is certainly the view that is of the lowest quality but also the largest audience.
People that have seen a minimum of 10 seconds of the video.
People that have seen a minimum of 25% of the video.
People that have seen a minimum of 50% of the video.
People that have seen a minimum of 75% of the video.
People that have seen a minimum of 95% of the video.
Engagement: Lead Form
The Facebook Lead Ads help the advertisers for collecting leads. This includes contact information like an email address. This is done without sending the user away from Facebook. The Engagement custom Audience consists of those that engage in the form that is added to one out of three audiences for targeting. Online Marketers can also create the audience on the interaction that occurs with one or more forms in a certain time.
People that had opened the form: Anyone that has opened your form will be included here, regardless if they submit or not.
People that had opened the form but didn't submit.
People that had opened and also submitted the form.
Engagement through Full-screen Experience:
Facebook has also launched Facebook Canvas. This are the constant attempts that are made for making sure that the user experience is enhanced. The Facebook Canvas offers the user an engaging experience where they can take a look at the images, videos, text, product feeds and a lot more with one single view.
For you, one of the major issues that you can face is the traffic loss and the lowering of potential target power that remains in sync with sending somebody to your website. Now, this has also changed with the launch of Fullscreen experience Custom audience. You can also create the audience with people that get engaged with Canvas be it one or multiple. These are:
People that have opened your website canvas.
People that have clicked on any of the links in the canvas.
You can also include the links in the Canvas itself. There is no need for them to visit your website. This is where audience creation can be helpful. For instance, a Canvas that promotes the product with a clock and sends the user on the Amazon product page.
Engagement with Facebook Page:
One of the sneaky ways for targeting an effective audience is through Facebook Page Engagement Custom Audiences. You might have the notion that the ones visiting your website are more effective than the ones that interact through Facebook. But in reality, this might not always be the case.
Interaction with you on the website does not mean that their will be interaction on Facebook ads. And in case someone has interacted on Facebook, the probability is that they might do that again.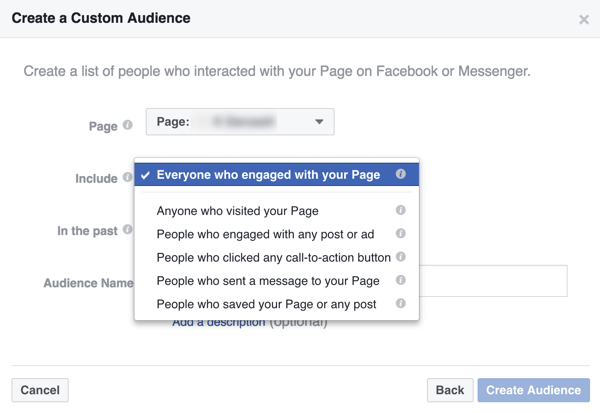 Basic Specifications:
Source: Chosen owned page.
Time: 1 to 365 days.
1. People that are engaged with the page.
These are the widest audience when it comes to several people that had engaged on your page
in any form.
2. People that had visited the page.
3. People that had engaged with the ad or post.
This can be specifically effective when you are looking for the audience so that ads can be targeted.
4. People that had clicked on any kind of call for action button.
5. People that have sent messages on your page:
This can be a small audience but is probably most valuable.
6. People that have to save the page or post that you publish.
Engagement through a Business profile on Instagram:
Do you have the business linked with Instagram? If yes, you can create the audience that engages on the profile there. This is also similar to a Facebook page that I discussed above. Your Instagram Profile requires a business profile, and for this, you will need to be connected with the Business Manager for accessing the feature.
People that had engaged with the business on Instagram.
People that had visited the Instagram Profile.
People that had engaged with any ad or post.
People that have sent you a message.
People that had to save an ad or post.
This is not a new feature but several online marketers are running Facebook events. Here I am talking about the Facebook posts that notify people of the upcoming activity or party and not the pixel events.
All thanks to Engagement Custom Audience, one can create the audience of people depending on the specific event or activity:
People that respond with Interested or are going.
People that respond with Going.
People that respond with interest.
Lookalike Audiences:
After you have been able to create your custom audience, one can use a Lookalike audience for expanding it. This will also include people that have not signed up for the newsletter or had visited your website, but there are some qualities that they have in common with people that are already on your list.
This is one of the best ways of getting the products right in front of the viewers that might be interested in what you sell, but are not aware of the products or your business. To do so, you have to have a minimum of 100 people from one country in the present Custom Audience.
Value-based Lookalike Audience:
If you look forward to getting granular with the ad targeting, you have the choice to create a Value-based lookalike audience. This will let you assign an indicator for identifying the customers of the highest value in your present list. The added information allows Facebook to refine the target more so that you can expand your audience. And only for the people that are likely going to generate the elevated lifetime value by being your customers.
Start advertising Now!!
Once the custom audience is ready for you, it is the perfect time to begin advertising! Whenever you are creating new campaigns, you have the choice of selecting one of the Custom Audience to target. You are also able to create another new Facebook Custom Audience at any point in time! So have you tried experimenting with Facebook Custom audience before? Share with us in the comment section below.
https://raiajay.com/wp-content/uploads/2020/01/AjayRai-Source-File-1.png
0
0
Ajay Rai
https://raiajay.com/wp-content/uploads/2020/01/AjayRai-Source-File-1.png
Ajay Rai
2019-09-22 06:11:05
2020-05-13 05:01:17
Facebook Custom Audience