Facebook custom audience is one of the most important aspect of facebook marketing. Facebook custom audience are those people who know you or your previously.
They can be the group of people who have visited your website, or your old customer old data may be in the form of name email address, phone number or the people who have engaged with your ads, page or have even viewed your videos.
But do custom audience really matters???
Yes custom audience really matters because in order to make our facebook ads profitable and optimized we can't ignore custom audience.
In order to have a consistent and dependable success we should have to graduate beyond interest based targeting as they are too broad but good enough to use at the top of the funnel.
Interest targeting is best option to start if we have a fresh pixel data or we are targeting people at the top of the funnel but in order to target the people who already know our brand we need custom audience.
Custom audience allows us to retarget people basis their action and the steps they took into our funnels and we retarget them accordingly, like if we target people who have visited our landing page again with same landing page ads, it means we are throwing our money, but custom audience allows us to exclude people who visited landing page for example and show ads to more relevant new cold audience.
Custom audience allows us to create a laser targeted facebook audience that already know us and our brand.
How to create facebook custom audience???
There are so many options available to create facebook custom audience, and I will take you step by step to each of them and explain how can you too create facebook custom audience using whatever data you have.
Facebook custom audience using customer file.
This option is one of the most popular and old for of creating facebook audience, in this format we upload data of customers we have, like email address, name, and phone numbers and facebook searches the same users on facebook and make a audience.
This is highly useful if we are starting new something online, but we have our email address database of customers who brought our products offline or in any other way.
These audience are not dynamic but are static as it doesn't gets updated.
Example- I made a audience with databse when I have 100 emails, then after one month my list grew to 500 then I have to do the process again there is no way to get it updated on its own.
Second thing they are good but not excellent, because sometimes people gives email id which differs from their facebook ids email ids, so this is also a issue.
Now how to upload the databse
Step1 
Add customers from your own file copy or paste data.
We have options to upload our data using this data consisting of upto 15 identifiers.
I usually prefer copying and pasting in this segment or sometimes I do prefer integrating to mailchimp and import data in one go.
2. Lifetime value customers.
These are exactly same like the previous one just the difference but here we include a LTV (lifetime value for each customer) to create lookalike audience using highest LTV. So basically we can't create ads using this audience but we can create lookalike audience basis them.
Website Custom Audience
Wow this is reality, I love them.
These are one of my favourite audience, I love them, I play with them a lot.
Website Custom audience allows us to create a audience basis people who visited our website, landing page, product views, add to carts or any specific action they take on our website in a specific time.
We can even make audience basis people who spent most time on our website and this is WOW.
Now in custom audience we have again one more filter to make audience basis device, I like to target desktop users on their phone, for example I make a audience of desktop website visitors and run an ad for mobile only and target them and this works like crazy.
Now again one more option this is why I love custom audience and list is long, we can make audience basis pages, the people who visited certain pages on your website in certain amount of time.
For example- I visited X page and I must visit Y page and audience who does same.
People basis their time spent on our website.
All users visiting our website are really not equal, and this filter allows us to find top people visiting our website and spending time on it.
Events Filter
This feature in custom audience allows us to target people into the funnel, like people who visited our product page we retarget them optimising for purchase and so on, this allows us to make profitable audience, exclude buyers and many more features.
Audinece from other sources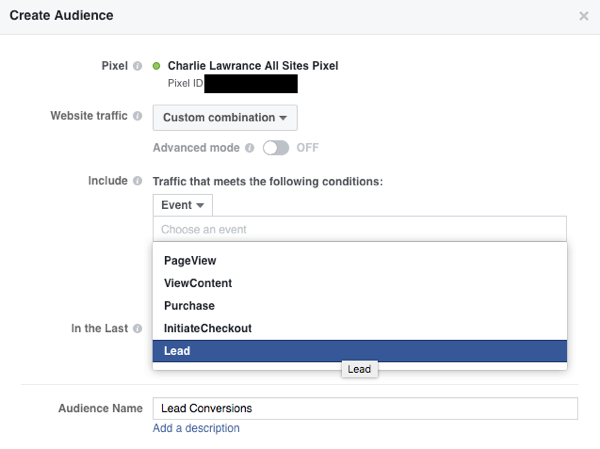 UTM Parameters are links we add to our marketing campaigns to analyse and measure our marketing efforts and campaigns, At minimum, we need to include a source. Here's an example of such a link…
http://work.parallexprogrammers.com/raiajay/?utm_source=newsletter&utm_medium=email&utm_campaign=example_campaign
We can create audience using these parameters also.
Engagement: Video
This works like magic for cold audience at top of funnel, we run a video view ads and retarget the video viewers according to how much they have viewed our video.
It have clearly 6 options.
People who viewed at least 3 seconds of your video

People who viewed at least 10 seconds of your video

People who have watched at 25% of your video

People who have watched at 50% of your video

People who have watched at 75% of your video

People who have watched at 95% of your video
Lead form
This allows us to make audience basis people using lead forms of facebook.
Now this feature gives us three options for specific lead forms in specific dates.
People who opened the form

People who opened but didn't submit form

People who opened and submitted form
Engagement: Fullscreen Experience
This is a certain type of ads for only mobile users only, we can target people and they can view our product and video in full screen in one go.
It have also certain options.
People who opened your canvas

People who clicked on any links in canvas
Engagement Page Audience
This feature allow us to create audience basis people who have engaged with our ads, who have messaged us,  clicked on any ads, commented on any ads, liked our page or post.
This also works good, but these are broad audience.
This above image tells us that this feature allows us to create audience basis engagement in past 365 days.
Options available in these feature are.
People who visited your page

People who messaged you- These are very targeted and small audience but works best.

People who engaged with any post or ad- These also works like magic we can target people engaged with our ads in past month or weeks.

People who clicked any call-to-action button

People who saved your page or any post
Engagement: Instagram Business Profile
Yes we can make audience basis Instagram business profile also. This feature allow us to create audience basis people visiting our instagram business profile or any body who have engaged with our ads on instagram.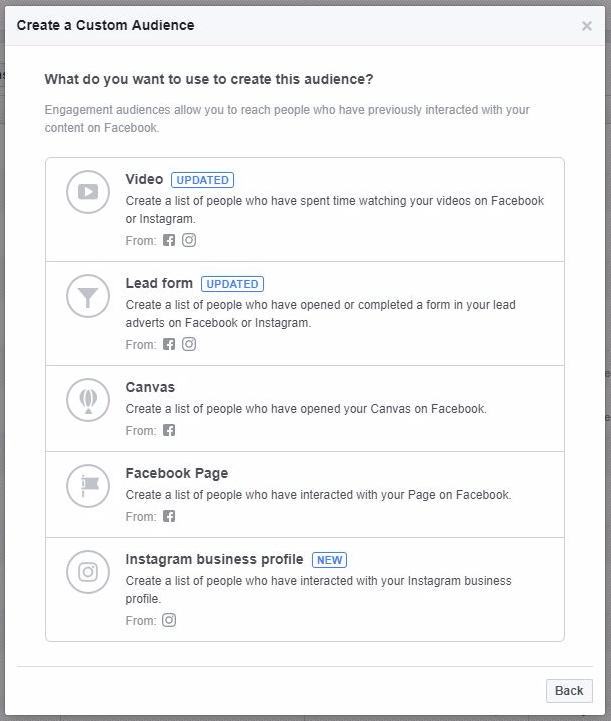 Options available are
People who saved any post or ad on instagram

People visiting your business profile

People who sent a message to your Instagram profile

People who engaged with your business on Instagram
Engagement: Event
This is one of the oldest feature, I personally don't recommend them as this don't works now so better. This feature allows to make audience basis people actions for our events we have created on facebook.
It allows us to make custom audience basis people who were interested in our events, people who were visiting our events.
Lookalike Audiences
I will create a detailed post about lookalike audience in my next post but I am giving you guys a overview that our facebook marketing is incomplete without lookalike audience, if we ever use it wisely, it can bring a lot of ROI. In short words a lookalike audience are those audience which matchs our custom audience and they are very similar to our custom audience according to facebook by behavior, by digital activity and behavior and they can be most likely to become our ideal customer if we play wisely.