Are you running Facebook ads for business promotion?
Still, wondering how Facebook Pixel helps optimize the ad delivery for your specific goals?
So this blog will help you in understanding Facebook Pixel and the way you can install it. You will
be able to track your website traffic and also create trackable high ROI Facebook ads.
What is Facebook pixel?
Facebook Pixel is mainly a java script code that one places on their website. The data is collected and will help you track conversions through Facebook ads and optimize ads. This can be of immense help for building a targeted audience for future ads, remarketing for people that have taken some type of action on the website.
This works by placement and cookies triggering for tracking the users as they are interacting with the website and Facebook ads.
Why is Facebook Pixel so important?
I keep hearing from several Facebook advertisers that they aren't using the Facebook pixel. Then others are not using it for its maximum potential. The excuses range for people from being intimidated confused to utter ignorance if they require it at all.
So do you need Facebook Pixel?
OF COURSE, you do!!
There are so many reasons for it as well.
Without using Facebook Pixel you are stopping yourself from the trending targeting options. You also won't be able to accurately track the conversions (Just not possible without pixel). There will be a hindrance to optimizing conversions. You basically won't be able to do any kind of fun stuff that can lead to some measurable results!
As I said above, Facebook Pixel is a code snippet that is unique for your ad account. It should be placed between head tags on each page of the website. Facebook Pixel looks something like this:
Once this is in place, you will see the magic happening right in front of your eyes!
Why one needs to set up Facebook Pixel?
All of the important information that you require for creating better ads and targeting the audience in a better way is provided by Facebook Pixel. The data assures that your ad is being viewed by people that can take the action that you desire. This is also going to enhance the Facebook ad conversion rates and you will have better ROI.
In case you had not been using Facebook ads as of now, you must install Facebook Pixel right now! It will begin data collection instantly and you won't have to begin from scratch when you are ready for creating the Facebook ad.
How is Facebook Pixel used?
Here are just some of how Facebook pixel can improve the marketing results:
Facebook Pixel helps you in utilizing the following:
1. The Website Custom Audience: Everything present on the list is vital. I'm going to have a fraction of success when using Facebook Ad without the Website custom audience. These are amazing. When you have a pixel on the website, Facebook is aware of people that visit the website. There is also information available on the date of page visit as well as the specific page. This can be great for creating pretty wonderful audiences.
1. All of the visitors to the website in the past 6 months.
2. People that had visited specific page/pages.
3. People that visited one page and not the others.
4. People that visited in the last 6 months, but not recently.
5. People that had executed specific events x frequency or dollars X valued at.
6. People that are in the top 5, 10 or 25 percent of the active visitors.
I make sure that I'm targeting the visitors for promoting one of the recent blogs. I also target people that had read the posts with the word & entrepreneur in URL for the promotion of content that's an entrepreneur focused.
2. Standard Events:
With the Standard Events, one can insert some extra code on the specific Facebook page. This is for the general kind of event that might have happened.
Standard events mainly include the following:
1. Search
2. Add to Cart.
3. View content.
4. Add to Wishlist.
5. Adding payment information.
6. Lead.
7. Purchase.
8. Initiate checkout.
9. Completing Registration.
You can also include the code variables further for providing details on things that happen on the Facebook page. This is crucial for Dynamic Ads that we'll learn about later. The additional code can be a lot for some people, and it might not be that necessary. You can instead use…
3. Custom Conversions:
As the pixel is on the website, Facebook is aware when somebody, visits the website and the page. Eventually, you can define the purchase of a specific product just by letting Facebook about the URL. There is no need for additional odes. Custom Conversions are beneficial. We shall also get information as to why in just a moment.
4. Conversion Tracking:
Now when you have created the Custom Conversions or the standard events, Facebook is aware of the conversion that's based on the website activity. So if anybody is hitting those pages with a standard event code Facebook can report you back.
Firstly, you need to be sure for letting Facebook know to track the conversions. I have no clue, why one won't do this. But do this while creating the ad…
If you had been optimizing for the conversion, Facebook is automatically going to report that conversion. But if you are doing this for optimizing to something other, for instance, traffic, Facebook will not be telling you the conversions automatically.
So it will be better for customizing the columns in the ad report for the selection of specific standard events or custom conversions.
Suddenly, you will see that the results have become way more meaningful.
5. Conversion Optimization:
If you are not creating Standard Events or the Custom Conversions, you are also not going to optimize for the conversions. When the Website conversions campaign aim is selected, you will have to choose the conversion for Facebook that needs optimization. And in case you don't have anything, you will only be able to optimize website traffic, video views and page post engagements.
This is nice as if you do have a pixel on the website, and Facebook is aware of conversion, they begin understanding the kind of people to convert. And the specific data and information allow Facebook for showing the ads in your audience with the highest probability of taking action.
6. Dynamic Ads:
If you own a huge e-commerce website, you need pixel for sure and is a must. And if you are using it, there is a probability that you might not be taking the benefits of Dynamic ads. If you are having thousands of products, creating individual ads might not be that reasonable for the specific pages and people that had visited and if they took any action. But you can create a dynamic ad template with Standard events and Pixel. In this manner, the things that appear in the ad will be depending on the behavior of the user. Again, you can thank Facebook Pixel for this.
7. The total package will get you RESULTS:
You need to understand this at the end. If you are not using Facebook Pixel on the website, you have a tough battle to fight. Your targeting will remain at the second rate. Result tracking will become impossible. You won't be able to optimize for the actions that you want. And that's not good. I want you to be successful. And without making use of Facebook Pixel, this is going to be extremely difficult for you.
Top Ways for Adding Facebook Pixel on Your Website:
Hopefully, by now you are aware of the importance of Facebook Pixel. You can create some powerful audience for ad target, tracking conversions, running dynamic ads and conversion optimization.
A lot of marketers remain slow for adding pixels or adding them correctly. This is also one of the common reasons for being intimidated by people. They are assuming that the process is overly technical or complicated.
Although, it does get technical, if you want to use it for the core utility pixel can be very simple. Here I have for you a closer look at the different methods for allowing you pixel installation today!!
Let's take a closer look at several different methods that allow you to install the pixel easily and properly today…
Locate Pixel:
Before we understand how to install the pixel, let us make sure that you can locate pixel first.
1. First, go to the Pixel page in the business manager. Then if you have not yet set pixel, this is
what it looks like…
2. Now Click on the button that says "Set Up Pixel".
If you have ever created pixel previously, but you have to find it for re-installation click on the "Set Up Pixel" gray button on top. What you are clicking here is going to depend on how your website is set up.
In the beginning, we are just concerned about the pixel access. The second option has to be clicked, the & "Copy and Paste the Code" You will be able to see the pixel code.
The number that is shown in blue and comes twice is the unique pixel ID for the ad account.
1. WordPress Theme Setting:
Let us just assume that you are on the self-hosted site of WordPress. In that case, there are several options available for you. The main point to be aware of is the place for injecting code before the HEAD tag on a website template. In this manner, the pixel code will be appearing on each page of the website. That is our goal.
One usual place for doing this is in the theme settings. As there are hundreds of varied themes, I cannot say if this will be the case for all of them. But Genesis Framework, this will be the case. At the base of the theme setting, there is a section called "Header and Footer Scripts" Anything that you are placing in the header Script box will be & immediately before the closing tag in the document source.
This is exactly what we are looking for. So paste the complete pixel code right here and click on "Save".
2. WordPress Plugins:
Installing the pixel on each of the website pages will be the bare minimum of what has to be done. If you can do it, you will be creating the audience of people that can visit the website and creating custom conversions for tracking conversion optimization. But some plugins are there, that will lead you a step ahead. Here I have for you the three that I have used before:
1. Pixel Caffeine:
This is a free plugin that is presented by Ad Espresso. They are also the same people that created the trending Facebook Ad creation and the testing tool. As they have experience with Facebook, it is a good thing for us.

When you install the pixel through this plugin, everything becomes extremely easy.
In the General Setting, Click on Facebook Connect.
After this Pixel Caffeine if going to present you with a list of Facebook ad account and the pixel ids. Choose the ones that you want to use on the specific website.
Make sure the pixel position has been set to. In case you just wanted to install the pixel, that' it. Of course, there are several other things that you can do with the plugin if you want. Some of the advanced features of this plugin include:
WooCommerce integration.
Filters by device type, referrer, e-commerce behavior, and categories.
Tracking custom fields.
Advanced tracking as per the post, browser information and Content ID.
Passing advanced data like content ID, content type and value.
2. PixelYourSite Pro:
This is one of the premium plugins, that can be bought for $80 and up. The setup is also simple. You just have to be aware of the pixel ID and then paste it in.
Once you have pasted and activated it, the pixel will be appearing on each website page. This is the main objective here. But the other advanced options that you can see are: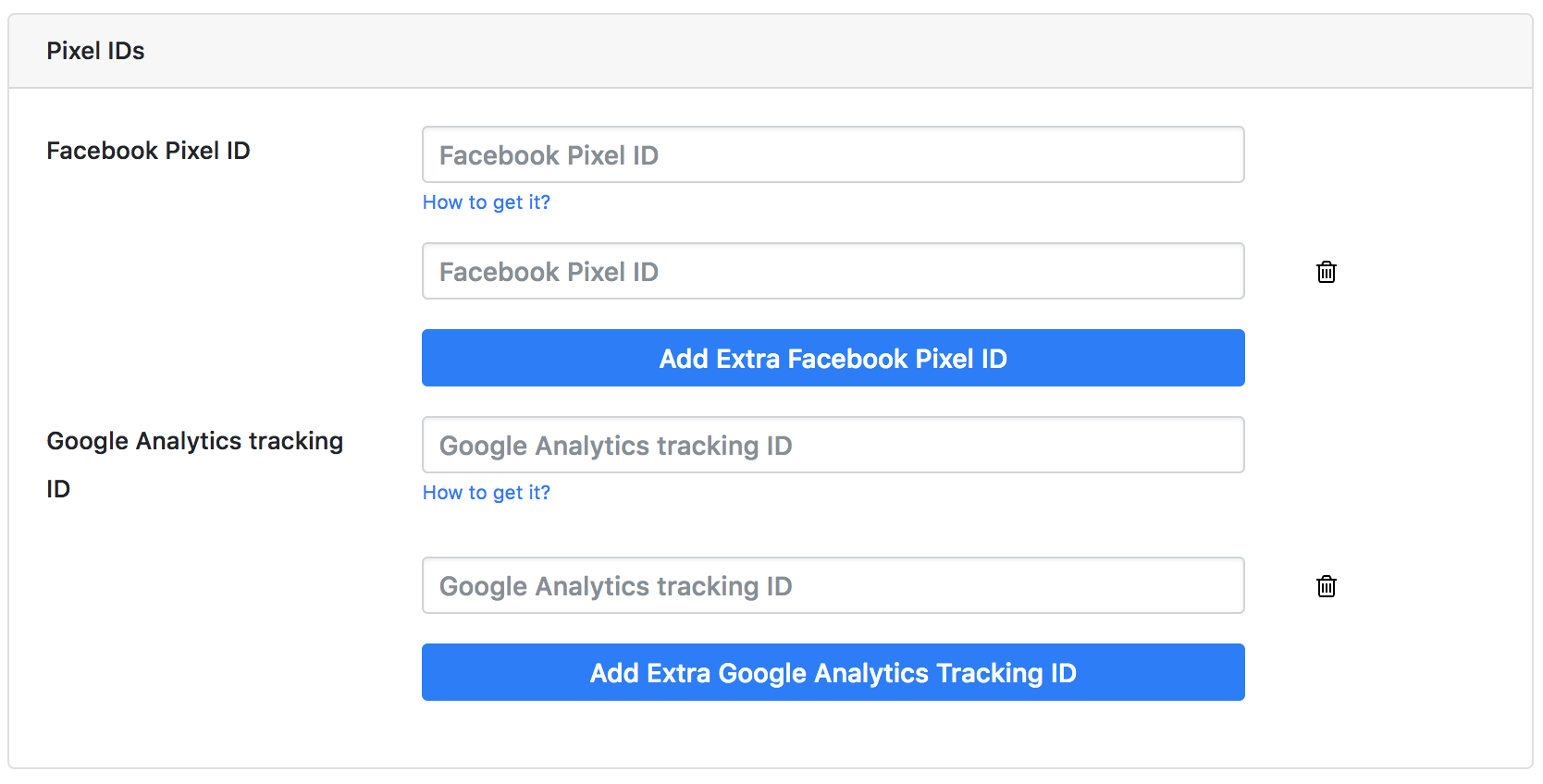 Traffic source tracking and type.
Adding custom or Standard events.
Adding Dynamic Events.
WooCommerce integration for the dynamic ads.
Adding currency and value for the purchase events.
Adding parameters like coupons, location, shipping methods or payment methods.
Delay in events.
Easy digital download and integration.
3. Google Tag Manager:
This is another way of installing Facebook Pixel on your website and is used by several
advertisers.
1. Click on the "Add a New Tag" in the Google Tag manager first.

2. Select the "Tag Configuration" and then select "Custom HTML."
3. Copy and paste the pixel code that we had searched for earlier.
4. Expand Advanced Settings, also make sure that the tag says "once per page."
5. Click on Triggering Below. Make sure that you select "All Pages" from the trigger. Then
Name, save the tag and publish. That's it your work is done!
4. Shopify:
If you have a Shopify store, then the procedure of adding pixel will be very easy. Just go to Settings on the dashboard. Then click on Online Store. Now copy-paste the pixel ID in the box assigned. Remember not the entire pixel.
5. Some other methods:
There are a plethora of options available as well. You can self-host through WordPress. Or sell
the products on a third party site. The main aim is to find a way for injecting the Facebook Pixel code in the middle of the HEAD tags on each page.
Now it's your turn:
As I mentioned earlier, here I'm not recommending one single method. If you have Facebook Pixel installed, you can begin with the basics ( In case you are not operating an e-commerce web site.). But these are just some of the ways by which you can try easily.
Summary:
So Facebook Pixel is certainly a powerful tool. You can develop a strategy for meeting specific business targets. This will also make you understand the ways you can engage with the present customers and searching for the new leads will be easier. In case you don't have any plans for advertising right now, you can install Pixel for getting data on the way people have been connecting with your website. To install the base pixel code to the website and Facebook will initiate tracking instantly.
Master Facebook Pixel Now!!
I'm aware that for a lot of advertisers, Facebook pixel remains a mystery. Maybe you are using it, but there is scope for much improvement so that your business reaches the next level. As you can observe from the blog some huge opportunities are waiting for you.
What are your thoughts? How are you going to make use of the Facebook Pixel for creating new business leads? I 'am eager to know, share your views in the comment section below.
https://raiajay.com/wp-content/uploads/2020/01/AjayRai-Source-File-1.png
0
0
Ajay Rai
https://raiajay.com/wp-content/uploads/2020/01/AjayRai-Source-File-1.png
Ajay Rai
2019-09-21 05:41:25
2020-05-13 05:05:35
What is Facebook Pixel?